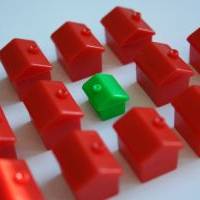 House asking prices have risen to their highest level for nearly three years, with some home owners demanding unrealistic amounts, according to a report released today.
The average asking price for a home rose to £238,874 in May, up 1.3% on the previous month, and is now at its highest level since June 2008, according to property website Rightmove.
It comes at a time when the true cost of housing is falling. The average cost of a home dived by 1.4% during April to stand at £160,395, the lowest level since July 2009, Halifax reported last week.
The hike in asking prices also comes as the number of houses being put on the market fell 30% to 20,000 a week over the bank holiday period as potential sellers were distracted by the royal wedding and the warm weather.
This led some estate agents to agree to market homes at unrealistic prices as they competed for scarcer new listings.
Rightmove says the housing market is in "low transaction limbo" as record low interest rates of 0.5% mean few homeowners are forced into selling their property and the lack of availability of mortgages means there are fewer buyers.
Continuing demand for good quality property in better areas and a lack of pressure to sell have enabled prices to defy downward pressure, according to the report.
But it says that rate rises from the Bank of England could drive prices downwards by forcing more sales.
Miles Shipside, director of Rightmove, says: "The Bank of England's decision to hold interest rates at unprecedented low levels has disrupted the traditional economic formula of an excess of supply over demand leading to lower prices.
"It has thrown some sellers a lifeline in their quest to hold onto the gains they made during the boom era One interest rate rise won't immediately derail the market but if we see several in quick succession it will quickly hit the buffers."
He warns that sellers are in danger of missing out on the rapidly closing spring window of moving by asking too much for their homes.