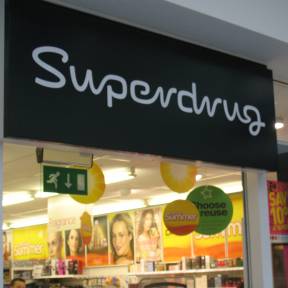 Beauty store Superdrug will launch its first ever loyalty card next week.
Customers will be able to pick up the free Beautycard in any store from Wednesday, 11 May. This means you'll now be able to collect points with almost every purchase to spend in the store.
Steve Jebson, Superdrug commercial director, says there is plenty of demand for the scheme.
How do you get a Beautycard?
You must pick up a card from a store and register it before you can collect points. This can be done by filling in a form online or by post.
How do you collect points?
You can then start collecting points with any purchase when you present the card. For every pound spent, you get one point.
What are points worth?
Each point is worth 1p to spend in-store.
How do you spend points?
You can start spending points by presenting the card, but only when you've reached 100 points, worth £1.
You can only redeem them in 100-point increments, which means you won't be able to get a £1.99 item with 199 points. You'll need 200.
You can pay part of an item with points and the rest in cash.
How does it compare to the Boots Advantage card?
The rival Boots Advantage Card gives four points per pound spent, with each point also worth 1p to spend in-store.
This means Boots offers four times the reward but you must also consider the price of the item to work out which store is cheapest.
Archna Luthra, consumer products analyst at MoneySavingExpert.com, says: "On the surface, Beautycard is a good offer as any extra bonus is welcome.
"But it's important to remember you should never choose where you shop based on the loyalty card.
"How good it is depends on what you're buying, so do a quick price check first, especially for costlier items, as you may find a lower price outweighs the boost in points."
As an example of how the stores compare, Nivea Soft moisturiser (200ml) is £4.18 at Superdrug and £4.28 at Boots, which would make Superdrug cheaper.
However, with the loyalty card discounts, it's £4.14 at Superdrug and £4.11 at Boots, so Boots wins.
Estee Lauder Youth Dew Eau de Parfum Spray (65ml) is £26.99 at Superdrug and £31 at Boots. After discounts, the perfume is £26.72 and £29.76, respectively, making Superdrug cheaper with or without the discount.
As a special promotion for the launch you'll be able to get 10 points per pound spent online at Superdrug until Tuesday 7 June.