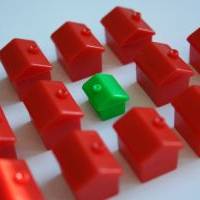 Mortgages arrangement fees have jumped by a typical £150 in 12 months, meaning borrowers should be ever more careful of being lured into seemingly low rates.
The average fee has climbed 17% from £879 this time last year to £1,030 now, figures show.
Typical mortgage rates are at a record low, and while this undoubtedly means reduced costs for consumers, lenders are partly offsetting that fall with a rise in costs to secure that deal.
The highest fee on the market is £3,800, charged by Accord Mortgages. Precise Mortgages charges the highest percentage arrangement fee at 2% of the loan, which could run into thousands of pounds.
Only 357 (12%) of mortgages charge no arrangement fee, the findings from data provider Moneyfacts show.
Michelle Slade, from Moneyfacts, says: "Unfortunately, too many borrowers still focus their initial attention on getting the best rate, without taking full consideration of the true cost of the deal.
"In many cases a low rate with a high fee can work out more expensive than opting for a slightly higher rate, but with a lower fee."