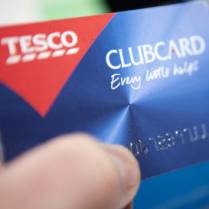 Tesco Clubcard customers can double the value of their reward vouchers to spend on posh food, cosmetics and pet food at the supermarket from today.
The scheme, branded the Summer Clubcard Voucher Exchange, will run for a month. It is similar to the various double-up schemes available over Easter and last year, where shoppers only needed to earn half the usual number of points to buy applicable products.
Key Points
Double vouchers' value for in-store spending
Month-long window to make exchange
Fewer products to spend on than previously
The difference this time is there are fewer departments in which Summer Exchange tokens can be used by the 16 million Clubcard holders. For instance, they can no longer be used on clothing or toys.
On the flip side, they can now be used on Tesco Finest grocery products – the store's premium brand.
What are Clubcard vouchers?
Shoppers who hold the Tesco loyalty card get two points per £1 spent at the supermarket. Each point is then worth 1p to spend at Tesco, sent in the form of Clubcard vouchers.
Importantly, even during the next month, customers can still spend their vouchers in the usual way with non-Tesco retailers where they can get up to three times the value by exchanging them for Clubcard Rewards, if they don't want to participate in the separate Summer Exchange.
This may provide better value in many cases, so check before buying.
What vouchers can I double in value?
Only Clubcard vouchers in £5 multiples can be exchanged. So a £5 voucher will become a £10 Summer Exchange token, while a £10 voucher will become a £20 Summer Exchange token, and so on.
You can use a higher value Clubcard voucher and any change will be credited back to your Clubcard account when making the exchange.
Say you have a £7 voucher, you can convert £5 of that into a £10 Summer Exchange token with the remaining £2 credited back to your account in points.
Where can I make the exchange?
The exchange can be done in-store (excluding Tesco Express) at the signposted desks, or online (though you'll need a printer).
What can I use the Summer Exchange tokens on?
Before exchanging, identify the department you want to spend the voucher in as they will then only be valid for that section.
Below are the departments you can spend your vouchers in.
Tesco Finest (in-store only)
Skincare, cosmetics and fragrance (in-store only)
Pet food and accessories (in-store only)
Flowers and plants (in-store only)
Opticians (in-store only)
Mobile phones and accessories (online and in-store)
Exclusions apply so check online before exchanging.
Where can I spend the Summer Exchange token?
The Summer Exchange token can be used in any Tesco store where the item you want exists (plus online for mobiles).
Can I get change from the Summer Exchange tokens?
No. The cost of the products purchased must equal or exceed the value of the Summer Exchange tokens. This means you can't use a £10 token to buy an £8 item even if you accept you'll lose £2.
Can I buy something worth more than I have in Summer Exchange tokens?
Yes. You can pay the difference yourself.
Is there a deadline?
Clubcard vouchers can only be converted to Summer Exchange tokens until 1 September. Exchange tokens will then be redeemable until 11 September.
Does the Clubcard scheme change otherwise?
Earning points. The revamp does not affect the way you collect points, where you usually earn two points per £1 spent at Tesco.
Spending points. You'll still be able to triple the value of Clubcard points that can be used at certain non-Tesco retailers.