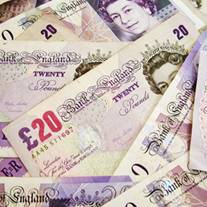 Almost 900,000 workers, mainly women, will get a pay rise when the minimum wage breaks through the £6-an-hour barrier for the first time this weekend, union leaders said today.
The adult rate jumps by 15p to £6.08 (2.5% increase) from Saturday, by 6p to £4.98 (1.2%) for 18 to 20-year-olds, and up by 4p to £3.68 (1.1%) for 16 and 17-year-olds, while the apprentice rate goes up by 10p to £2.60 (4%).
But the current Retail Prices Index (RPI) inflation measure is 5.2%, which means in real terms it's not a rise.
The TUC says estimates suggest the 2.5% increase in the adult minimum wage should benefit the public finances by £230 million as tax and national insurance revenues increase and the benefits bill falls.
General secretary Brendan Barber says: "This rise will put extra cash in the pockets of the UK's lowest-paid workers when they can ill afford to have their pay squeezed by inflation.
"Cuts in public services and benefits are hitting the working poor the hardest and this increase is not enough to protect them from falling living standards.
"The minimum wage has already helped hundreds of thousands of families without causing significant job losses and its success has shown that despite much scare-mongering from some employers, sensible labour market regulation is good for business."
Unions are pressing the Low Pay Commission to be "bolder" in recommending next year's rise, with some leaders believing a "living wage" of more than £8 an hour is needed.