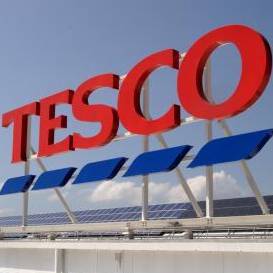 Tesco has cut the benefits of its Clubcard loyalty scheme to finance a drop in the cost of groceries.
The supermarket is ending its 'double points promotion' next month. Under the scheme, every pound spent in-store is worth two Clubcard points but this will fall to one point on 23 October.
Key Points
Double Clubcard points to be axed
Cut to fund £500m price drop
But Clubcard users worse off than pre-2009 shake-up
While this was always labelled as a temporary offer by Tesco, which began in August 2009, the giant also used the maintaining of that deal to explain the cut in rewards offered to points holders in December last year.
Back then, it cut the rate at which users could exchange points from four times their value to three to buy items in the Tesco Rewards brochure.
As part of the new deal, Tesco is reinstating the four-times exchange value on Monday on its "most popular rewards" such as Pizza Express, Cafe Rouge and Strada. Many other rewards remain at three times the exchange value.
As a result of the changes, Clubcard holders are worse off in many cases than they were before double points began just over two years ago, as the table below shows:
Max value of rewards points on £1k spend
| Date | Clubcard offer | Reward value |
| --- | --- | --- |
| Pre-Aug 2009 | Single points, 4x exchange | £40 |
| Aug 2009 | Double points, 4x exchange | £80 |
| Dec 2010 | Double points, 3x exchange | £60 |
| Oct 2011 | Single points, 3x or 4x exchange | £30 or £40 |
Martin Lewis, MoneySavingExpert.com creator, says: "Tesco points chasers across the land will groan at this news. While of course everyday price cuts are welcomed, the gain of that is relatively diffuse. Different people will see it hit them in different ways – the loss of Clubcard points however is defined.



"We went relatively easy on Tesco when it dropped the rewards from 4x to 3x primarily because it was still giving 'double points'. This news means it has truly slashed the value of its rewards scheme."

Price drops

Tesco says it is investing £500 million in its 'Big Price Drop' which begins on Monday.

The supermarket will cut the cost of more than 3,000 products such as milk, bread, fruit, vegetables and other essentials.

It's not all good news on price drops as Tesco will also remove some multi-buy offers.

Tesco chief executive Richard Brasher says: "To ensure we make the biggest change we can for customers, we're going to make a change to Clubcard, ending the double points promotion and returning to one Clubcard point per pound spent.

"Clubcard is an important thank you for customers. They enjoy being rewarded for their loyalty with Clubcard points they can spend later.

"But they're saying very clearly in these difficult times, that they also want more immediate savings at the checkout.

"So we will give them both. Clubcard will still be the best loyalty scheme in the market bar none."