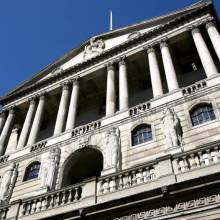 Britain is at risk of another recession and the economy might already be shrinking, a senior Bank of England figure has warned.
Martin Weale, who sits on the Bank's Monetary Policy Committee (MPC), which sets interest rates, says the economy is at risk of contracting in the final quarter of 2011.
He told Channel 4 News: "The underlying rate of growth of the economy is weak now and I wouldn't be terribly surprised if we were to see output contract in the fourth quarter."
He added: "Obviously there is the risk of another recession and it's higher than one might have thought a few months ago."
Weale put his gloomier outlook down to the crisis in the eurozone, the programme reported.
"Of the six recessions since the end of the First World War this looks to me at least like that with the weakest recovery," he said.
"I find it difficult to forecast how the euro area crisis is going to be resolved.
"We hope that there will be a very clear resolution announced pretty quickly now and if that is a very clear resolution I don't think it would solve all of the underlying problems."
He was speaking as Bank of England governor Mervyn King prepares to appear before the Treasury Committee today to answer questions on quantitative easing (QE).
Earlier this month, the bank injected a further £75 billion into the economy in a bid to jump-start the UK's flagging recovery.
The MPC voted to boost its quantitative easing programme, effectively printing more cash, from £200 billion to £275 billion despite the risk that it could cause inflation to rise even higher.