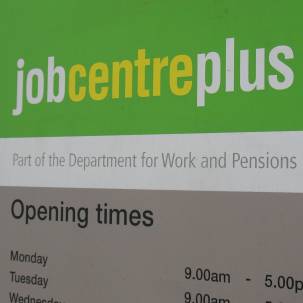 David Cameron has acknowledged that the latest unemployment figures are "very disappointing" after more than 100,000 people joined the ranks of those looking for a job.
Unemployment increased by 114,000 to 2.57 million, the worst figure since the autumn of 1994, giving a jobless rate of 8.1%, the highest since 1996.
The Prime Minister admits the Government has to "do more to get our economy moving".
Key Points
Unemployment hits 2.57 million
Youth unemployment reaches record high
PM says government has to do more to get economy moving
He insists the coalition's deficit reduction plans must not be abandoned, arguing that to do so would send interest rates soaring and the economy "into a tailspin".
At Prime Minister's Questions in the Commons, Labour leader Ed Miliband said it was time for Cameron to admit the Government's plan "isn't working".
Cameron replied: "These are very disappointing figures that have been announced today and every job that is lost is a tragedy for that person and for their family.
"That is why the Government is going to do everything it can to get people into work."
He added: "I accept we have got to do more to get our economy moving, to get jobs for our people, but we mustn't abandon the plan that has given us record low interest rates."
Record figures
Today's figures show that youth unemployment has reached a record high of 991,000, while the numbers claiming jobseeker's allowance increased for the seventh month in a row, to 1.6 million.
Other figures show a 178,000 slump in employment in the quarter to August, the biggest fall in more than two years, and the largest-ever cut in the number of part-time workers, down by 175,000.
There was a record reduction of 74,000 in the number of over-65s in employment, according to today's data from the Office for National Statistics (ONS).
The number of 16 to 24-year-olds out of work increased by 74,000 over the latest quarter to 991,000, a rate of 21.3%, the highest total since comparable records began in 1992.
The claimant count, covering those on jobseeker's allowance, increased by 17,500 in September to 1.6 million, the seventh consecutive monthly rise and the highest total since the beginning of last year.