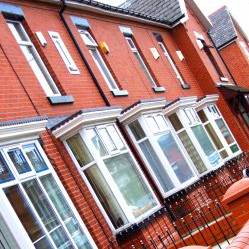 First-time buyers struggling to find big deposits should be encouraged back into the housing market with a raft of measures to help them clinch a mortgage deal, a report from businesses recommends today.
The Confederation of British Industry's (CBI) Unfreezing the Housing Market report calls for the introduction of mortgage indemnity guarantees (MIGs) to support first-time buyers, the "lifeblood" of the housing market.
Key Points
New report calls for better support for first-time buyers
Buyers 'need encouraging into housing market'
Number of first-time buyers has fallen
An MIG is a type of insurance covering the lender in case the borrower doesn't pay. It would protect the lender if the house buyer fell badly behind with payments and the property needed to be repossessed or sold.
If the house was sold for less than the outstanding mortgage total, the lender could claim on the mortgage indemnity to recover its loss.
The report says that MIGs should be delivered by lenders and house builders working together in the private sector.
But it suggests that the Government could step in and share some of the risk if it could not happen on a purely commercial basis.
The report also recommends allowing first-time buyers who have pension savings to boost their mortgage deposits by borrowing a percentage of their own pension pot at a low cost, to be paid back during their working life.
The initiative could be used as an alternative to other forms of credit and repayments could be collected from salaries as part of a company scheme.
First-time buyers need more support
John Cridland, CBI director-general, says: "We have to do more to give our young people hope in the future and support their aspirations to be home-owners.
"We could reduce the risk of higher loan-to-value mortgages if the Government encouraged lenders to take out insurance against the borrower failing to meet payments."
He adds: "Owning a home has been a natural aspiration for generations of Britons since the 1950s, and should not become the preserve of a lucky few.
"Without a steady stream of first and second-time buyers, the housing market freezes and the whole economy suffers."
The report found that there were 194,600 first-time buyers last year, fewer than half the numbers in 2006.
The median average loan-to-value mortgage ratio for first-time buyers was around 90% before the financial crisis, but it has dropped to below 80%, meaning buyers are needing to find bigger deposits at a time when living costs are rising.
The business group's report says: "While the CBI would not want to see a return to the overly risky lending practices and unsustainable levels of personal debt seen before the financial crisis, it is important that the pendulum does not swing too far in the opposite direction."
The study says existing homeowners wanting to move house should be better supported with special mortgage products designed for those in negative equity.
House building at lowest level for 90 years
The CBI also calls for fewer regulatory burdens surrounding housing development, and says stamp duty should be reviewed with a view to making it more progressive.
Cridland says: "Housing makes a significant direct contribution to economic output and job creation, and also has a big impact on business and consumer confidence and spending.
"Despite five million people languishing on waiting lists because of the housing shortage, house building is at its lowest peacetime level for 90 years.
"A quarter of a million new homes are needed each year for at least the next 20 years to make up the shortfall.
"So we're also urging the Government to deliver a comprehensive, long-term strategy to tackle the structural supply and demand failures in the housing market."