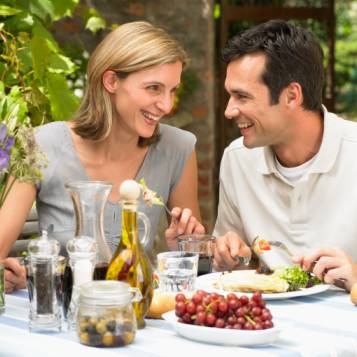 With Valentine's Day approaching, nearly 85% of people think it's acceptable to use a 2for1 voucher in a restaurant on a first date, while a quarter think it makes their partner a keeper, a MoneySavingExpert.com poll of 15,000 users reveals.
The survey sets the candle-lit scene: "Bob asks Sarah to dinner on a first date, saying he'll pay. When the bill comes, he pulls out a 2for1 voucher, what advice would you give Sarah?"

The results show that in post-recession Britain, people focus admiring glances on those who prefer to stash, rather than flash, the cash.
Just 16% of those polled warned Sarah to "RUN, Bob's being tight!". Intriguingly, when MoneySavingExpert.com asked the same question three years ago, 27% of people told Sarah to leg it.

This year, 26% of the blokes and 22% of ladies thought Bob was a potential keeper as he's a savvy man who's careful with cash. And 61% of women and 58% of men said it wasn't an issue, Bob as was still paying.

Martin Lewis, creator of MoneySavingExpert.com, says: "Romance doesn't have to come at a high price, it's the thought that counts. So if a man's agreed to pay, is going to a nice place, and is savvy enough to keep the cost as low as possible, surely that's a plus point.

"Of course, it needn't be crassly brandished at the table. A subtle handover to the waiter is better. And chaps, if you flash a voucher and she does a runner, you've probably had a lucky escape."
Poll results
What should Sarah do?
Men
2012
Women
2012
Men
2009
Women
2009
Bob's a keeper
26%
22%
29%
25%
It's not an issue
58%
61%
45%
47%
RUN Sarah!
16%
17%
26%
28%
14,688 people polled in 2012 & 7,900 in 2009