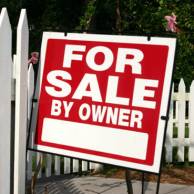 The number of homes repossessed by mortgage lenders last year fell to its lowest rate since 2007.
The Council of Mortgage Lenders (CML), which represents banks and building societies, says 36,200 properties were seized from borrowers who had failed to keep up payments.
This is down from 37,100 in 2010 and 48,300 in 2009. However, the group predicts the figure will jump this year due to tougher conditions for households.
Homeowners have been largely shielded from unaffordable payments thanks to the record low Bank of England base rate, which has a massive influence on mortgage rates. It has stood at 0.5% since March 2009.
This led to fixed-rate mortgages hitting a record low last year.
Meanwhile, many borrowers on their lender's standard variable rate (SVR), the rate most home loans revert to after an introductory offer, have seen record low costs, sometimes as little as 2.5%, despite SVRs having been traditionally expensive before the credit crunch.
The number of households behind on payments also fell last year. By the end of 2011, 159,400 mortgages had arrears equivalent to 2.5% or more of the mortgage balance, down from 172,400 at the end of 2010.
Gloomy future
But the CML admits the outlook for 2012 is bleaker, predicting reposessions will hit 45,000 this year because of worsening unemployment and rises in the cost of living.
It fears 180,000 mortgages will have arrears of 2.5% or more by the end of 2012.
CML director general Paul Smee says: "Low interest rates and good arrears management by lenders are helping the vast majority of those borrowers who face difficulties to keep their homes and get back on track.
"This will continue, but in the face of wider economic difficulties and rising unemployment, we are concerned that there will be a higher number of people facing more serious problems in 2012.
"Anyone worried about their finances should talk to their mortgage lender and take advice on their other debts as soon as possible.
"This will give them the best possible chance of staying in their home even if they have a spell of financial difficulty. Forbearance cannot be indefinite; but for most households arrears are temporary and can be resolved."