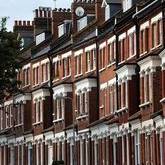 The housing market has seen a "surprisingly strong" bounce after sellers upped their asking prices by the highest monthly jump for a decade.
The 4.1% month-on-month leap is the biggest recorded since 2002, with new sellers typically asking £233,252 for their homes, property website Rightmove found.
Key Points
House prices see highest monthly jump for a decade
4.1% month-on-month leap is biggest since 2002
New sellers typically asking for £233,252
The "surprisingly strong price pump" could have been triggered by rising seller confidence due to a lack of homes for sale in more affluent areas boosting buyer demand, the study says.
London asking prices, at £449,252, are within 1% of last October's all-time high, but the number of new listings is down by 9% on February 2011, indicating seller shortages will help push up prices in the capital this year, the report says.
Rightmove suggests the market generally has taken on a new "strange normality" of low sales volumes but relatively stable prices.
Massive jump
Rightmove director Miles Shipside says: "We're seeing a strong spring bounce in asking prices this year, but the ball is still a lot smaller than it was before the credit crunch as market volumes are constrained.
"The biggest jump in new sellers' asking prices for nearly 10 years indicates there is pricing power if you are selling the right type of property in the right place where enough potential buyers have access to funding.
"If your local market does not have those characteristics and your price pump is based on little more than seasonal optimism and an estate agent's hot air, then be prepared for buyer response to be a let down."
This month's strong increase compares with monthly asking price rises of 4.5% recorded in both February and April 2002. Since 2002, the biggest monthly uplift was 3.6% in April 2007.
The study says that during the "pre-credit crunch norm", the market would generally accept "spring bounce" asking price hikes if this was matched by a seasonal increase in buyer activity and the finances were there to support it.
But a more uncertain picture has emerged with the UK fragmented into "micro markets", each performing differently, and the strength of London sales boosted by overseas buyer demand has been at odds with much of the rest of the country.
Unsold properties down
Shipside says there are indications that potential buyers are in a more "positive mindset" this year, with six out of 10 people in a recent study believing the market favours buyers.
The typical number of unsold properties per estate agency branch has also fallen to 67, from 75 in October 2011, suggesting buyers are "starting to eat away at the rump of unsold stock", Rightmove says.
The study also highlights a widened availability of mortgage deals for would-be buyers, with the number of products requiring a 10% deposit up by a third on a year ago.
However, the Bank of England expects lenders will tighten their borrowing criteria this year amid weak economic conditions and the current stamp duty holiday for first-time buyers due to end next month.