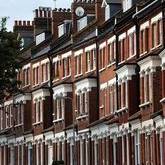 The proportion of first-time buyers is set to rise slightly this year, but they could face a narrower choice of properties due to a lack of first-time sellers, a study suggests.
Rightmove says the proportion of buyers who intend to purchase their first home over the next year has edged up slightly to 24.3%, but remains well below the 40% "healthy" historic level.
Key Points
Number of first-time buyers to rise this year
But could get less choice due to lack of first-time sellers
Raising a deposit remains the biggest worry
Wide regional variations also remain, with 41.5% of house buyers in London this year expected to be first-timers, compared with 26.3% in north west England, the next highest proportion, and just 19% in the East Midlands.
The property search website also says the number of new properties advertised for sale in the final quarter of 2011 was significantly down on the third quarter, with flats and terraced houses - usually favoured by first-time buyers - in short supply.
The number of terraces and flats coming to market in the final quarter of 2011 dropped by 31% and 28% respectively, compared with the previous quarter.
Falling prices mean many people who have already bought their first home are unable to sell on and buy a bigger property.
Rise in first-time buyers
Around three in 10 potential first-time buyers said finding a suitable home was their biggest concern, but raising a deposit remains the biggest worry.
First-time buyer levels have made a slight recovery after falling to a three-year low last autumn, according to figures previously released by estate agents.
But those who want to get on the property ladder will face a further hurdle this spring when the current stamp duty holiday for first-time buyers ends.
Lenders are also expected to tighten their criteria this year amid the weak economic backdrop, despite currently offering some of their cheapest ever deals.
Miles Shipside, director at Rightmove, says: "First-time buyer levels remain well below the historic norm of 40%. But a slight increase of 1.4% on the last quarter of those intending to buy for the first time offers some encouragement for the year ahead.
"The main issues of affordability and mortgage availability that have blighted first-time buyers over the last few years remain.
"Our research also provides evidence of an emerging new home ownership challenge in the form of a lack of available properties that would typically be brought to market by first-time sellers."
'Affordable homes programme'
Housing Minister Grant Shapps says: "This research shows that more people want to get on to the housing ladder and own their own home.
"We support that aspiration, which is why we are taking action through the NewBuy Guarantee scheme to help people buy newly-built properties with just a fraction of the deposit they would currently need.
"This is alongside the FirstBuy scheme, launched in June, which offers a valuable alternative to the bank of Mum and Dad to help first-time buyers get together their deposits.
"We also need to get Britain building again. This Government is putting £4.5 billion towards an affordable homes programme which is set to exceed our original expectations and deliver up to 170,000 new homes over the next four years."