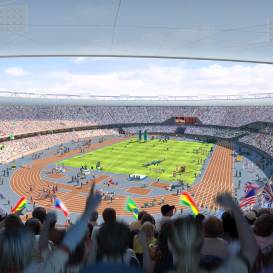 Sports fans with unwanted London 2012 Olympics or Paralympics tickets can now submit them for resale, after the process fell flat in January.
The London 2012 Ticket Resale Scheme, run by the London Organising Committee of the Olympic Games (Locog), offers those who can no longer attend their chosen events the chance to offload tickets at face value.
However, you can always bypass the resale system if giving tickets to friends and family as this is perfectly legal.
Locog says fans will not be asked to present identification when entering venues except where it is suspected concession tickets are being misused. So as long as you're giving your ticket to another eligible spectator, there shouldn't be a problem.
A spokesman says: "Whilst we do have the right to do this in the terms and conditions, people will not need to present ID at venues as a matter of course."
Tickets have either already been sent to ticket holders or are in the process of being dispatched.
How to sell ticket via the official system
Sign into your online London 2012 ticketing account and select which tickets you no longer want. You need to have made the original purchase at least 48 hours previously to be able to resell.
Technically, you can put them up for sale up to five days before the event, though that is also the point at which they need to be resold, so ideally, try as early as possible.
Once done, you will receive email confirmation detailing the tickets you've applied to sell, at which point they will become void.
If you're already in possession of the tickets you can print out the email, and return the relevant tickets. If you received a free Games Travelcard with your tickets you must return these too. If you've not yet received your tickets, post them as soon as they arrive.
Send your tickets, Games Travelcards and email confirmation to: London 2012 Ticketing, PO Box 798, Manchester, M60 1WU.
If your tickets have been resold you'll receive an email, which will also include details of when to expect your money back.
However, if your tickets haven't resold five days before the date on which the event is scheduled they will be reactivated and Locog will send them back to you.
The resale opportunity is only available online, so if you purchased your tickets using the paper application form, you'll need to create an online account before calling 0844 847 2012 and asking it to activate your account.
The first attempt to reallocate tickets was on 6 January, but had to be abandoned within hours after the website buckled under the demand.
Locog then offered to buy the tickets back at face value until 3 February but there have been no further opportunities for people to resell tickets since.
Will I get fees back?
No. You'll just get the ticket value back. The £6 delivery charge is non-refundable.
How do I buy tickets?
Tickets are now on sale for a limited number of events, see the Locog website for how to buy.