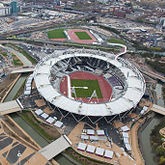 Sports fans who bought potentially invalid London 2012 Olympics tickets from Norwegian traders are to be refunded, following an investigation by the Office of Fair Trading (OFT).
Thousands of supporters failed to receive the tickets, while those who have could be refused entry as they were purchased from unauthorised sellers.
Norway-based companies Euroteam AS, Uncus AS, Ticket and Travel AS and their controlling director Andreas Gyrre, have now agreed to full refunds for misleading customers by giving undertakings to the High Court.
In July, the OFT found the companies had used 12 websites to sell a combined 20,000 Olympic tickets, despite only having a supply of 5,000.
OFT legal director Jason Freeman says: "This is an important agreement from the traders to provide refunds to anyone who finds their ticket does not turn up or is turned away from an event because their ticket is not valid."
The OFT worked with the Metropolitan Police and the Serious Organised Crime Agency during the investigation.
What if you bought tickets from these firms?
If they've turned up. You can still turn up at events and try to get in, but be warned, you risk being turned away. Olympics organiser Locog hasn't said whether fans with these tickets will get in or not but the OFT says there is a chance they won't. If you go, make a copy of the ticket first.
If you're refused entry. Retain your tickets and get a receipt from Locog to say the ticket is invalid. Send the ticket (or copy in case they're confiscated) and receipt to the seller to get a refund.
If you haven't received your tickets. Contact the seller immediately and request a refund.
How to get a refund
All the traders have promised the High Court they will make their contact details available on their websites.
The general address is Evolve, Martin Linges vei 25, 1364 Fornebu, Oslo, Norway. The email address is contact@euroteam.net.
If you fail to receive a refund and the ticket cost over £100 and you paid by credit card, the law states card firms are jointly liable so you can contact your bank or building society for the money back.
If it cost less or you paid by debit card, then Visa and Mastercard have a similar guarantee, though this is not enshrined in law.
Also report your case to Action Fraud, the UK's national fraud and internet crime reporting centre, if the ticket company doesn't give you the money back.