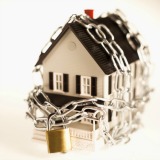 The number of home repossessions has fallen to its lowest level in a year and-a-half despite the toughening economy, but they could rise again.
There were 8,500 repossessions between April and June this year, marking the lowest quarterly total since the last three months of 2010, according to the Council of Mortgage Lenders (CML).
There were 18,100 repossessions in the first six months of this year.
Key Points
8,500 homes repossessed between April and June
Lowest quarterly level in a year and a half
But CML predicts repossessions will increase
The CML says the figure indicates repossessions are so far on a "lower trajectory" than its forecast they will rise to 45,000 for the whole of 2012.
But a CML spokesman says the body is maintaining that 45,000 prediction, as the "uncertain backdrop" of the wider economy remains and household finances are still under intense pressure amid high unemployment and low wage increases.
The body, whose members include banks and building societies, says that lenders' forbearance has helped to ease the situation, with some reducing rates temporarily, as well as extending payment dates.
CML director general Paul Smee says: "The figures show that lenders, borrowers and debt advisers are working together to get through the current period of economic difficulty and keep mortgage possessions in check."
Arrears up
The number of borrowers with high levels of arrears has been creeping up, which is a position they will find difficult to recover from, the CML spokesman says.
There were 28,300 mortgages with arrears of more than 10% of the balance between April and June, an increase from 28,000 during the previous quarter.
By the end of June, the number of loans with arrears of 2.5% or more of the outstanding balance stood at 157,400, a figure which is 400 lower than three months earlier.
Tightening borrowing criteria
More than a million home owners saw their mortgage rates rise in May, following a string of increases announced by lenders, blaming the weak economy and increased funding costs.
Lenders have also been tightening their borrowing criteria in recent months, causing a drop in the proportion of mortgage approvals, making it tougher for people to get a mortgage or switch to a cheaper deal.