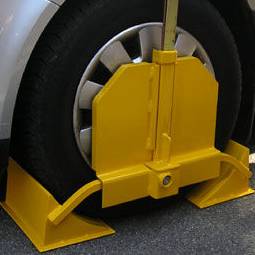 Cowboy wheel clampers who will soon be outlawed could turn their attention to illegal parking ticket rackets, the AA is warning.
From 1 October, it will become a criminal offence to clamp on private land as the Protection of Freedoms Act comes into force.
Key Points
Clamping on private land banned from 1 October
Ban applies in England and Wales
Already banned in Scotland, will still be legal in Nothern Ireland
The AA, which campaigned to have the cowboys banned, says the illegal clampers might try to shift their business to bogus parking tickets on private land.
Its president, Edmund King, says drivers should be vigilant about where they park until the ban takes effect.
The new clamping law applies to England and Wales, but not Northern Ireland. Clamping and towing away on private land has been banned in Scotland since 1992.
Gold teeth demand
According to the AA, one of the worst cases included clampers in Doncaster threatening to take a three-year-old girl hostage unless her mother paid their charge.
Elsewhere, a hearse with a body in the back was clamped while returning from a funeral.
Other clampers have demanded sexual favours or gold teeth, it says, while an on-duty royal bodyguard and one of the AA's own patrols have also been targeted by the cowboys.
But one bit off more than he could chew when he clamped a marked police car, ending up with an Asbo.
'Modern-day highwaymen'
King says: "Too many clampers have been acting like modern-day highwaymen for too long. Many elderly and vulnerable people have been ripped off by these callous cowboys.
"We have noticed that some of the cowboys, drinking in the last chance saloon, are cashing in before they are finally outlawed so we advise drivers to be particularly vigilant over the next two weeks."