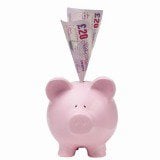 Half a million people will join a workplace pension for the first time by Christmas once employees start being automatically enrolled into schemes, the Government predicts.
Key Points
Auto-enrolment begins on 1 October
Large employers affected first, smaller firms follow
Over-22s earning over £8,105 can take part
The Department for Work and Pensions (DWP) says about 600,000 people will be in a scheme by the end of 2012, rising to 4.3 million by May 2015.
From 1 October, employers with 120,000 or more workers must place eligible staff into pension schemes, with smaller firms being added over the next six years.
Anyone over 22, currently earning more than £8,105 and working for a firm which is affected, will be automatically enrolled into a scheme.
The programme, described as the biggest pensions shake-up in more than a century, aims to tackle concerns about a growing old age poverty crisis, as people are living for longer but failing to put away enough for their later years.
TV ads featuring Dragon's Den star Theo Paphitis and The Apprentice's Nick Hewer have been launched to raise awareness of the scheme.
'First chance to save'
Secretary of State for Work and Pensions Iain Duncan Smith says: "For many it will be the first time they have had the opportunity to save.
"It will allow people to start planning for their retirement and this will make it easier for them to start putting something aside, along with a contribution from their employer."
Employers will eventually contribute 3% of earnings, individuals 4% of earnings, and there will also be 1% of tax relief to make up a total contribution of 8%.
Employees can opt out, but the Government thinks between six and nine million people will be newly saving or saving more in all forms of workplace pensions by 2018.
Private pension savers down
Figures released yesterday by the Office for National Statistics showed the number of private sector workers paying into pension schemes has plummeted to its lowest level since records began in 1953.
There were 2.9 million private sector workers placing money into pensions last year, the first time active membership has dipped below three million.
The Government says 11 million people in the UK are not saving enough for their retirement, and while pension saving has fallen across all age groups, the decline has been steepest among those aged between 22 and 29, falling from 43% in 1997 to 24% today.
Some analysts say the Government should go further in encouraging people to save, for example by making pensions more flexible so that workers can take some cash out if they need to or by increasing Isa allowances.