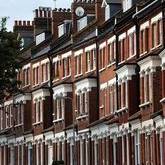 House sellers hiked their asking prices by more than £8,000 in October in the biggest jump seen in eight months, Rightmove said today.
The typical property asking price rose by 3.5% month-on-month to £243,168, as all regions across England and Wales saw asking prices increase.
Key Points
Asking prices rose 3.5% month-on-month in October
Typical asking price now £243,168
Mortgage availability also increasing
The property search website says the autumn rebound shows "evidence of some life in the market", although it suggests the upturn is most likely due to a lack of properties for sale, meaning would-be buyers have less choice.
The jump means prices are 1.5% higher than a year ago and goes some way to reversing an £11,000 drop in prices between June and September, when the market saw a lull amid distractions such as the Olympics.
London, which has been popular with overseas buyers and continues to perform relatively strongly, saw the biggest monthly increase in asking prices, with a 4.8% jump, taking average prices to £478,071.
The south-east of England and the West Midlands both saw 3.9% increases, while prices rose by 3.8% in north-west England and by 3.4% in Wales. East Anglia saw the smallest increase, with a 0.4% rise.
Mortgage availability increasing
The Council of Mortgage Lenders (CML) said last week that mortgage lending to home buyers hit a two-year high in August, although it cautioned it is too early to say what long-term effect recently-launched Government schemes to kickstart lending are having.
Mortgage availability has been increasing since an £80 billion funding for lending scheme was launched at the start of August, although much of this has so far been concentrated around people with larger deposits of at least 20%.
Lenders have also toughened their borrowing criteria in recent months and Rightmove says estate agents are still reporting mortgages are no easier to obtain, with lenders "nit-picking" through every detail of applications.