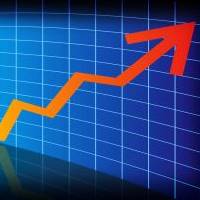 The UK climbed out of the double-dip recession with a bang between July and September as the economy returned to growth at its fastest pace in five years, official figures showed today.
Gross domestic product (GDP) – a broad measure for the total economy – grew 1% in the third quarter of the year, the Office for National Statistics (ONS) says, ending three consecutive quarters of declining output.
City experts had expected a rise of 0.6%. The actual figure is the biggest increase since the third quarter of 2007.
The largest contribution to the surge came from the services sector, which makes up around 75% of the total economy. It grew at 1.3%, following a 0.1% drop in the previous quarter.
But the bounce-back was largely driven by one-off factors, the ONS warns, such as clawed-back activity lost to the extra bank holiday for the Queen's Diamond Jubilee and a slight lift from the Olympics.
The figures are preliminary estimates and subject to revision.