Nando's customers have a month left to redeem any rewards they've saved up, as the restaurant will stop accepting paper loyalty cards from 1 July.
The spicy chicken chain launched a new electronic loyalty card last August (see the Nando's spices up its loyalty scheme MSE News story), which offers more variety on the rewards you can get (see our Restaurant Deals for top discounts on eating out).
The electronic card replaces its previous scheme, where a paper card was stamped for each meal costing £6 or more. With the new card you'll get one Chilli for each transaction of £7 or more. You then have a year to build up and redeem them.
Nando's stopped stamping paper cards last August, but if you've got one, you've got until 30 June to use any rewards from it – so hurry if you've got any freebies to reclaim as you won't be able to transfer these over to the new Chilli scheme.
Here's what the old card looks like: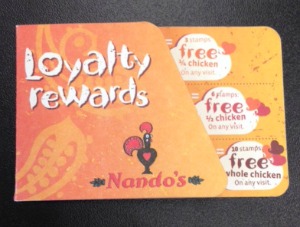 And this is the new one: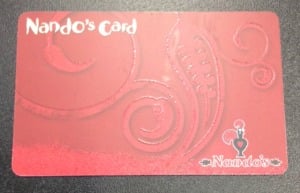 How do the loyalty cards compare?
Under the new scheme, you'll have more choice over what to spend your Chillies on:
Rewards under the old paper card:
Three stamps: Free 1/4 chicken or any 'appeteaser' excluding Altogether Now.
Six stamps: Free 1/2 chicken (or vegetarian alternative).
10 stamps: Free whole chicken (or vegetarian alternative).
Rewards under the new electronic scheme
Three Chillies: Free 1/4 chicken or any 'appeteaser'.
Six Chillies: Free 1/2 chicken or any single wrap, pitta or burger.
10 Chillies: Free whole chicken or any single combo meal.
How do I get a new electronic card?
You'll be offered an electronic card next time you're in a Nando's restaurant. You can start collecting Chillies on it straight away.
Once you've registered the card online, your balance will be saved. So if you lose your card, you'll be able to transfer your Chillies to a new one. A free Chilli will be added to your account when you register.
You can also download the Nando's app, which allows you to to keep an eye on your balance and redeem Chillies from your receipt if you've forgotten your card, although you'll need the card on you to claim a reward in a branch.