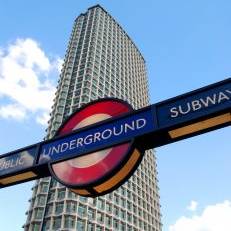 Millions of people with Oyster cards they no longer use should check if there's cash still loaded on them, after new figures revealed there's nearly £124 million sat on dormant London transport smartcards.
According to data from Transport for London (TfL), of the 75 million Oyster cards issued since the scheme began in 2003, 28 million haven't been used for more than 12 months. These have a combined pay-as-you-go balance of £64 million.
On top of this, TfL holds an additional £59.5m in deposits, which users pay to get an Oyster card in the first place, on cards that haven't been used for a year or more – money that can also be claimed back.
How do I get a refund of both my credit and my deposit?
By phone: You can get a refund of both your pay-as-you-go credit and your deposit by calling TfL's customer services on 0343 222 1234 with your Oyster card number at the ready. You'll have to answer the security question created upon registering your Oyster card. If you've forgotten your security question, you'll be asked a series of questions to verify your identity.

Once you've told them to cancel your card, you'll need to send it to TfL's customer services office in order to get a full refund of your credit and deposit via bank transfer, cheque, or TfL website credit.

Calls to 03 numbers cost no more than calls to geographic numbers (01 or 02) and must be included in your inclusive mobile or landline minutes. Where they're not, they typically cost 2p-10p/minute from a landline and 10p-40p/minute from a mobile.

By post: You can get a refund of both your pay-as-you-go credit and your deposit by completing a TfL refund form and sending it with your Oyster card to TfL's customer services.

In person: You can apply for a refund at London Underground ticket offices, where you'll need to complete a refund form. The initial method used to pay for the card will be the same method used to refund both the credit and deposit. If the payment method you originally used was a debit or credit card that's since expired, you can ask for the refund to be transferred to a nominated bank account or to receive it via cheque. If you haven't registered your card, you'll need to show some form of ID in order to get the refund. You can't get a refund on behalf of someone else.
Can I get a refund of my credit but keep my Oyster card?
You can get a refund of your pay-as-you-go credit and still keep your Oyster card, as long as you apply for the refund in person at a Tube station ticket office.
Bear in mind that if you keep your card, if you paid a deposit to get it then you won't get it back.
Can I get a refund of my credit if I lose my Oyster card?
If you lose your Oyster card or it's stolen, notify TfL and it will transfer your credit onto a new Oyster card and prevent anyone from using the old card – as long as the card is registered. For more information on what to do in this scenario, see TfL's Oyster Refunds and and Replacements guide.
Donate your Oyster card to charity
If you no longer need your Oyster card and don't want to reclaim your deposit or any unused credit, you can donate it to charity.
TfL currently has 10 charity boxes in some Tube stations, including King's Cross, Liverpool Street, and Heathrow Terminals 1, 2 and 3.
Any unused credit and the card's deposit will then be donated to the Railway Children charity, which helps runaway children on the streets of east Africa, India and the UK.
'You can get a refund dating from 2003'
A spokesman for the firm says: "Research shows that people want to hold onto the cards as a souvenir, but the most straightforward way to claim would be to call our customer services number – 0343 222 1234.
"The money is kept forever. Even people who first got Oyster cards back in 2003 can still get a refund now."
How does the Oyster system work?
Oyster cards can be used to to travel on Tube, rail and bus services across Greater London, and are usually cheaper than using cash or paper tickets.
Once money is put onto an Oyster card, it doesn't expire. Users can ask for that money back, along with any deposit paid to get the card. But many aren't aware of this – which is why there's such a big sum held on dormant cards.
TfL says the average card contains just £2.25, but over 300 cards have a balance of £90 – the maximum amount that can be held on an Oyster card.
Refundable deposits of £3 were introduced in March 2009, prior to that Oyster cards were free. The deposit then rose again to £5 from 2011.