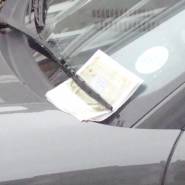 MoneySavingExpert.com is shouting louder than ever about your right to dispute unfair private parking charges, despite receiving threats of legal action urging us to stop.
We're reigniting our campaign against unfair parking tickets, even though a group of private car parking companies is threatening to take us to court to try to stop us telling consumers their legitimate rights. (See our Fight Private Parking Tickets guide.)
Private car parking firms often operate in supermarkets, retail parks, hospitals and housing estates. Some firms do better impressions than Jon Culshaw to claim legitimacy and their tickets even mimic the Penalty Charge Notice titles of official council tickets.
But we're warning people not to get caught. These companies have no official right to fine you – they're invoices, not fines.
Our view is simple. If you get a fair ticket because you wrongly used a parking space, then pay up. But if the ticket's unfair, such as when the signs are hidden, unclear or in small font, then don't pay.
"We're not scared off by suited lawyers"
Martin Lewis, founder of MoneySavingExpert.com, says: "Threats to shut us up from telling people their legitimate rights are counter-productive. If they're so worried that we're helping people, we must be onto something here. So if their aim was to bully us into shutting up – hoping we'd be scared off by suited lawyers – boy, they've made a big mistake.
"I, for one, will be shouting from the rooftops – if it's an unfair ticket, write back explaining why you won't pay.

"Many people get unfair tickets because they failed to see the signs as it was hidden by overgrown trees, in a very tiny font, the ground markings were unclear or they were blue badge holders that overstayed their allocated time by a few minutes. Most reasonable people would think the ticket was unfair.
"While some parking companies are legit, the private parking industry generally is a Wild West, full of cowboys, and the public need to know their rights. We won't be shut up. Supermarkets and retail chains that use these firms with appalling records also need to take responsibility and stop hiring them.

"Anyone slapped with an unfair ticket should take a stand. They have no right to fine you – it's just an invoice, and like any invoice which you believe you don't owe, just politely write back and inform them why and that you won't be paying."
Why are firms threatening MoneySavingExpert.com with legal action?
Over the last 14 months, a group of nine private car parking firms – CP Plus Limited, Debt Recovery Plus Limited, Eurocarparks, Excel Parking Services Limited, Parking Control, ParkingEye Limited, PCN Parking Services, Ranger Services Limited UK and Roxburghe – have threatened us with legal action unless we change the content of our guide to challenging unfair private parking tickets.
The firms accuse us of defaming them because our guide:
Informs people that private parking firms operate in an "unstructured system that puts unnecessary power into potentially unscrupulous hands".
Refers to private parking companies as "cowboys".
Refers to the sector as "Wild West".
We've refused to change the content of our guide and have challenged the companies' accusations. The group of firms pursuing legal action has since dwindled to five. We suspect they've come to realise they've got no grounds for action.

We're now hitting back by reminding people not to let private parking firms bully or trick them into paying unfair tickets. We're campaigning to inform all drivers of their consumer rights, so people aren't left out of pocket because they paid an unfair ticket.
Here are our top tips to fight private parking tickets that the firms don't want you to know:
If you get slapped with a ticket on your windscreen and you think it's unfair, check whether you're on private land. Tickets issued on private land may look official and use similar initials to those issued by official public bodies, such as local councils and the police. But private parking tickets are not fines, they're just invoices, and they're not always enforceable. They're often called parking charge notices.

Immediately gather evidence if it's unfair. If you've a cameraphone, take pictures of unclear signs/markings (or their absence) and/or the area around your car. If there are witnesses, ask for a statement or their contact details to support you.


Write to the company, explaining why it's unfair and that you won't pay. They may huff and puff, but they can't "hit your credit record" or "send bailiffs round", they can only enforce it by taking the time and expense of court action.


Check to see if the private parking firm is a member of the British Parking Association (BPA) or a newer trade body, the Independent Parking Committee. If the private parking firm continues to insist you pay out, you can use an official appeal process if the parking operator's an approvated operator of either organisation. Out of 23,500 people who appealed via the BPA's appeals system in the year to March 2014, 45% were successful.