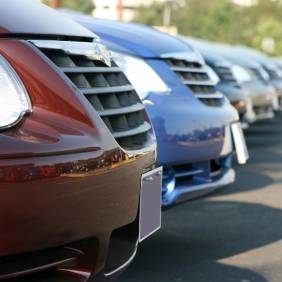 MSE update: 5.35pm, 24 February: The case has now been heard and both sides have given evidence. But a ruling from the judge is not expected for a few weeks. We will update you when it is announced but sign up to the MSE newsletter below to get the latest news to your inbox.
A landmark test case is being heard at the Court of Appeal today, which could set a precedent that would allow drivers to reclaim excessive parking 'fines' from private firms.
MoneySavingExpert.com has long told people who get unfair private parking tickets not to pay them automatically. The so-called 'fines' handed out are merely invoices, often unenforceable, and it's a Wild West out there – many private parking firms are cowboys.
If you have a parking gripe see our step-by-step guide, which shows you how to fight unfair private parking tickets at supermarkets, hospitals, retail parks and elsewhere, including using the private parking appeals systems.
But today motorist Barry Beavis is arguing that an £85 charge slapped down on him by private parking firm ParkingEye for overstaying at one of its car parks isn't comparative to the loss it incurred as a result.
Law firm Harcus Sinclair, acting on behalf of Beavis, will say that the only possible losses arising from him overstaying would be very small administrative costs, such as paying the DVLA to receive his contact details – much less than the £85 parking charge.
The retail outlet car park that Beavis left his car in back in April 2013 also offered two hours of free parking. So his QC Sa'ad Hossain will argue that the £85 charge is far greater than the lost profit to ParkingEye, as it wouldn't have received any payment from other motorists parking within the free parking period.
A decision on the case is unlikely to be made today as judgments can take weeks. But once a judgment is made, it will set a binding precedent, which means all courts in England and Wales have to follow the ruling.
It's understood that in today's case ParkingEye will say that is is commercially justifiable as a means of deterring motorists from overstaying in a city centre car park, and that it funds the management of the free car park.
So what exactly is today's case about?
In April 2013, Barry Beavis left his car in a retail outlet car park in Chelmsford, Essex, which offered two hours of free parking.
But after overstaying by 56 minutes, he was sent a parking ticket by ParkingEye Limited, which managed the site, ordering him to pay £85, reduced to £50 if he paid within 14 days.
The 47-year old father-of-two went online and read other people's experience of parking fines via the MoneySavingExpert.com forum and decided to ignore the letters and the charge.
He says: "It angered me that ParkingEye were so bullying and intimidating so I decided that I would fight it. It's a free car park, so had I moved on after the two hours another car could have parked there and the revenue for ParkingEye would still have been zero so its losses are minimal.
"It's not about the money but about the way that the parking companies operate."
However, Barry then received a letter from a debt collection agency and a court summons, which he couldn't ignore.
Choosing to represent himself, the fish and chip shop owner appeared at Chelmsford County Court, but as only an hour had been assigned to hear the case, the district judge sent for it to be heard at Cambridge County Court.
Here, the judge concluded in May 2014 that the purpose of the fine was to deter motorists from breaching the parking restrictions and that therefore the charge could be enforced as it was "commercially justified".
Barry was ordered to pay £130 to ParkingEye but immediately appealed the decision as he says it could have a damning effect on all motorists parking in private car parks where the fines imposed are several times more than the genuine loss incurred by the land owner.
Parking gripes
Barrister John de Waal QC argued, in a paper for the RAC Foundation published last week, that where fines are several times more than the genuine loss incurred by the land owner, they're not enforceable by the courts.
De Waal says: "Payments at the level that operators presently demand as sanctions are unlikely to count as a genuine pre-estimate of loss; they should be seen by the courts as penalties, which means they are unenforceable."
Separately Sky News has today reported a parking ticket data breach which resulted in 10,000 drivers' details being published online.
In the report, it states that PaymyPCN.net, which has a direct link to the DVLA allowing drivers to pay fines, also has a "backdoor link" to its computer database where Sky reporters claim to have seen drivers' names, addresses and photographs.