A charity runner from Yorkshire who founded the 'Wombles for Cash' Facebook group in January 2015 has told how it has grown to almost 6,000 members – with 40 making £10,000 in vouchers between them in a single month.
Stephen Auker, 58, a retired internet consultant, says he's personally claimed vouchers worth £1,000s since starting the hobby six years ago.
'Wombling' involves finding shopping receipts that have been discarded as litter, then inputting codes on the receipt into supermarkets' price check websites and getting a voucher for the difference.
If you're considering becoming a Womble, here's what you need to know – and some top tips to get you started.
What is wombling?
The name comes from the fictional, pointy-nosed, furry creatures known as 'the Wombles of Wimbledon Common', which collected and re-used litter to make good use of "the things that the everyday folks leave behind".
The 'wombling' hobby involves finding discarded supermarket receipts that have codes giving the shopper the chance to benefit from price match guarantees if what they purchased would have been cheaper at a rival store.
You can use anyone's receipts to do this, not just your own. Supermarkets generally tolerate wombling, though they don't encourage it - a letter from Asda seen by MoneySavingExpert.com confirms the supermarket allows the practice. You're not allowed to take receipts from bins or within stores though.
How did Stephen get into it?
Stephen says: "In 2010, I was walking through an Asda car park and I saw some litter on the floor. I picked it up, saw it was an Asda receipt and the Asda price guarantee promotion of the time flashed through my mind.
"I thought, 'I wonder if this will work for me?' It did, I got 34p and I thought, I could be on to something here."
Stephen made over £50 in his first month of wombling, mainly via Asda. He now makes an average of £120 a month but says it could be more if he lived in an area where there are more supermarkets. His personal record is £14.84 from just one coupon.
40 'Wombles' make £10,000 in a month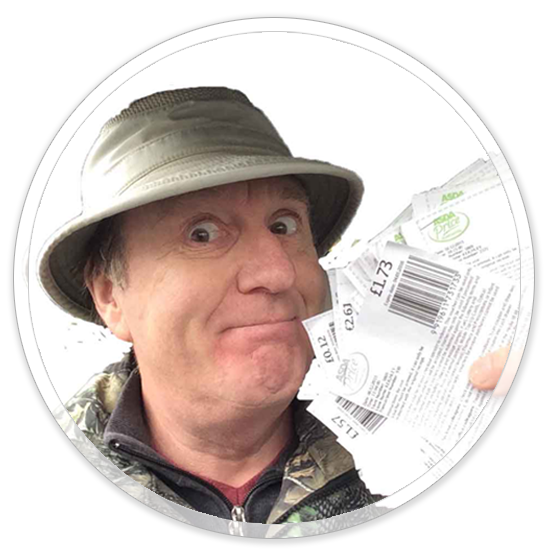 Stephen's Facebook group 'Wombles for Cash' has become a place for enthusiasts to share top tips and successes, and he also runs a YouTube channel dedicated to the subject (you can also see the Remember you're a Womble – 2016 MSE Forum thread).
Forty of the Facebook group's members tallied up their earnings in September 2015 and found they had earned £7,640 between them in one month. In December 2015, they topped that – between them they shared £10,000 in vouchers. Stephen says those who were successful included one single mum who lived on a low income and benefits and made a whopping £750.
Stephen says: "People started shopping early for Christmas, just after November payday, and it was a windy month. Wombles came out in force and we had several people who made £600-plus in the month."
Wombling top tips
Want to be a Womble? Here are some of Stephen's top tips for successful wombling:
A windy day is perfect for wombling. Just as was the case in the very first TV episode of The Wombles, which told the story of a windy day on Wimbledon Common, it turns out wind is a crucial factor. Stephen says: "People typically put their receipts at the top of their shopping bags and they often fly away in the wind."
The end of the month is best. Stephen says receipts tend to be more plentiful when people have money to spend: "The perfect day would be the last Friday of the month when people are paid."
Know how to act like a Womble. Having the right mind-set is key. Stephen says: "You should keep below the radar and not be too self-conscious."
Follow the rules. "There are a few no-nos," Stephen says. "You must not rummage through rubbish bins or take receipts from inside the store. Only pick up receipts that have been discarded and as with all things, you must keep within the terms and conditions of each price promise guarantee scheme. You can only use vouchers once."
Wombling store-by-store
The basics of wombling are simple – find a receipt, put its code into supermarkets' price match websites, then get a voucher for the difference. But there are differences between the major supermarkets:
Asda. Traditionally one of the best places to womble, largely because Asda doesn't just price match rivals – if your shop at Asda isn't 10% cheaper than Tesco, Morrisons, Sainsbury's and Waitrose, you get the difference back. Simply enter the barcode number of the receipt on Asda's website at least three hours after the receipt was issued, then print off a voucher to take with the original receipt to the checkout when you next shop. The voucher amount will be deducted. You need an 'Asda Groceries Home Shopping' account to claim any voucher.
Sainsbury's. A basket of 10 or more items including at least one comparable branded product is price matched against Asda – if the shop would have been cheaper at Asda on the same day, Sainsbury's issues a 'Brand Match' coupon for the difference. If you find one of these coupons, you can use it within 14 days.
Morrisons. Morrisons' 'Match & More' system gives customers points they can redeem for vouchers. You receive five points for every £1 spent in stores and online and 10 points for every litre of petrol bought at a Morrisons petrol station. Wombles simply collect discarded receipts and add them to their online accounts – each time you amass 5,000 points, you get a £5 voucher.
Tesco. Baskets are price-matched against Asda, Sainsbury's and Morrisons – receipts show the difference (up to £10). Tesco used to issue vouchers that could be redeemed at the till. However it now deducts the difference instantly, making wombling less of an option. Occasionally, eg, if there's a technical error, it issues a voucher instead, and if you find one, you can use it at your next shop.
It's not just supermarkets either – Stephen says he's had wombling successes at fast food restaurants and cinemas.
McDonald's. There are a couple of different ways to womble at the fast-food giant. Until recently it ran a loyalty stamp offer where six 'coffee beans' equals one free drink – Stephen says: "On an early morning, I can clean up their car park and get myself a free coffee." McDonald's also runs occasional promotions that allow Wombles to collect packaging with an online code that can be entered to win food and prizes.
KFC. Runs a chicken stamp promotion through the 'Colonel's Club' where you get stamps in exchange for money spent. Some Wombles have found cards with stamps on, or found receipts – they then enter the details from the receipt into the Colonel's Club app to claim stamps. Stamps can then be redeemed for free food or drink when you have 3, 7 or 11.