Thousands of Hotpoint fridge freezer owners who have the same model as one being linked to the Grenfell Tower fire have been asked to contact the company and register for updates.
The Metropolitan Police, which is leading the investigation into the tragedy, said today that the fire which is thought to have killed at least 79 people started in a Hotpoint fridge freezer.
Anyone with a Hotpoint fridge freezer model number FF175BP (white) or FF175BG (grey) is being asked to register their details with the company so it can contact them with further information.
Almost 65,000 of these fridge freezers were made between March 2006 and July 2009, though it's thought not all will still be in use.
So far there hasn't been a product recall, and the Department for Business, Energy and Industrial Strategy says there's "no specific reason" to stop using the fridge freezers while the investigation continues.
How do I check my fridge freezer's model number?
The model number should be on the manual or in the fridge itself, on a label behind the salad drawer. This label will also have the serial number which you'll need when you register your details.
Here is the example from the Hotpoint site: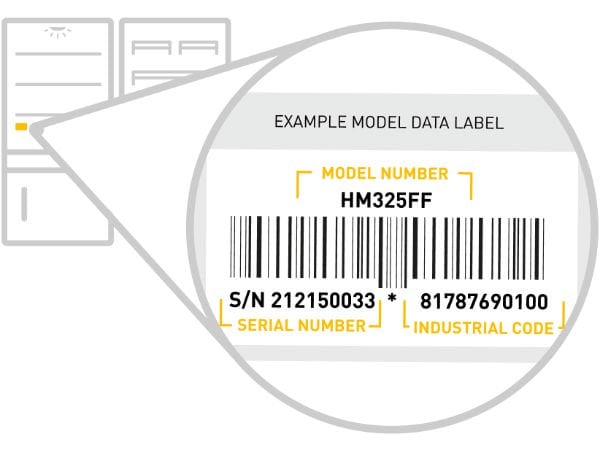 How do I register my details?
If you think you have an affected fridge freezer you can either:
Call the freephone hotline on 0800 316 3826 between 8am and 6.30pm Monday to Friday, 8.30am and 5.30pm on Saturday or 9.30am and 3.30pm on Sunday.
Visit the Hotpoint website.
You'll be asked to give your name, address, email address, mobile number and the model and serial number of the fridge.
What happens next?
The Government has ordered an immediate examination of the fridge freezer by technical experts to find out the cause of the fire, which started in the early hours of Wednesday 14 June. It says "at this stage there is no specific reason for consumers to switch off their fridge freezer pending further investigation".
Customers will be sent further details from the manufacturer in due course. In the meantime they are advised to follow standard safety advice – don't overload plugs, ensure sockets are not damaged and check cables and leads are in good condition.
Energy Secretary Greg Clark said: "The safety of consumers is paramount. The device is being subject to immediate and rigorous testing to establish the cause of the fire. I have made clear to the company that I will expect them to replace any item without delay if it is established that there is a risk in using them."
The London Fire Brigade has more general safety information on white goods.
What does Hotpoint say?
A Hotpoint spokesperson said: "Words cannot express our sorrow at this terrible tragedy. We offer our most profound condolences to the victims, those who have lost loved ones, homes, and possessions, and to their friends and families.
"We have just been informed that the fire may have originated in a Hotpoint fridge freezer (model number FF175BP).
"We are working with the authorities to obtain access to the appliance so that we can assist with the ongoing investigations. Under these circumstances, we are unable to speculate on further details at this time.
"We are addressing this as a matter of utmost urgency and assisting the authorities in any way we can. We will provide additional updates as our investigations progress."