Essex train firm charges passengers in euros in bizarre glitch
Some passengers have been charged in euros for train journeys between Essex and London due to a bizarre glitch with the train operator's ticket system.
The glitch, which affected some customers buying tickets to travel on c2c trains, resulted in passengers being charged in euros rather than sterling.
Because the pound is very weak at the moment when compared to the euro, some customers who were charged this way are likely to have paid less for their journey than usual, even though they may also unwittingly have paid a 'non-sterling transaction fee'.
c2c says only a 'handful' of transactions were affected and that it has now fixed the issue.
See our Cheap Train Tickets guide for ways to save on rail travel.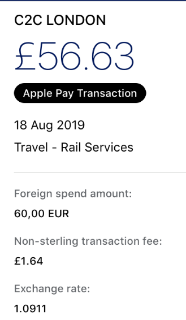 What happened?
One commuter noticed the glitch when they checked their credit card statement and realised they'd been charged €60 rather than £60 for their tickets, which in practice meant they paid £56.63.
They had paid at a c2c station ticket office, using a credit card via Apple Pay.
The Apple Pay receipt shows they were actually charged in euros, using a conversion rate of 1.09, and were also charged a £1.64 non-sterling transaction fee.
On checking other statements, they realised the issue stretched as far back as Tuesday 23 July.
While in this case the commuter ended up saving money because of the pound's weakness against the euro, if currency values change this may in future mean that a similar glitch could end up costing a passenger more.

c2c has confirmed it's aware of the issue, but is remaining tight-lipped about the glitch.
It won't say which type of transactions were affected, if the issue only affected ticket office purchases and how many passengers have been charged in euros.
I've been charged in euros – what do I need to know?
If you think you've been charged in euros for your c2c train journey, check the transaction fee and the conversion rate used. This information will usually be shown on your debit or credit card statement, or in your banking app.
In the case of the c2c customer above, the exchange rate worked in their favour, but there are cases where it wouldn't.
For example, if the pound weakened and £1 became equivalent to €1, the commuter would have been worse off as they'd have also paid a 2.99% conversion fee (due to the type of credit card), meaning they'd have paid approximately £1.80 extra.
Of course, the costs would vary depending on the exchange rate and the type of card used.
What does c2c say?
A c2c spokesperson told us there was a problem with its retailing system that affected a 'handful' of transactions, and it fixed the issue on Thursday afternoon.
The spokesperson said: "If anyone were to be left out-of-pocket as a result [of this issue], they should contact us.
"Under our double-the-difference policy, they would be entitled to twice the excess amount they paid in return."
If you think you've been overcharged, you can contact c2c online or call 0345 744 4422.
For all the latest deals, guides and loopholes simply sign up today – it's spam-free!
Join the MSE Forum discussion