Coronavirus hits travel to China – info and your rights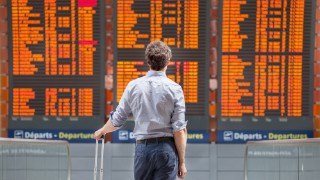 The coronavirus outbreak has seen major airlines cancel flights to and from China, while the US, Australia and others are refusing entry to those who have recently visited the country. Here's the latest info about how travellers have been affected and your rights.
The new coronavirus has been declared a global health emergency by the World Health Organisation, and has been described as "a serious and imminent threat to public health" by Health Secretary Matt Hancock.
As of Monday 10 February, there had been over 40,000 cases reported. The vast majority of those infected are in mainland China, though 360 cases have been reported elsewhere – including eight in the UK. Over 900 deaths have been recorded, all but two of them in China.
We are no longer updating this story. Below is the latest situation at 4pm on Monday 10 February. See our Coronavirus travel disruption - how it's impacting travel plans and your rights for the latest info.

How has travel to China been disrupted?
Airlines are deciding whether to fly on a case-by-case basis and it's a developing situation, but as of 4pm on Monday 10 February:
The UK Government has warned against travel to mainland China. It's advised against all travel to Hubei province, which is at the centre of the outbreak, and all but essential travel to the rest of mainland China (which doesn't include Hong Kong and Macao). See the Gov.uk website for the latest China travel advice.


A number of major airlines have suspended flights. This includes British Airways, which has now suspended all flights between the UK and Shanghai and Beijing until 31 March 2020, and Virgin Atlantic, which suspended its flights between the UK and Shanghai until 29 March 2020. KLM and Air France are also among those to have suspended flights – for full info on the latest, check with individual airlines.


Other airlines are continuing to fly. This includes some Chinese airlines, such as China Southern and China Eastern.


Package holiday firms are rearranging trips. For example, Abercrombie & Kent says it's offering customers with "immediate" departures the chance to postpone, cancel or rebook to a new destination free of charge. It says it will "discuss options" with customers booked to travel in the coming months "as the situation evolves".

Kuoni says it's contacting customers that are due to travel to China before the end of March to advise them of their travel options. It says that after March, holidays are currently planned to operate as normal, but it will contact customers if the situation remains unchanged and it makes amendments to travel plans.

Wendy Wu Tours says all customers due to travel in February have been contacted to make alternative arrangements.
I'm in China now – what is the latest?
Dozens of Brits have already been flown back to the UK from Wuhan in Hubei province, where the outbreak is at its worst.
If you're elsewhere in China, the Government has said you should leave if you're able to do so. If you need support, you can call the British Embassy in Beijing (+86) (0) 10 8529 6600 or the Foreign Office in London on (+44) (0)207 008 1500.
It's worth checking with your airline that your departure flight will go ahead as planned, and possibly look into alternative options as well.

As outlined above, a number of airlines have already suspended services between the UK and mainland China – and while others such as China Southern and China Eastern are still operating, the Government says it expects flights departing from China will be harder to get tickets for in the coming weeks.
British Airways says it's contacted its customers who were due to travel on a flight out of China directly with further info on their options, though it won't give us specifics. It says anyone who's booked on a suspended service and hasn't been contacted should get in touch with it directly for further info. We've asked Virgin Atlantic what customers should do. For now, it may be worth contacting it by text on (+44) (0) 7481 339184.
I've a trip to China booked – can I cancel it?
If you've a future trip booked to China and are concerned, you should contact your airline or tour operator now. Here's what a few of the big airlines and tour operators are doing:
If you are booked to fly with British Airways after 31 March 2020, BA says to continue to monitor its website.

The UK Government hasn't currently advised against travel to Hong Kong, but if you are flying to/from Hong Kong up until 1 April 2020, you can rebook onto another flight operated by British Airways to the same destination at a later date, or request a refund. You can do this by contacting it.


If you are booked to fly with Virgin Atlantic to Shanghai or Hong Kong between now and 30 April 2020, you can rebook on a date before 31 May 2020 or get a refund. You can contact Virgin Atlantic's customer care team via their SMS messaging system on (+44) (0) 7481 339184.


If you are booked with Wendy Wu Tours for travel to China in February, it will have contacted you with details of alternative arrangements. If you are travelling in March, April or May, it will waive amendment fees if you wish to move your tour to a later date or book a different tour.

You will need to pay any difference in tour costs and flight amendment fees. If you wish to cancel, standard cancellation fees will apply.
I've got a cruise booked – will I be able to travel?
Several cruise firms are cancelling certain trips or altering itineraries in response to the coronavirus outbreak. For example:
P&O Cruises has said its ship Arcadia won't be calling at Shanghai on 5/6 March or Hong Kong on 9/10 March. It says alternative stops will be announced as soon as possible.


Princess Cruises says it has cancelled its cruises travelling to Shanghai on Sapphire Princess between 3 June and 11 June. It has also amended multiple itineraries so stops in China no longer take place. If you haven't heard from it and wish to discuss your situation, you can contact it on 0344 338 8663.


Royal Caribbean has cancelled at least eight cruises out of China up to early March. If you haven't heard from it and wish to discuss your situation, you can contact it on 0844 493 4005.
You SHOULD now be able to claim from your insurer
Until the UK Government warned against non-essential travel to China, it was unlikely you would be able to claim on your travel insurance. But now it has put a warning in place, you're much more likely to be able to claim for the cost of your trip if you have to cancel it – though check with your insurer first.
What's more, if you're in China already and end up incurring extra costs when getting home or if you have to leave early, these may well also be covered by your insurance, though again check first.
The change in UK Government advice cuts both ways though – it also means that if you do choose to ignore it anyway and travel to China, you may not be covered by your travel insurance, so be extremely wary of doing this.
A spokesperson for the Association of British Insurers said: "Anyone travelling to a country or region against Government advice risks invalidating their travel insurance.
"If you make alternative travel plans, then you may be able to transfer your travel insurance to cover your new destination. Travel insurance policies may cover some out-of-pocket losses if you are advised to leave the area and return to the UK, and if unable to get assistance from any other source."
It may still be worth contacting your insurer.
What about travel elsewhere?

While the coronavirus outbreak is centred on mainland China, and that's where the biggest travel disruption has been, it's quickly becoming a global concern.
One major issue is for travellers who are visiting a country other than China but have a connecting flight in the country – for example, if they're flying to Australia with a stopover in Beijing. In this case, it's worth checking directly with the airline whether your flight will still operate – and also considering the travel insurance implications of even a short stopover.
Some are also concerned about trips with direct flights to destinations outside mainland China. For example, MoneySaver Heather contacted us concerned about an upcoming trip to Hong Kong which she has been told she will not be refunded for if she cancels.
It's important to understand that the UK Government's advice here is crucial, and if you cancel a trip to an area which it does not advise against travelling to, you may not be able to get a refund or claim on your insurance. For example, Axa told us: "At the moment there is no advice against travelling to any destination apart from China, so cover is not in place", and Aviva said that customers are not covered if they are due to travel to/from Hong Kong and wish to cancel their trip or return earlier than planned.
However, LV told us it would consider claims on a "case-by-case" basis, so it may be worth contacting your insurer if you're in this situation, though it's first worth liaising with your travel provider to see if it'll change your flight or refund you if you're going to Hong Kong or another area close to mainland China and don't wish to travel, as some providers – such as BA – are allowing refunds and alterations to these bookings.
Recently travelled to China? Some other countries – including the US and Australia – are now restricting entry
Some countries such as Australia, India and the US have started to introduce entry restrictions for visitors who have recently been in China. So if you've been to China recently and are due to travel to another country, check first whether there are any restrictions in place.
If you're unable to travel as planned because of the new entry restrictions, get in touch with your airline or travel firm to see what it can offer you in terms of rebooking or a refund. For example:
British Airways says anyone who is due to travel to the US with it and has been in China in the last 14 days should contact it on 0800 727 800 from within the UK, or +44 (0) 203 250 0145 from outside the UK. It hasn't been specific about what it's offering travellers, but says it will be able to discuss your travel options.

BA also says customers should contact it if they've travelled to or from mainland China, Hong Kong or Macau in the last 14-20 days and are due to travel to countries such as Australia, Japan, Singapore or South Africa. Check the full list of affected countries on the British Airways website.


Virgin Atlantic says that anyone due to travel to the US with it who has been to China in the last 14 days and is not on the official exemptions list should get in touch to a request a refund (or a partial refund if they're already travelling).

Passengers with flights booked directly with Virgin Atlantic can request refunds through its SMS messaging system on +44 (0) 7481 339184, while those who made their reservations through Virgin Holidays should call 0333 920 4326 or use the SMS messaging service available on its website.

Virgin says that those who booked through a travel agent or another third party should contact them directly for their refunds. It's issued similar guidance for passengers travelling to destinations such as Jamaica, India and Israel who have recently been in China – check its alerts page for the latest info.
If you're unable to travel because you've recently visited China, it's also worth checking whether your travel insurance will cover any further losses.
Association of British Insurers policy adviser Sarah Brodie said: "People who have recently visited China should speak with their insurer to find out if they are covered in the event they are unable to enter other countries. This situation is continually evolving and insurers will take developments into consideration when people are making a claim."
We'll be continuing to update this story with further developments next week. If you have questions you'd like us to answer, email news@moneysavingexpert.com.
For all the latest deals, guides and loopholes simply sign up today – it's spam-free!