'I got on a TV game show thanks to MSE's tips – and won £2,740'
A MoneySaver fulfilled a lifelong ambition by going on a TV game show and won £2,740 – after reading our tips on how to boost your chances of getting selected for one.
Alan Phillips from Aberdeen (pictured above right) appeared on The Cash Machine on STV in September alongside his friend Guy Andrews (pictured above left), and the pair have now donated their winnings to a children's charity.
Alan told MoneySavingExpert.com going on a TV game show has always been on his bucket list and that he followed our tips to make himself stand out from the crowd of 3,000 other applicants.
He said this was the first time he'd ever applied to be on this type of show, and the producers were extremely surprised at his success, given many people apply hundreds of times.
And he credits much of this success to MSE's tips, which include adding a video of yourself to your application and showing as much personality as possible.
For tips on how to get selected for a TV game show, see our blog How to 'Play Your Cards Right' – and for help entering other kinds of competitions, see our 41 Comping Tips.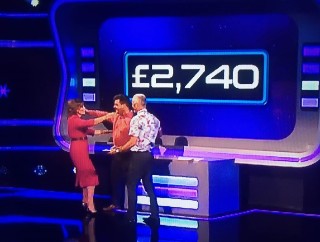 'Give them a reason why it would improve their ratings'
On The Cash Machine, contestants answer a series of questions to work out the PIN for a giant ATM. Once they've got the PIN, they win the money inside.
Speaking about his decision to apply to go on the show, 45-year-old Alan said: "It had always been on my bucket list to go on a TV game show.
"I googled how to do it and I saw the guide on MoneySavingExpert.com. I followed the guidance on standing out, saying fun things, doing something interesting in my application. I think it also essentially said 'give them a reason why it would improve their ratings'.
"The show wrote back saying they'd had 3,000 applicants but they'd chosen us. We continued playing these funny characters we'd sort of defined ourselves as in the audition.
"I applied really because I wanted to be on TV with Lorraine Kelly [the host]. It was the first time we'd ever applied for a show like this and the producers absolutely couldn't believe it because they said some people apply for years.
"I won't apply again though – I think it's good to quit whilst you're ahead."
How to 'Play Your Cards Right' and appear on a game show
We've written various blogs over the years on how to maximise your chances of appearing on a TV game show, including How to 'Play Your Cards Right' and How to boost your chances of getting on and winning TV game shows.
Here are some of the top tips we've compiled:
Try for lesser-known shows. Fancy your chances on The Chase, The Crystal Maze or Catchphrase? Sadly, so do a lot of people. While it's not impossible to get on, you've a better chance with lesser-known shows, or try new game shows looking for contestants.


Prepare your answers. To apply for most game shows you need to fill in an application form which can take some time. Yet many forms ask the same questions, so keep your answers written down so you can copy and paste them. Common questions include "What are your hobbies?" and "What do you do for a living?"


Sell yourself. Popular shows get thousands of applications, so make yours stand out. Don't give one-word answers to questions – the more personality you can show, the better. Similarly, if there is an option to add a video of yourself, do it – it's an easy way to stand out.


When it comes to auditions, enthusiasm's key. After you've slogged through the application form, the next step – if you're lucky enough to be picked – is the phone interview or face-to-face audition. Be as bubbly and upbeat as you can and use the potential to win cash and prizes as your driving force to show them how much you want it. If you are memorable for any reason, you'll be in with a good chance of getting on the show.
For all the latest deals, guides and loopholes simply sign up today – it's spam-free!
Join the MSE Forum discussion