Can I get a refund on static caravan fees if I can't use it due to coronavirus?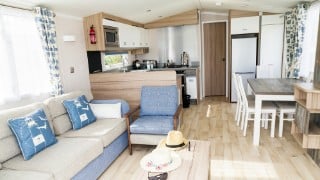 There are as many as 365,000 static caravans in the UK, and many van owners pay upfront fees to caravan parks – sometimes as much as £5,000 a year. They have asked us if they are entitled to partial refunds because they cannot access their vans, or the parks they're on, as a result of Government restrictions to stay home due to coronavirus.
Many feel harshly treated, and indeed there are already strong lobby groups building to complain against firms like Parkdean Resorts. We will be compiling information, and if it seems consumer rights have been breached, we will forward that information to the Competition and Markets Authority, which has already strongly said if services can't be accessed, refunds should be given.
This is just a provisional article. We are still in the process of researching this issue. We are getting so many questions that we decided to publish it before we had all the information we wanted – to let you know we're working on it. We will keep updating it, including adding in more help.
Some caravan owners say they aren't getting the services they've paid for

Park facilities vary. Many are smaller, family-run sites that offer the basics (power and hygiene facilities). Essentially, you're mostly paying for somewhere safe to keep the caravan. As many as 70% of all holiday caravans are on parks owned by these micro and small family businesses.
However, you may be in a big, "all-singing, all-dancing" site that offers extensive facilities, such as swimming pools, live entertainment, restaurants, pubs and gyms. Clearly, the more facilities you are paying for, the more you are disadvantaged due to a lack of access during lockdown.
Contracts vary, but commonly there's an all-in-one park or pitch fee, rather than an itemisation of the proportion that covers facilities, maintenance, rent etc. This means demarcation of exactly what proportion of the fee is to park the caravan and what is for access and service is difficult. And this makes it a tough nut to crack.
The trade body that represents the caravan park owners, the British Holiday & Home Parks Association (BH&HPA), as you might expect, argues that a holiday caravan agreement is "a licence for the provision of the pitch to site that caravan and for the maintenance of the park and its utilities infrastructure to supply the caravan." It says these services continue to be provided for the vans, despite the lockdown and that parks don't need to refund customers.
However, it's also advised its members to communicate openly with van owners, and where possible to "retain their goodwill" in these unprecedented and difficult times. And we have heard from some caravan owners where the sites are offering partial refunds or credit notes for use towards future fees.
For example, Haven, one of the biggest site owners which operates 25,000 pitches across 40 parks throughout England, Scotland and Wales, is offering a site fee credit with a £20 per week deduction. This £20 deduction contributes to their ongoing costs such as site maintenance and security staff. Haven is also offering owners who make an income by letting their holiday caravans via their in-house scheme "top-ups" if the site fee credit is less than they'd otherwise earn letting the van out.
What to do if you think you are due a refund
We've assumed in this section that you've already paid your fees for this year and are seeking a refund. If you've not paid fees, don't withhold them in protest at the lack of access - this would be seen as a breach of contract and may lead to the site owner asking you to arrange for removal of your van, and/or paying fines for the breach.
If you have paid and are seeking a refund, we've step-by-step guidance on what you can try, though remember this is a work in progress and we hope to firm up some of this guidance in the coming days.

Step 1: Talk to the park owners – try and come up with a solution that works for both.
Work out what you believe is fair, and ask for a partial refund, calmly and rationally explaining why – it may help to ask for a breakdown of where your fees are spent if you don't already have this. Allow the park owner to explain its case too as it may be facing costs that you're unaware of.
Regulator the Competition and Markets Authority has indicated to us that partial refunds should be considered. It said: "Our guidance on cancellation rights includes grounds for when we would expect a full or partial refund to be issued. It covers a range of consumer contracts and different situations, but individual cases may vary depending on contract type – contracts related to caravans might cover a number of different arrangements.
"To work out if a refund is due, each individual needs to look carefully at the service they are paying for and consider whether that service is still being provided during lockdown."

Martin: 'Remember, caravan park owners may be struggling too'

MoneySavingExpert.com founder Martin Lewis said: "Right now, even in our commercial relationships, we should try not to be adversarial. We want firms to show us patience, compassion and forbearance. Yet equally, when our entire economy and way of life is under threat, we must try to return it. Many firms, especially smaller ones, are struggling to cope, and this may include your caravan park owners.
"So even though you may have a right to a partial refund, if the firm is struggling and does its best to provide a reasonable alternative, for example, reducing next year's fee, do take time to consider it. It may be that meeting it in the middle is what keeps it financially above ground and protects jobs."
Step 2: Before you take further action, tell the firm
At this point, things get trickier. You're going to need to take financial or legal action, which makes the whole thing more adversarial.
Before you do this, it is worth formally (so best in writing or by email) warning the firm what you're planning to do – for example, going to court or trying a chargeback. It's worth doing this before you go on, as it shows you are serious and gives the firm one last chance to compromise before things get militant.
If you are planning to go to court, you could set out the potential claim in writing as a "letter before action" – essentially a formal complaint stating your intention to pursue the matter through the courts.
Step 3: Try using credit or debit card refund services, though it's more difficult for partial refunds
Over to MoneySavingExpert.com founder Martin Lewis...

Martin: 'Chargeback and Section 75 are far more difficult'

"Normally at this point in a refund guide, we would suggest using chargeback or Section 75 via your debit or credit card to get your money back.
"This is far more difficult here because we're only talking about partial refunds, and apportioning the split is difficult. We are still checking with Amex, Visa and Mastercard whether the chargeback scheme can be applied for partial refunds like this, and will update when we have firm information.
"Section 75 is more promising here. If you paid on a credit card, your lender is jointly liable for the cost (providing you didn't pay through an intermediary). You can go direct to the lender, you don't have to have been rejected by the caravan firm first (though the card company may try to push that).
"The advantage of this route is that if the card firm rejects you (as is likely), you can take it on to the Financial Ombudsman Service (FOS) to adjudicate over whether it should pay out. The FOS has a real advantage over court, as firstly it's free (in court, you pay and only get the money back if you win), but also, crucially, it doesn't just look at the law, it looks at standard industry practice and fairness too. See our Financial Ombudsman guide for what to do."
Important note: There is still a lot of doubt whether either of these routes would ultimately be successful. And even if they were, chargeback in particular could prove to be problematic. This is because it involves asking your bank to take back your money from the site owner's bank. A top legal expert in consumer law warns that this could mean you're breaching your contract with the park owner making you (potentially) liable to remove your caravan, plus to pay any associated fees or fines specified for breach.
Step 4: If all else fails, your only recourse would be to take the site owner to court

Gary Rycroft, a specialist in consumer law and partner at Joseph A. Jones & Co Solicitors, believes that on the face of it, in the current coronavirus crisis caravan licence agreements have been "frustrated" and that a partial refund is an "obvious remedy".
"Frustration of contact" is a legal doctrine where if the commercial basis of a contract cannot be performed (in this case, to enjoy a caravan pitch for holiday purposes) through no fault of either party (here because of coronavirus), then the parties can be returned to the position they were in before the licence/contract began.
Rycroft believes that if owners were to state their case before courts they would be in a strong position to win. He added: "The strong legal position of the caravan owners should be sufficient for the site owner to cut a sensible deal. The risk to the site owners if they don't is they could be forced to give a full refund for the period during which the site may not be accessed."
A word of caution on this though – if a contract has been frustrated, then it comes to an end. As a result, you may be asked to arrange for removal of your caravan from the park.

All this makes going to court a very big step, one that should be carefully considered. Depending on the amount, it is likely you can apply via the Money Claim Online system – see our Small Claims Court guide. This is a route which takes work, but is designed to be done without a lawyer.
Get Our Free Money Tips Email!
For all the latest deals, guides and loopholes - join the 12m who get it. Don't miss out
Have your say
This is an open discussion and the comments do not represent the views of MSE. We want everyone to enjoy using our site but spam, bullying and offensive comments will not be tolerated. Posts may be deleted and repeat offenders blocked at our discretion. Please contact fbteam@moneysavingexpert.com if you wish to report any comments.