Can I get a refund on static caravan fees if I can't use it due to coronavirus?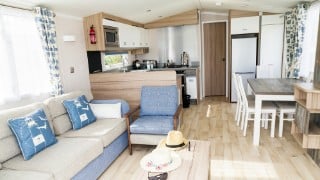 There are as many as 365,000 static caravans in the UK, and van owners tend to pay upfront fees to caravan parks – which are £1,000s each year. They've asked us if they can get partial refunds because they cannot access their vans, or the parks, as a result of lockdown restrictions.
With many parks gearing up to reopen in a phased manner from 4 July, many owners are seeking compensation for three and a half months of closure.
We are compiling information on what we hear about how parks are helping van owners, and if it seems consumer rights have been breached, we will forward that information to the Competition and Markets Authority (CMA), which has already strongly said if services can't be accessed, refunds should be given.
On Tuesday 9 June, we heard one of the biggest caravan sites, Parkdean, had announced it'd offer its van owners a support package including 50% credit for the 'lost' weeks towards 2021 pitch fees. We've full info on what it's offering below.
This is a provisional article. We are still in the process of researching this issue. But we are updating as and when we get new information which may help. We're working on it, so please bear with us.

The problem: Some caravan owners aren't getting what they've paid for

Pitch fees and park facilities vary. Many are smaller, family-run sites that offer the basics (power, security and hygiene facilities). Essentially, you're mostly paying for somewhere safe to keep the caravan. As many as 70% of all holiday caravans are on parks owned by these micro and small family businesses.
However, you may be in a big, "all-singing, all-dancing" site that offers extensive facilities, such as swimming pools, live entertainment, restaurants, pubs and gyms. Clearly, the more facilities you are paying for, the more you are disadvantaged due to a lack of access during lockdown.
Every site has its own way of charging, but commonly there's an all-in-one park or pitch fee, rather than an itemisation of the proportion that covers facilities, maintenance, rent etc. This means demarcation of exactly what proportion of the fee is to park the caravan and maintain the site, and what is for access and service is difficult. And this makes it a tough nut to crack.
The trade body that represents the caravan park owners, the British Holiday & Home Parks Association (BH&HPA), as you might expect, says that the pitch fee essentially guarantees a safe and maintained plot to keep the van. It says the holiday caravan agreement is "a licence for the provision of the pitch to site that caravan and for the maintenance of the park and its utilities infrastructure to supply the caravan." It argues that these services have been provided for the vans during lockdown and that parks don't need to refund customers

However, it's also advised its members to communicate openly with van owners and, where possible, to "retain their goodwill" in these unprecedented and difficult times. The National Caravan Council (NCC), another trade body representing site owners, believes park owners have a strong legal position and thus have no obligation to refund – but warns this comes with "possible reputational damage". It urges site owners to be mindful of "loyal and committed" caravan owners.
Some vans owners ARE getting credit towards fees or other help

We have seen evidence of sites that are taking the advice to work with owners to offer partial refunds or credit notes for use towards future fees.
For example, Haven, one of the biggest site owners which operates 25,000 pitches across 40 parks throughout England, Scotland and Wales, is offering a site fee credit with a £20 per week deduction. This £20 deduction contributes to their ongoing costs, such as site maintenance and security staff. Haven is also offering owners who make an income by letting their holiday caravans via their in-house scheme "top-ups" if the site fee credit is less than they'd otherwise earn letting the van out.
Park owner's name
Annual pitch fees 2020
Advertised on-site facilities
What is the site offering?

Update.

Parkdean
From £3,245 to £7,495
Swimming pools, food and drink outlets, entertainment, sport and leisure.
A package of support including 50% credit towards 2021 pitch fees for the period of closure, plus a year's extra tenure added to the pitch contract.
Haven
From £2,945
24-hour security, seasonal events.
A site fee credit, calculated pro-rata over the period of closure, with a £20/week deduction for ongoing costs during closure.
Park Holidays
From £3,245 to £7,495
Swimming pools, restaurant, entertainment, gyms.
Not yet made a decision.
Golden Sands
From £2,600
Outdoor pool and indoor heated pools, entertainment, on-site restaurant, children's entertainment.
Fee credit calculated on a weekly basis at a rate of 60% of their site fees for each week. Backdated to 1 April 2020. There will be no increase in site fee charges for 2021.
Step-by-step help if you want to ask your park owner for a partial refund

We've assumed in this section that you've already paid your fees for this year and are seeking a refund. If you've not paid fees, DON'T withhold them in protest at the lack of access – this would be seen as a breach of contract on your part and may lead to the site owner asking you to arrange for removal of your van, and/or paying fines for the breach.
If you have paid and are seeking a partial refund for the lack of access and the services the park hasn't provided, we've step-by-step guidance on what you can try.

Step 1: Work out what you're paying for – and what you're NOT getting
In working out whether you're due anything back, first you need to work out what you're paying for, what's in the terms of your contract and what services you aren't receiving during lockdown – and whether these are part of the fee you pay. Then you can make a better assessment of what might be a fair and reasonable amount to ask for.
The first step is to check your contract or "licence agreement". According to the BH&HPA, an industry trade body, most sites will use a variation of a standard industry contract. These don't typically include an itemisation of the fees. If yours doesn't, write to the site owner and ask for a breakdown. What you're looking for is which services you'd need to keep paying for regardless and which are contingent on you being able to access your caravan.
For example, you'd need to keep paying for the following as they're still being provided and are still a cost to the site owners:
The pitch itself and keeping your caravan there
Security of the site and your van
Upkeep of the communal facilities and the areas around your van (if this has been happening)
However, there are some services that the site won't be paying for if it's not open, such as:
Utilities and sewerage
Entertainment
Communal facilities like restaurants, pubs, nightclubs
These are the ones where the site could be saving money and where to focus your efforts on partial refunds.
Also, check your contract to see if it refers to the pitch fee being influenced by operating costs. Usually this would enable the site owner to increase the pitch fee in relation to increased operating costs. But for your purposes, it also means that these things are included in the pitch fee and could add to your evidence that you're due a partial refund.
Step 2: Ask informally for a partial refund by email or phone
Once you have a better idea of what you are paying for and not getting, ask the site for a partial refund, or some other form of redress if you prefer. As we explain above, a full refund is unlikely as your caravan will still be benefiting from site maintenance and security, and you're still being charged to keep your van there.
Competition regulator the CMA has indicated to us that partial refunds should be considered. It said: "Our guidance on cancellation rights includes grounds for when we would expect a full or partial refund to be issued. It covers a range of consumer contracts and different situations, but individual cases may vary depending on contract type – contracts related to caravans might cover a number of different arrangements.
"To work out if a refund is due, each individual needs to look carefully at the service they are paying for and consider whether that service is still being provided during lockdown."
To help you better understand the sort of refund you could ask for, here are some examples taken from one of the trade bodies' guidance to park owners of what they could choose to offer, though trade body the NCC does say it's entirely up to the park's discretion:
A full refund for each complete week that the park is closed, starting from Monday 23 March 2020 (note that this is unlikely to be a full refund for the season, as it's likely the park will open later in the summer).


A refund for each complete week that the park is closed, with a sum deducted to cover the security of the holiday caravan on the pitch and the necessary maintenance of the park to ensure that safety and other standards/duties are maintained while it is 'unoccupied'.


A partial refund to account for the loss of access to the caravan and the park's facilities.


Crediting the fees paid for the number of weeks the park is closed into the next year's pitch fee when that becomes due, eg, so 12 months due from November 2020 becomes nine months due if the park was closed for three months.

However, while you're trying this, and before you go on to the more combative suggestions below, make sure you've looked at this from the van owner's point of view as well.
Over to MoneySavingExpert.com founder Martin Lewis...

Martin: 'Remember, caravan park owners may be struggling too'

"Right now, even in our commercial relationships, we should try not to be adversarial. We want firms to show us patience, compassion and forbearance. Yet equally, when our entire economy and way of life is under threat, we must try to return it. Many firms, especially smaller ones, are struggling to cope, and this may include your caravan park owners.
"So even though you may have a right to a partial refund, if the firm is struggling and does its best to provide a reasonable alternative, for example, reducing next year's fee, do take time to consider it. It may be that meeting it in the middle is what keeps it financially above ground and protects jobs."
Step 3: Send a formal letter
The next step is to send a formal letter through the park's complaints department. MSE has worked with Adam Swirsky, barrister at Lamb Chambers, and an expert in contract consumer law, who has looked over a model contract/licence agreement supplied by the BH&HPA and found on its website. He believes that there is a case to be made for a partial refund due to potential breaches of services not provided.
We've produced a template letter based on this advice (saved as rich text format, which will open in Microsoft Word or similar programmes), though ours is a general letter, so you'll need to customise it to fit your caravan park and situation. It will help to have a copy of your contract/licence agreement to hand.
We give our thanks to Adam Swirsky for his opinion and help on this matter, which has informed our approach to the template letters.
Warning.

Taking your claim any further is likely to irreparably damage your relationship with the park owner

While you may be able to get some money back by trying the steps below, going for these methods is likely to have consequences, whether financial or otherwise.

Your relationship with the park owner will be irreparably damaged. In some cases, it could ask you to move your van, and you'd need to meet the costs involved in doing that.

Think very carefully before going further. But if you're happy to do so, there are a few more avenues to try.
Step 4: Try using credit or debit card refund services, though it's more difficult for partial refunds
From this point on, things get trickier. You're going to need to take financial or legal action, which makes the whole thing more adversarial.
Before you do this, it's worth formally warning the firm what you're planning to do – for example, going to court or trying a chargeback. It's worth doing this before you go on, as it shows you are serious and gives the firm one last chance to compromise before things get militant.
Which route you go down here depends on whether you paid your fees by debit or credit card. If you paid using a bank transfer, these routes aren't open to you, so skip to the next section.
If you paid on a debit card, try a chargeback – but be careful here
There's valuable hidden protection on Visa, Mastercard and Amex credit cards, as well as debit and charge cards. It's called 'chargeback' and means if you don't receive the goods you bought, or a service wasn't provided, you may be able to get your money back.
In chargeback, your bank asks for money back from the supplier's bank, which will then try to reclaim it from the supplier itself – in this case the caravan park.
MSE has contacted all the major banks and credit card companies, and so far, both Mastercard and Visa say that a chargeback can be made for a partial amount. However, you will need to be able to split the cost out of the services you're not getting in order to make a chargeback claim. If the cost can't be split it would be difficult to actually complete a successful partial chargeback.
A word of warning: if you are successful with a chargeback, your caravan site owner could say you're in breach of contract for non-payment of fees, as the money ultimately comes from it. This could make you potentially liable to have to remove your caravan, plus pay any associated fees or fines which are specified for non-payment.
Furthermore, even if your chargeback is successful, do be aware the firm may try to take the money back via what's known as a "chargeback clawback". This doesn't usually happen, but it can.
If you want to go ahead, you can find more and how to make a claim in our Chargeback guide.
If you paid the fees by credit card, you can try a Section 75 claim (or chargeback)
Section 75 is an important UK consumer protection law made in the 1970s that means your credit provider MUST take the same responsibility as the retailer if things go wrong with a purchase.

The law means your credit card must protect purchases over £100 for free, so if there's a problem you could get your money back. This little-known scheme's taken on much more importance in recent weeks, as coronavirus has led to a spate of cancellations, with many asking if Section 75 could help.
The key to Section 75 is that the supplier must be in breach of its contract with you. To make a claim, you need to contact your credit card company (you can still claim on an account that's closed), not Visa, Mastercard or Amex. So if you've got a HSBC Mastercard, you claim from HSBC, not Mastercard.
We've checked, and partial claims ARE possible here. For full information on how to do a claim, see our Section 75 guide.
If you paid on a credit card, you can also do a chargeback (see the section above). It's likely the credit card issuer would be happier for you to do a chargeback than it would be for you to do Section 75 (with chargeback it gets money from the site owner's bank, with Section 75 it could be liable). Yet the warnings in the section above still apply here.
If you're turned down for Section 75 or chargeback, escalate your complaint to the free Financial Ombudsman
If the firm turns you down, which seems likely in these cases as banks aren't best placed to decide on contract breaches, you can go to the ombudsman. The Financial Ombudsman Service (FOS) is free, and while it looks at the law, it also looks at standard industry practice and whether you've been treated fairly and reasonably. This gives extra hope if your case falls foul of the letter of the law, but your treatment hasn't been right.
The FOS has advised it has limited availability on its phone lines at the moment and has asked that, where possible, you contact them online instead to keep this service for urgent queries and key workers. To submit a new complaint, use its online form. If you're after an update on an existing case, send an email quoting your case reference number or send a direct message on its social media channels.
Back over to Martin...

Martin: 'The Financial Ombudsman has a real advantage over court'

"If your Section 75 claim is rejected, you can escalate it to the Financial Ombudsman Service (FOS). It will then adjudicate over whether the firm should pay out. The FOS has a real advantage over court, as firstly it's free (in court, you pay and only get the money back if you win), but also, crucially, it doesn't just look at the law, it looks at standard industry practice and fairness too. See our Financial Ombudsman guide for what to do."
Step 5: If all else fails, your only recourse is to take the site owner to court

If you are planning to go to court, you could set out the potential claim in writing as a "letter before action" – essentially a formal complaint stating your intention to pursue the matter through the courts. This is one final step you can take in the hope that the park owner sees that you're serious and makes you an offer to try and avoid you taking it to court.
If you do go to court, for a successful claim you'd need to show that the caravan park operator has breached the contract you have with it. Of course, whether there's been a breach of contract very much depends on the specifics of the contract. So the first step is to establish what the operator's obligations are under your agreement with it.
The BH&HPA showed us a model contract. According to them, a version of this contract is used by the vast majority of the association's members. It includes the following clause: "We allow you throughout the agreement period to keep the caravan on the pitch at the park and to use it for holiday and recreational purposes during the period of each year shown… provided you comply with your obligations in this licence agreement."
Since operators are not currently allowing customers to use their caravans for holiday and recreational purposes, you could argue that means they're in breach of contract – opening up a potential claim for damages.
Adam Swirsky, barrister at Lamb Chambers and an expert in contract consumer law, believes that this could be a potential route. After looking at a sample contract found on the BH&HPA website, he says: "I do now think that there is a potential claim for breach of contract giving rise to an entitlement of damages.
"Those parks that are not providing refunds are opening themselves up to the risk of litigation. They may also be damaging their relationships with their caravan owners and may be subject to public criticism. In these circumstances, offering a refund would not only seem to be sensible but, in the long run, might save the parks the time and cost of dealing with numerous small claims."
Again though, whether you can make this argument at all will depend on what your contract says. Trade body the NCC has taken separate legal advice, and it believes a breach argument wouldn't work. Like any legal argument, until the case(s) are actually tested in court, it's impossible to be definitive either way.
What's more, it's likely that even if you win your case, any damages you get will be quite small. This is because the operators are still fulfilling other aspects of the contract (eg, maintenance of the park and its utilities and the infrastructure to supply the caravan) – meaning you probably wouldn't get a full pro-rata refund.

We've seen conflicting advice from different legal experts about the likelihood of winning a case on this basis. Sadly, we just can't know for sure unless a test case reaches court.
So going to court could be a last resort to get some of your money back – but it's a big step which should be carefully considered. If you decide to go down this route, you should be able to apply via the Money Claim Online system – see our Small Claims Court guide. It'll take work, but the process is designed to be done without a lawyer.
For all the latest deals, guides and loopholes simply sign up today – it's spam-free!