MSE to refer Starling bounce back loan complaints to regulator
MoneySavingExpert.com is to ask the financial regulator to investigate after receiving scores of complaints from sole traders who've been rejected for 'bounce back loans' with challenger bank Starling.
Small businesses struggling due to coronavirus can now apply for a new 100% state-backed bounce back loan worth up to £50,000, with no interest charged or repayments needed in the first 12 months. Many banks only allow existing business customers to apply for these loans, but Starling allowed new customers to apply if they opened a business or sole trader account.
But many sole traders – people who run their own businesses as individuals – have found their applications have been rejected by Starling and say they're "frustrated" after being given "no explanation". A significant number of the complaints centre on the fact that applicants were credit checked even though they were told they would not be.
We decided to look into this, as we'd suggested Starling may be a good option for those who wanted speedy new customer loans – as it had a good track record for fast digital applications – so we felt it important to check out what was going wrong. Below, we run through some of the complaints we've had from readers and also explain what you can do if you've been rejected for a bounce back loan with Starling.
Starling has provided a detailed response to the complaints we've had and insists it's done nothing wrong, though it has acknowledged some poor communication in the application process. But MSE is sending a dossier of the complaints we've seen to the Financial Conduct Authority (FCA) and British Business Bank (BBB), the state-owned bank which runs the scheme, asking them to investigate.
See our new Bounce Back Loans guide for full info on how they work and how to apply.
Martin: 'It should have managed expectations better'

MoneySavingExpert.com founder Martin Lewis said: "While the bulk of Starling bounce back loan applications seem to have gone through relatively smoothly, the challenger bank has still left a constituency of thousands – especially new customer sole traders – who applied for its bounce back loans feeling upset and often angry. The difficulty we've faced, without being able to call on comparison data from other banks or get the firm answers we need, is to work out whether Starling crossed the line from disappointment to unfair behaviour, and breached the rules.
"Ultimately, this is a decision for a regulator. So we have spoken to the Financial Conduct Authority and the British Business Bank, which organises these loans, and we will be sending them our Starling dossier, including many applicants' testament. We are asking them to investigate if Starling has breached the rules and acted unfairly.
"Certainly, as a bare minimum, it's hard to shrug off a feeling that Starling bit off more than it can chew here. The challenger bank is known for its swiftness and digital efficiency for consumer banking. Yet in recent times, it has been pushing to crack the business banking market – and indeed that's almost certainly behind its move to push itself forward as a new option for bounce back loans, and as part of that, it required businesses and sole traders to move their main accounts to it.
"It could and should have managed expectations better, and more prominently explained its operating protocols about doing a soft credit score – as the scheme doesn't require it – and that it would not be accepting all customers, especially sole traders. The fact it hasn't has left many small businesses and sole traders without much-needed cash for longer – which can have substantial impacts in this time of financial crisis. They could've applied elsewhere.
"Even if it has done nothing that breaches the rules, that has no doubt left a sour taste in the mouths of those impacted and could put a dent in the business brand Starling is trying to build."
What have applicants said?
A number of angry sole traders have contacted Martin after being rejected for bounce back loans. Here's a sample of what some said back in mid-March. Below these, we have a Q&A with some of the key questions that Twitter users have been putting to Martin:
Has Starling behaved fairly with customers?
As we can see from the tweets above, many customers have had angry reactions to Starling rejecting them for bounce back loans. Here, we've tried to address some of the key bugbears that people have sent to Martin and MoneySavingExpert.com:
'Starling credit checked me for a loan – even though it told me it wouldn't, and the Government said a credit check wasn't necessary.'

Some Starling customers have complained about being credit checked as part of the application process, even though the customer declaration they were shown stated that "the lender will not conduct any form of credit or affordability check" and bounce back loans are covered by a Government guarantee, so credit checks aren't required.

Starling has confirmed it did do a 'soft' credit check on new customers – this means you'll see the search if you check your file, but lenders won't, so it doesn't impact your creditworthiness for future applications. It says no 'hard' credit checks – which lenders can see – were performed.

The BBB told us that while lenders cannot generally undertake credit checks for bounce back loan applications, banks can credit check applicants who are new customers and are opening an account with them for the first time.

Lenders can also do anti-fraud checks, known as anti-money laundering (AML) and know your customer (KYC) checks, on existing customers applying for bounce back loans – and these may be 'embedded' in a lender's existing credit checks, in which case the lender must disregard 'pure credit' related flags (ie, ignore any info purely relating to a customer's creditworthiness when deciding whether to lend). Starling said it did do this with existing customers, but that credit checks on them were disregarded unless they gave rise to fraud concerns, in line with the rules.

When asked why it had incorrectly told customers they wouldn't be credit checked, Starling told us its 'customer declaration' form (shown below) was provided by the BBB and couldn't be changed, and that the term merely means the customer is waiving their rights to a claim against the bank for mis-selling.

It's worth noting Starling's not alone in doing 'soft' credit checks on new customers. HSBC, the other main bounce back loan option for those applying as new customers, also does it.

Below is the image from Starling's customer declaration form:
'Starling told me affordability checks wouldn't be done – but they have been.'

The BBB says that banks cannot undertake affordability checks as part of bounce back loan applications, and as seen in the terms above, Starling said it would not perform these. So some applicants were shocked to see on their credit file that an affordability check had apparently been carried out.

Starling told us it hasn't done checks on whether customers can repay their loans, but it's admitted that some of the anti-money laundering and fraud checks it's carried out do involve inquiries that are labelled as 'affordability checks' by credit-scoring services.

We asked the BBB to confirm that it's happy the checks Starling carried out complied with the bounce back loan rules. Its press office told us it wouldn't be able to comment on specific cases, so we've asked the BBB to look into exactly what checks were carried out as part of sending it our dossier.

Here's an example of how one applicant was shown an "affordability search" was carried out (you'll need to click the tweet to see the full screengrab):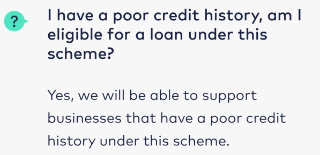 'Starling said that it would accept people with poor credit history, but it hasn't accepted me.' Starling previously had the FAQ pictured on the right on its website, which says that it would be able to support businesses with poor credit histories.

Starling says this FAQ did not mean it would support every business with a poor credit history, and merely meant some businesses with a poor credit history would be eligible, provided they met other criteria. However, it says it has now removed this wording to avoid confusion and has admitted: "We failed to properly communicate this change and we apologise."



'I was approved for a loan and then told I had been rejected – why?'

At least one Starling applicant (below) told us they were informed they had been approved for a bounce back loan, only to then be told they'd actually been rejected.

Starling told us that once it's approved a loan and a customer has signed the documents, the loan will normally be paid out the following day at the latest. But it's admitted that in about five cases, its "final checks" revealed "risk issues" and it had to cancel the approved application.

'I'm a sole trader and don't understand why I've been rejected.' The bank says that after reviewing sole trader applications, it noticed that a high proportion of applicants fell into a high credit-risk category, for example because they had no credit record, a very poor credit record, a high level of borrowing and/or extended credit facilities, and/or had failed to make repayments on some of these.

A Starling spokesperson said: "We believe that it's not responsible to offer a loan to self-employed individuals when we believe there is a high likelihood of them being unable to repay.

"With bounce bank loans, even though we as a bank should eventually get the money back from the Government guarantee in the event of a default, the borrower is not similarly protected and will have a default registered on their credit file if they're unable to repay."

This will be disappointing to many who applied, as the mood music over bounce bank loans was that if eligible, there would be little judgement criteria. Starling also added that it felt it should decline as quickly as possible all applications that it was unlikely to accept, so these applicants could apply to other banks.

If you are an existing Starling customer who believes you were rejected purely because of having a poor credit history, please let us know at news@moneysavingexpert.com.


'Starling has stopped me getting a loan from another lender.' It shouldn't have stopped you. This was another theme of the complaints we've seen – but while it's true that a rejection from Starling may have delayed applicants getting a loan, it's important to understand that if you're turned down for a bounce back loan by one lender, you can still apply elsewhere. And as Starling says it's only carried out a 'soft' credit check, other lenders shouldn't be able to tell that you've been turned down by Starling when they check you.

It is possible that banks could ask you if you've applied elsewhere as part of the application process, but we've not yet seen any evidence of this happening. HSBC – the main remaining alternative option for new customers – told us it's not asking on its application form if you've already applied elsewhere.


'Is Starling denying more people loans than other banks?' We have tried to investigate this, but frustratingly we're not able to get any definitive numbers on it.

Starling itself told us on Monday 18 May it'd had 18,161 applications and had rejected 16% of these. It says it doesn't know if this is higher than other banks, and given no other banks would give us full rejection data, it's difficult to compare. HSBC says it had received 106,419 applications and approved 67,890 of these as of Sunday 17 May, but the first figure will include applications it hadn't processed yet and hadn't explicitly rejected.

Anecdotally, Martin has received what he considers to be a disproportionate number of complaints about Starling compared to other banks. Though, as he says, it's difficult to know how significant this is. It could be because it was one of our main options for getting a bounce back loan if you're not an existing customer – and acceptance criteria may well be stricter for new customers than those where banks have an existing relationship.


'Applying to Starling and being rejected means I'll be short of money for longer.' This is almost certainly true for most – and an unavoidable consequence of being rejected for a bounce back loan when you can only submit one application at a time. A rejection from Starling shouldn't impact your ability to get cash elsewhere – yet it will delay your other application, and with timing crucial for many who are struggling at the moment, the delay may be a problem in itself.
Will I be able to get a bounce back loan with another lender after being rejected by Starling?
UK Finance, which represents banks, says there is no rule stopping those who've been rejected for a bounce back loan applying to another bank.
If you have a business account with another bank, this should be your first port of call, as generally you'll be accepted quicker. If you don't have a business account with another bank though, your options are limited, as most banks will only offer bounce back loans to existing business customers, and although some allow you to open a business account and then get a loan, the mood music we're getting from banks is that this will be a very slow process.
The main exception to this is HSBC. HSBC allows you to open a temporary feeder account, from which it will send you the bounce back loan funds to an account of your choice.
It says it is still actively accepting and approving applications from new customers, and that just because you've been rejected by Starling that doesn't mean it will reject you. However, bear in mind it will have its own acceptance criteria, so don't assume you'll definitely be accepted.
In fact, it does warn that it does have to do some due diligence and checks on applicants, including a soft credit check. It also says applications from new customers will take longer than applications from existing ones, so don't expect a particularly quick turnaround – in fact, anecdotally we've heard of customers having to wait a couple of weeks or more to get the loans.
Barclays is also still offering bounce back loans to new customers, though it doesn't offer a feeder account option and requires you to open a new account, which is likely to be a longer process. For more info on your options, see our Bounce Back Loans guide.
Please let us know how you get on after a Starling rejection, and whether other banks accept you or reject you, via the comments below.
What does Starling say?
Update. It has got in touch with us with the following quote as a result of our article:
"We have been in communication with the British Business Bank, HM Treasury and the Financial Conduct Authority throughout the BBLS (Bounce Back Loans Scheme) process. That dialogue continues. We have reached out to the FCA following the MSE article and are happy to further discuss our experience of the BBLS with them.
"We are following the BBB rules on BBLS lending to the letter. We do not conduct hard credit checks, and only conduct soft credit checks as an integral part of our fraud, anti-money laundering and know your customer checks, according to the BBB's own requirements. We are not conducting affordability checks. We use the same declaration form as all other BBLS lenders – it is provided by the BBB.
"We are proud to have been able to help nearly 16,000 small businesses by supplying more than £468 million of bounce back loans, with an average loan value of £26,300. Within four days of being approved as a lender, we started accepting BBLS applications. Our average BBLS processing time is 43 hours, and the average time from application to loan payment is 55 hours.
"There have been some businesses and sole traders that we have not been able to lend to. We understand that they are disappointed. We acknowledge that at the start of this process we could have communicated more clearly some aspects of our lending criteria. We are sorry."
For all the latest deals, guides and loopholes simply sign up today – it's spam-free!
Join the MSE Forum discussion