Online Safety Bill 'doomed to fail' unless it includes scam adverts, Martin Lewis and campaigners warn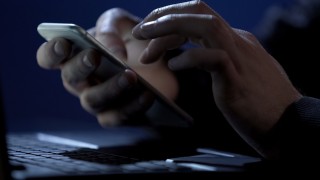 The government's Online Safety Bill is "doomed to fail" and will leave millions of internet users in danger of losing money and/ or sensitive information if it does not include protection from paid-for scam adverts, warn campaigners including MoneySavingExpert.com founder Martin Lewis.
New research published by charity the Money and Mental Health Policy Institute (MMHPI), which was founded by Martin, shows that paid-for scam adverts are among the most commonly encountered type of scam. National polling commissioned by the MMHPI found that half of UK adults (50%) reported that they had sees a scam advert on social media at least once a month.
Yet currently, paid-for adverts that appear in internet search results, paid-for adverts and promoted posts that appear on social media, and scams promoted through profiles on dating sites are NOT covered by the draft Bill. Scams that ARE covered by the Bill include user-generated scams, scams that appear in 'organic' search results - which are the results you see below any ads on using an online search engine - and most user-generated and brand-generated social media posts.
The MMHPI say this gives scammers a "get out of jail free" card, as by paying relatively small amounts to promote their content, they can ensure they won't be covered by the new regulation. Both the charity and Martin are calling, again, on the Government to do more. You can read the full report on the MMHPI website.
See our 30+ Ways to Stop Scams guide for help on what to look out for, how to protect yourself, and what to do if you're a victim of a scam. For one-on-one help and advice, contact Citizens Advice Scams Action through its website, or call its online scams helpline on 0300 330 3003.

'The UK is facing an epidemic of scam adverts'
Commenting on the research, Martin Lewis, founder of MoneySavingExpert.com and the Money and Mental Health Policy Institute, said:
"The UK is facing an epidemic of scam adverts. This is partially due to a systemic failure to both properly fund policing and bring in appropriate regulation. Our advertising rules were set up to police soap manufacturers making false cleanliness claims, not to tackle sophisticated, psychologically adept, digital organised crime, based around the world. This has left many scammers untraced, un-investigated, and unpunished. Many get away with these crimes with impunity.
"It is therefore farcical that the government is leaving scam adverts out of the Online Safety Bill. While protecting democracy from fake news is important — as the Bill will do — the Westminster bubble seems to be ignoring the more prosaic but devastating impact scammers have on people's lives.
"Unless they change their approach, ministers' efforts to tackle online fraud are doomed to failure, and millions of consumers will still be at risk of losing money and personal information, or at medical harm through fake ads. We need to cut off scammers' ability to reach the public, and stop big-tech profiting from scams.
"The one bright spark is that user-generated scams will be included in the Bill. However the idea you can draw a distinction between content and adverts is 1980s thinking. It'd mean the law covers someone making a scam post, but not if they pay to promote the same content. It's a nonsensical, unworkable distinction in the social media age.
"The government instead tells me it will eventually come up with a plan to tackle scam adverts through changing advertising regulation. Yet this is a plan which no one has seen, and which will have to go through a lengthy process of consultation, lobbying and drafting of legislation - probably in the face of fierce opposition from the powerful advertising industry. Meanwhile huge swathes of people will see their financial and mental health destroyed after falling victim.
"Instead we must put scam ads in the Online Safety Bill, which will soon be scrutinised by MPs and Lords, and will already force online platforms to deal with user-generated scams. The government says it is serious about making a concrete commitment to deal with online fraud – yet it is leaving out scam adverts. I wonder if scammers thought the Prime Minister's face was trusted enough, and started using him in their adverts, the government would still be saying this wasn't a priority."
Online platforms need to take more responsibility for preventing scams, says the MMHPI
The MMHPI is calling on the government to use the Bill to ensure there is a duty placed on online services to prevent scam content from appearing publicly in the first place. The MMHPI says this is vital due to their prevalence and the wide-ranging and severe impact they have on those affected.
It recognises that this will likely result in increased costs for online platforms and services, but the charity says these costs will be insignificant compared to the current cost to victims of online scams - in particular, vulnerable people and those with mental health problems who are more likely to fall victim to them.
The MMHPI adds that the systems and processes online firms need to implement are also unlikely to be dramatically different from those for user-generated content, potentially reducing the time and cost of doing so compared to building a different approach for the two types of scams.
MPs and Lords to scrutinise the government's approach to scams
In related news, the Work and Pensions Committee and Treasury Committee have written a joint letter to Prime Minister Boris Johnson this month, warning that the Government's failure to legislate for paid-for scam ads risks "large financial losses to the public".
In addition, a new 'Joint Committee on the Draft Online Safety Bill' has been established by the House of Lords and House of Commons to scrutinise the proposals. The Joint Committee met for the first time on 27 July when it elected MP for Folkestone and Hythe, Damian Collins, as its new chair.
Elsewhere, the Department for Culture Media and Sport Sub-Committee on Online Harms and Disinformation launched its own inquiry on 27 July looking at the government's approach to tackling harmful online content. This will include looking at some of the Bill's key omissions.
What does the government say?
A government spokesperson said: "We have brought user-generated fraud into the scope of our new online laws to increase people's protection from the devastating impact of scams.

"The move is just one part of our plan to tackle fraud in all its forms. We continue to pursue fraudsters and close down the vulnerabilities they exploit, are helping people spot and report scams, and we will shortly be considering whether tougher regulation on online advertising is also needed."
For all the latest deals, guides and loopholes simply sign up today – it's spam-free!