Households to face a £1,200 hit from next April with 2022 set to be the 'year of the squeeze'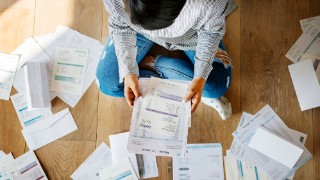 Households across the country are set to face an income hit of £1,200 a year due to rising energy prices, tax increases and wage stagnation, according to a report by the think tank Resolution Foundation.
The report, published today (Wednesday 29 December), states that families could face a "cost of living catastrophe", with inflation set to peak at 6% in the Spring and real wage growth, which was flat in October, unlikely to grow until the end of next year.
Over the past few months, energy prices have risen to unprecedented highs and are set to rise further with the energy price cap expected to increase by 40% in April 2022. Certain national insurance contributions paid by both employed and self-employed workers will also rise by 1.25 percentage points from the same month.
At the same time, inflation grew to 5.1% in November, the highest increase in a decade, according to the Office of National Statistics.
'Low income families will be hit hardest by the energy price cap rise'
According to the report, low income families will be hit hardest by the rising energy price cap as the share of income spent on energy bills among the poorest households is "set to rise from 8.5% to 12% – three times as much as the share spent by the richest households".
To address these concerns, the report highlights a number of steps that should be taken, which include: reducing the size of the price cap rise and compensating energy suppliers, extending the time period over which supplier failures are recouped, and extending and increasing the Warm Homes Discount.
Despite the rising price cap, it's still likely to be cheaper than fixing
Since news of the energy crisis broke, which has seen 23 energy firms go bust since September, MSE founder Martin Lewis has repeatedly told households to "do nothing" and to go onto the regulator's price cap when their fixed deal ends or to stick with it if they are already on it.
By sticking with your current deal you should save until April next year compared to taking out a new fix now. And when prices go up then you'll likely still be paying less compared to the cheapest fix you can get now.
If you're in the process of changing supplier or moving home, you should ask your new supplier to be placed onto its standard variable tariff (if it has one) rather than opting for a fixed deal. Some suppliers may want to push you into taking a fixed deal but you CAN SAY NO.
What does the Resolution Foundation say?
Torsten Bell, chief executive of the Resolution Foundation, said: "The peak of the squeeze will be in April, as families face a £1,200 income hit from soaring energy bills and tax rises. So large is this overnight cost of living catastrophe that it's hard to see how the Government avoids stepping in.
"Top of the Government's New Year resolutions should be addressing April's energy bills hike, particularly for the poorest households who will be hardest hit by rising gas and electricity bills."
For all the latest deals, guides and loopholes simply sign up today – it's spam-free!
Join the MSE Forum discussion