Thousands of single bus journeys in England to be capped at £2 until 30 June - here's all you need to know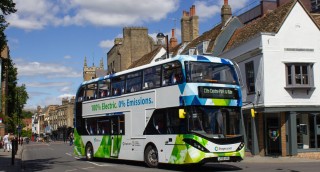 The fare for thousands of single bus journeys in England will be capped at £2 until 30 June 2023. The move could save passengers on average a third off the cost of the ticket, according to the Department for Transport (DfT), which is behind the move. Below we explain all you need to know.
You don't need to do anything to get the reduced price - but not all bus services are taking part
The flat rate cap will only apply to single journeys - one trip, on one bus - at any time of day. Return and multi-bus journeys and daily or weekly tickets will continue to be charged at their usual price, so check if it may be cheaper to buy single tickets instead. The cap will also only apply to bus routes, not to coach fares.
The scheme was originally planned to run between January and March 2023, with over 4,600 routes in England capped, with around 148 bus operators, including Arriva, First Bus, and Stagecoach among those taking part.
However, the cap has now been extended by the DfT until 30 June 2023. We're checking with the Government if the same operators will continue to take part in the extension of the scheme and we will update this story when we know more. Not all bus operators chose to take part between January and March.
You can check which routes the £2 cap apply to until at least 31 March on the Gov.uk website, which includes a full list of operators currently taking part.
The biggest savings will be made on the longest routes; for example, a single bus journey from Lancaster to Kendall would usually cost £14.50 - meaning you'll save £12.50 with the fare cap.
Single bus fares in Bath, Bristol, Greater Manchester, London, Merseyside, and West Yorkshire are already capped at no more than £2 a journey through existing ongoing schemes, which aren't part of the January to June cap.
The bus fare cap only applies to journeys in England
The fare cap is only currently applicable in England.
We asked the devolved nations - Northern Ireland, Scotland, and Wales - if they were planning a similar scheme. Here's what they told us:
The Scottish Government said fares in many parts of the country are already below £2 but that it would consider how a cap could potentially work in future. It also provides free bus travel to all children and young people under 22.


The Welsh Government told us it set out long-term changes to its bus network in a consultation published in 2022, which are designed to put in place a governance system to ensure an "affordable" and "comprehensive" public transport service.


The Northern Irish Government said any changes to fare prices are currently under consideration.
For all the latest deals, guides and loopholes simply sign up today – it's spam-free!
Join the MSE Forum discussion
Click the link to be taken to the MSE Forum.