Revealed: The NEW sweet spot to buy car insurance and save 40%
Customers can save more than £500 a year by buying car insurance 20 to 26 days before the policy is due to start, according to new data compiled by the UK's biggest consumer website, MoneySavingExpert.com. Buying too early, or too late, sees the price of renewal shoot up, with a typical policy costing £1,218 on renewal day compared to only £672 just 24 days before.
MSE analysed over 50 million quotes from the four biggest price comparison websites – Compare The Market, Confused.com, Gocompare and MoneySupermarket – between October 2018 and September 2019 and discovered huge price variances depending on when you get a policy. The data showed:
Renewing between 20 and 26 days ahead of when the cover starts will see customers save up to 40%.
The cheapest quotes are available 24 days ahead, at an average premium of £672 a year.
Get quotes on the day you need the cover to start and it's an eye-watering £1,218 a year – a massive £546 a year more expensive on average than the optimum time of 24 days ahead.
People getting quotes the day before renewal pay an average of £390 a year more than the cheapest day.
Remarkably, getting insurance too early also means you overpay by £100s – the average cost 30 days before renewal is £388 a year more expensive than the cheapest day.
The new figures show a change against last year, when MSE revealed 21 days was the optimum time to buy your car insurance.
Martin Lewis, founder of MoneySavingExpert.com, said: "We've analysed 50m quotes to find the new sweet week for car insurance is 20 to 26 days before your renewal is due – this can cut your costs by nearly 40%. This is a shift from before when 21 days came out top on its own. This isn't about sticking with your existing provider though, which often results in paying more in its own right, it's about finding a new one.
"It works like this because the biggest factor in insurance pricing is 'actuarial risk', which means price is dictated by the likelihood of claims, based on data of millions of drivers' claims history. Some of these, including car type, address and occupation, are well known. Yet the regulator, the FCA, recently reported there are 50 to 400 different factors, many of which are hidden.
"This 'days before renewal' kink is one of those factors. Insurers have admitted to us that quite simply drivers who leave it until the last minute are statistically riskier, therefore they pay more. Of course, by revealing this, there's a chance we're subverting future risk charts, as some riskier drivers may now do it earlier.
"But even if we did move the market so much, it'd likely take years to factor through, and we'll keep redoing the analysis to be on top of it."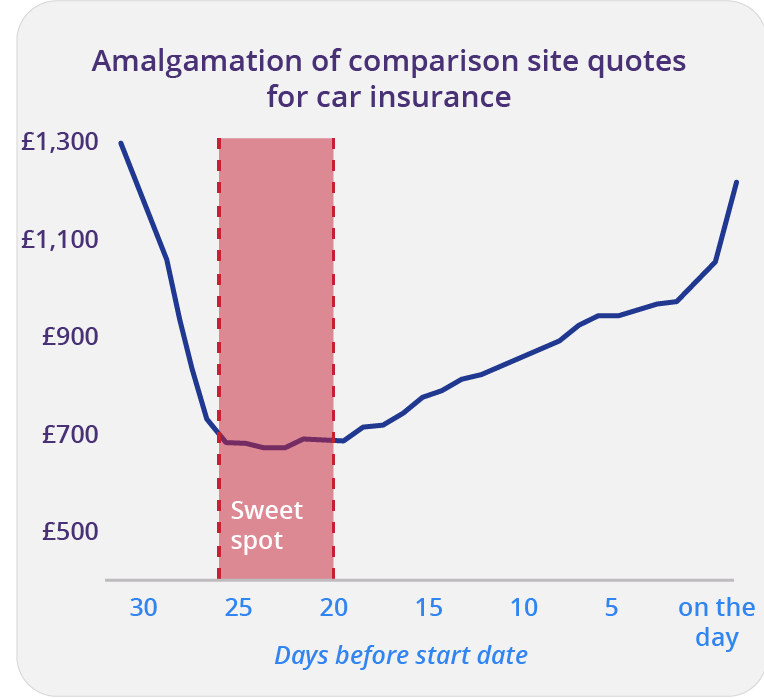 Credit: MoneySavingExpert.com
Note: These figures are averages and as your premium is tailored to you and your personal circumstances, your savings will likely be different. However the general principle of when to buy your insurance still applies.
For more on this and other tips for getting a cheap deal on car insurance, visit MSE's news story.