Revealed: The NEW best time to buy car insurance to get the cheapest deals
Getting car insurance quotes 20 to 26 days before the policy is due to start is likely to get the cheapest price from a comparison site, saving up to 40%, an MSE investigation reveals.
In 2018, we revealed 21 days was the optimum time to buy your car insurance. But in our latest research we analysed over 50 million quotes from comparison sites between October 2018 to September 2019, and can now reveal buying 20 to 26 days before renewal is the new best time to buy, though 24 days was the absolute cheapest day for quotes.
Data obtained by MoneySavingExpert.com from three of the biggest price comparison websites – Compare The Market, Confused.com and MoneySupermarket – showed all three had near-identical trends in pricing, with an optimum time to buy your car insurance – closely aligned to how much of a risk you're deemed to be, and when the highest number of insurers will provide quotes.
Buying from a comparison site is one of the best ways to bag cheap insurance. See our Cheap Car Insurance guide for more tips to cut the cost.
What does the data tell us?
Based on an average price for the millions of quotes returned on the price comparison sites, the cheapest quotes are available when you buy 24 days before the start date, at an average premium of £672 a year. Even getting it a few days either side of the optimum time can still result in huge savings, with the time from 20 to 26 days before showing less than £15 variation in the average price of quotes.
But, get quotes on the day you need the cover to start and it's an eye-watering £1,218/yr – a MASSIVE £546 A YEAR more expensive on average than buying it at the optimum time, 24 days earlier.
Our research showed a steady increase in prices from 20 days before until five days before, at which point it's £275 more expensive on average than getting quotes on the cheapest day. After this, the average quote shoots up day-by-day, with people getting quotes the day before paying an average of £390 a year more than the cheapest, and those on the day they need cover £546 a year more.
But it's not just getting a quote at the last minute that means you could pay more. Being overly organised and getting your insurance too early means you also overpay by £100s. Try buying 30 days in advance (the earliest you can usually get a quote on comparison sites) and it's £388/yr more expensive on average than buying on the cheapest day.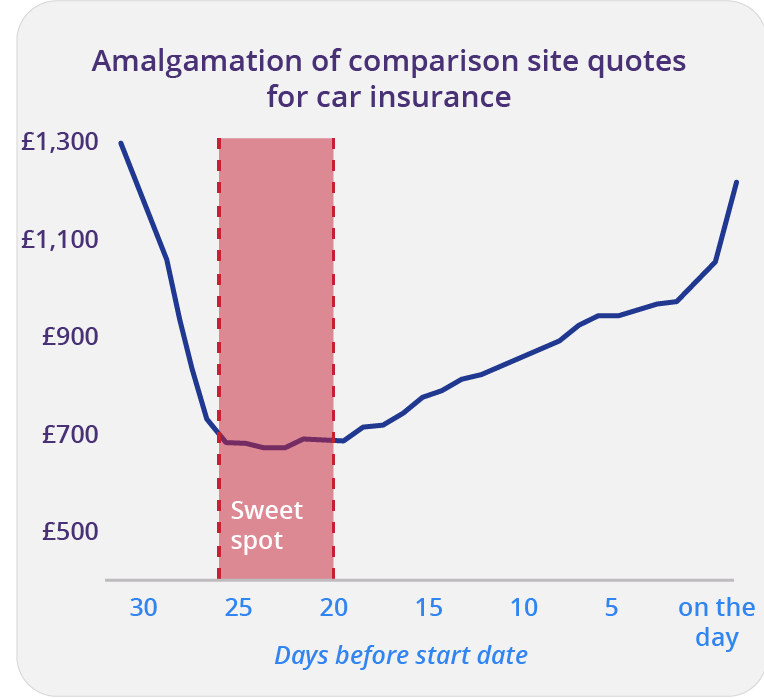 Note: Of course, these figures are averages and as your premium is tailored to you and your personal circumstances, your savings will likely be different. However, the general principle of when to buy your insurance still applies.
Martin: 'This can cut your costs by nearly 40%'
MoneySavingExpert.com founder Martin Lewis said: "We've analysed 50 million quotes to find the new sweet week for car insurance is 20 to 26 days before your renewal is due – this can cut your costs by nearly 40%. This is a shift from before, when 21 days came out top on its own. This isn't about sticking with your existing provider though, which often results in paying more in its own right, it's about finding a new one.
"It works like this because the biggest factor in insurance pricing is 'actuarial risk', which means price is dictated by the likelihood of claims, based on data of millions of drivers' claims history. Some of these, including car type, address and occupation, are well known. Yet the regulator, the FCA, recently reported there are 50 to 400 different factors, many of which are hidden.
"This 'days before renewal' kink is one of those factors. Insurers have admitted to us that quite simply drivers who leave it until the last minute are statistically riskier, therefore they pay more. Of course, by revealing this, there's a chance we're subverting future risk charts, as some riskier drivers may now do it earlier.
"But even if we did move the market so much, it'd likely take years to factor through, and we'll keep redoing the analysis to be on top of it."
Why is there a big price difference between buying on different days?
Quotations are based on a number of factors, such as car type, driving history, where you live and much, much more; some will even quote differently depending on what time of day you buy.
Last year, when we first did these figures, we asked Compare The Market, Confused.com, MoneySupermarket, Admiral, Aviva, Direct Line, LV and More Than why the price differed depending on how far in advance you got the policy. All told us generally the same thing.
It's based around risk – buying it a few weeks before you need it suggests you're more careful and organised, while leaving it to the last minute means you're seen as higher risk, with some insurers telling us they've seen a direct link between drivers who leave sorting their insurance to the last moment and a higher number of claims.
As for why the super-prepared are being penalised for getting a quote 30 days in advance, it's basically because there are fewer insurers returning quotes at that stage.
'I saved £237 buying 21 days in advance'
Since we revealed last year that 21 days was the sweet spot, many of you have let us know how much you saved using this trick. We've a few of the big savings here:
Maxine emailed: "I normally always do my car insurance one month in advance, but after watching Martin I did it exactly 21 days in advance and have saved £237."
Cam tweeted: "Took your advice and carried out a car insurance quote 21 days prior to my renewal date. Was paying £148.03 a month. Now paying £67.58 a month."
Lauren tweeted: "Saved nearly £200 on my car insurance following @MartinSLewis' advice about searching car insurance 21 days before the renewal date."
David emailed: "My car insurance was up for renewal at the end of the month of October 18. I saw on one of your emails that Martin said to try and get your insurance quote/renewal between 19-22 days from your date. So I waited till the time frame that Martin stated and got a quote from a well-established insurance company with the exact same benefits. So it is with great pleasure that I took out the new insurance and saved nearly £300."
Will buying insurance three to four weeks in advance guarantee the best price?
Not necessarily on its own. We've a set of tricks and tips to try below to help you bag the cheapest premium:
Try counter-logical tricks. It's all about risk averages and 'actuarial' tables, which can lead to bizarre ways to save. Use trial and error to see if comprehensive's cheaper than third party or if you can save by tweaking your job description. Adding extra drivers can cut costs too if they're a lower risk than you. This is especially strong if you're a young driver adding a responsible older driver, but it's worth a try for others too.


Check your renewal price. It's usually sent 28 days before it's due – call your provider if you don't get it.


Three to four weeks before you need cover to start, use comparison sites. If you get a better quote than you've had so far, it's likely to be the cheapest you'll get. See our Car Insurance guide for the current order.

If you are not ready to buy the policy, many insurers will let you 'lock in' a quote once you have it, so you can buy later (assuming nothing changes in your circumstances, eg, you don't get a speeding ticket or have an accident).
Here are more tips on getting the right price:
If you're at renewal, it's easy. NEVER automatically accept your renewal quote – use our car insurance tips to bag the cheapest deal.


If you're midway through your policy, check if you can save. For a £50ish admin fee (factor that into your costs), you can usually cancel your existing policy and get the rest of the year refunded, provided you've not claimed.


Combine comparison sites to find your cheapest deal quickly. There's no single cheapest insurer, as prices are different for everyone, so check them all between three and four weeks before you want your insurance to start. See our Car Insurance guide for more.


Then check the biggies comparisons miss. Aviva* and Direct Line* won't appear on comparison sites and can be competitive.


Also check the hot deals comparison sites miss. See our full list of current hot deals.
For all the latest deals, guides and loopholes simply sign up today – it's spam-free!
Join the MSE Forum discussion