If you click a link with an * to go through to a provider, we may get paid. This usually only happens if you get a product from it. This is what funds our team of journalists, and keeps us free to use. Yet there are two crucial things you need to know about this.
This never impacts our editorial recommendations – if it's in, it's in there because we independently rate it best.
You'll always get as good a deal (or better) than if you went direct.
For a more detailed explanation see How MSE is financed.
Joint savings accounts explained
What you need to know about opening a savings account with someone else
Joint savings accounts can be a useful way for two people to share responsibility for a pot of money or reach shared savings goals. Both account holders will have access to the cash though, so you should only open one with someone you trust. This short guide runs you through the options.
What is a joint savings account?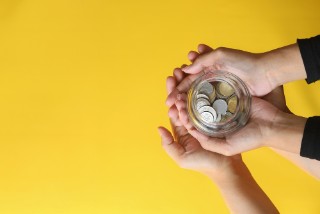 A joint savings account is a regular savings account, but with two, or sometimes more, account holders. Many savings providers offer this as an option for customers who'd like to set up a savings pot that can be accessed and added to by more than one person.
How do joint savings accounts work?
At the beginning of your application, most savings providers allow you to choose to open the account solely or jointly. If you choose a joint account, both account holders can do everything they would be able to do with a sole savings account. You can add and withdraw money, remove yourself as an account holder, or close the account – though sometimes both account holders have to agree before being able to do this.
Each account holder has full FSCS protection (as long as the account provider is eligible). This works per person, per banking licence – so each account holder will get up to £85,000 protected if the bank goes bust. That means a joint account with two account holders would be protected up to £170,000 as long as neither had other savings with the same bank.
Although sole or joint accounts are common, you can you also have savings account with three or more joint account holders. It's worth noting that they would each have the same individual savings protection of up to £85k each – again, as long as they don't have other savings with the same bank.
You can check if your bank shares its savings protection with any others with our handy
bank checker tool
.
Why do people use joint savings accounts?
They are most commonly associated with couples, though really any two or more people with a shared savings goal can open one. You don't need to be married or in a civil partnership, you don't need to be related and you don't need to live together. All you need to be is willing to share financial responsibility for a savings pot.
This means that you should only open a joint account with someone you trust – because one of you could withdraw the whole lot. If communication does break down with your co-account holder – for example if you break up with your partner and still share an account – you should contact the bank immediately and they will typically put a freeze on the account until there's a resolution.
Any interest you make on a joint savings account will be split evenly among the account holders. This will also be how any tax owed on earned interest will be worked out, in case any of the account holders exceed their personal savings allowance of £1,000 for basic-rate taxpayers or £500 for higher-rate taxpayers.
What are the pros and cons of a joint savings account?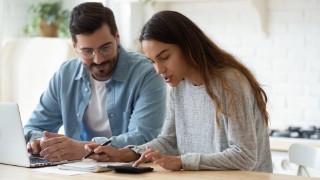 Joint savings accounts can be a useful money management and budgeting tool, though they have the potential to go horribly wrong if the account holders don't know what they're getting into. Here are a few of the pros and cons to be aware of:
Pros of a joint savings account...
It can be an effective motivational tool to save with a partner or close friend - plus you could meet your target quicker if combining with others.
Savings accounts with the top rates sometimes have high minimum deposits of £10,000 or even higher. Combining your savings with another could help you reach this threshold and access high interest rates.
Cons of a joint savings account...
An account holder can withdraw as much as they want without the other's permission. If you're opening the account with someone with very different spending habits to you, this could be an problem.
If you meet your savings goal but one of the account holders has contributed a significantly larger proportion, this could lead to some difficult situations about joint ownership of the funds.
Which joint savings account should I choose?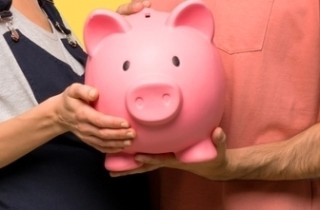 Our top savings accounts guide lists whether the top-paying accounts exclude joint applications (see the 'how to open' column). Unless indicated otherwise, you should be able to open an account jointly. Some savings providers – mainly app-based ones – don't allow joint accounts.

When it comes to choosing the account that's right for you, you should consider the same things that you would if you were opening an individual account. The interest rate will be important, and you'll have to decide whether you and the joint account holders want easy access to the money, or whether you're both happy to lock the money away for fixed period. It's important to reach a mutual decision on this to save problems later down the line.
You can't open a joint ISA
An ISA is an 'individual savings account' and the clue is in the name. You can only open an ISA of any kind as a sole account holder. So if you're a couple who want to benefit from tax-free savings, you could consider splitting your money between separate ISAs instead.
How do you open a joint savings account?
Opening a joint savings account is similar to a sole account, though all account holders typically need to sign a mandate agreeing on the nature of the joint ownership, and rules for things like who can withdraw and close the account.
The easiest way to open an account is by filling in a form online, where you'll be able to enter the details for all prospective account holders, though some providers may ask you to open the account in branch.
When opening a joint savings account you will typically need to provide:
Proof of identity - you will usually be required to provide photo ID and proof of address. This won't be necessary if you already bank with the provider (as they will be able to verify you already).
A nominated UK bank account. This could be with the same provider or another provider, but you need a linked current account to recieve interest payments and transfer deposits from and to.
What's the difference between joint savings and a joint bank account?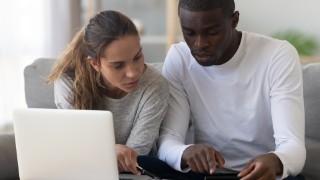 Current accounts can also be opened jointly or solely – in the same way as savings accounts. Joint bank accounts offer more ways to manage day-to-day finances.
Joint bank accounts will usually let you set up direct debits and standing orders, come with debits cards that you are both able to use, but won't pay much – if anything – on any cash balances sitting in your account. You can also maximise your joint account returns, but first you'll need to consider if banking jointly is right for you.
Joint savings accounts have less features. Aside from adding or withdrawing money, you won't be able to set up payments in and out of the account – for example to settle bills. However, you'll likely get a better rate of interest on any balance. See our top savings accounts for more.
Joint bank account holders' credit files are linked
The other big difference between the two is that a joint bank account creates a financial link between the account holders. If you apply for credit, such as a mortgage or credit card, the lender could choose to view the credit files of the people you're linked to.
If one of them has a poor credit history, this could impact your ability to get credit (and vice versa) – so be careful, and think twice before linking. See how to check your credit report for free.
Conversely, savings accounts aren't considered by lenders, so opening a joint savings account with others won't impact your ability to apply for credit if something goes wrong.
FAQs
This depends on the terms of the joint account when it was set up. If account holders are listed as 'joint tenants', ownership of the money will pass on to the remaining account holder(s). If they are listed as 'tenants in common', the deceased account holder's share of any money deposited in the joint savings account will be incorporated into their will.

You will have to inform the bank of the death of an account holder for them to removed the, from a joint account.

No, joint credit cards aren't technically a thing in the UK. You can add additional cardholders who can spend, but ultimately the main cardholder remains legally responsible for the full debt.

For more information, see should I get a joint credit card?

If you both agree, then you could. However if you're looking to be able to support more broadly, such as being able to make decisions on their behalf and being able to manage all of their accounts, then you'd need a Power of Attorney.

This is a legal document that appoints somebody else to be able to manage another's property and finances (and in many cases health and welfare too) if they were to lose mental capacity. See our full guide to Power of Attorney and the best banks if you've already Power of Attorney.

You can also set up a third-party mandate on one or more accounts with your bank. This allows one or more close family or friends to access select accounts to perform everyday financial tasks on your behalf, such as going in branch, withdrawing money at an ATM and accessing online banking.
Have your say in our forum!