Peer-to-Peer Lending
Get £100 cashback on 3%-ish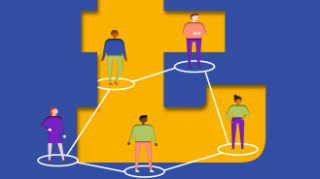 Peer-to-peer lending firms such as Zopa, Funding Circle and Ratesetter offer rates to investors of up to around 6%, but their products are NOT the same as savings accounts. The regulator is worried that people jump in without understanding the pitfalls of peer-to-peer – this guide explains the risks and how the main players stack up.
What is peer-to-peer lending?
Peer-to-peer lending websites are financial matchmakers, online money cupids marrying up people who have cash to lend and who are looking for a good return, with individuals or companies wanting to borrow.
With the banking middleman cut out, investors putting up cash for lending can get much higher rates than they would from a savings account, while borrowers often pay less than with a conventional loan. The sites themselves profit by taking a fee.
But before you get excited by the rates on offer and put any money into peer-to-peer (P2P), it's important you understand that it's NOT like traditional savings.
Peer-to-peer may look like saving, but as there's no savings safety guarantee and you could lose your money, it's really an investment.
Lending isn't done willy-nilly – borrowers are cherry-picked using credit checks and rated according to risk. The websites do all the repayment chasing on your behalf – so there's no legwork like lending to a bloke down the pub. However, there are risks involved which are important to consider before putting your money in.
In the past, basic-rate taxpayers lost £20 in tax for every £100 of interest they earned, while higher-rate taxpayers lost £40. But now the personal savings allowance (PSA) means every basic-rate taxpayer can earn £1,000 in interest without paying tax on it (higher-rate taxpayers can earn £500).

The interest you earn from P2P lending is covered by this – despite the fact they're not 'savings' in the traditional sense – although it's worth remembering you do have just one personal savings allowance per tax year. Any interest you earn that exceeds the allowance will be subject to tax. For more info, see our Personal Savings Allowance guide.

The 'innovative finance ISA' (IFISA) allows P2P investors to lend out up to the annual £20,000 ISA allowance within an ISA wrapper, so interest on that portion of money will be tax-free forever. These launched on 6 April 2016, but it has taken a while for the major players to get approval to offer them.

All providers below now offer IFISAs to new and existing customers. For more information on this type of ISA, see the Peer-to-peer 'savings' to be included in ISAs MSE News story.
Regulator the Financial Conduct Authority (FCA) has now launched a set of tighter rules for peer-to-peer lenders. The headline one is that new investors are no longer allowed to put more than 10% of their investable assets into P2P.
A limit on how much new investors can put into P2P lending. As of 9 December 2019, if you've not sought out independent financial advice, you can only invest a maximum of 10% of your investable assets (excluding things such as your main residence). However, you'll need to 'self-certify' by telling the provider you won't invest more than this and it remains to be seen how it'll be enforced.


There are ways around it though: for example, if you've invested two or more times in the past two years there are no longer any limits on investments. But our view is that while this rule is only for new investors, it's an important signal about not overexposing yourself to the risks – see Martin's warning below.

Checks to ensure you have the knowledge and experience to invest. Firms need to ask you questions to check you know what you're doing, if you haven't received financial advice.

More info on plans if a lender goes bust. Firms will have to give you more information about their plans for when things go wrong.

P2P firms must also present information clearly and be honest about risks. All P2P companies must meet these rules or face sanctions, which can include large fines.

Firms are also required to have at least £50,000 of capital (more for bigger firms) in reserve to act as a buffer to ensure they can withstand financial shocks or difficulties.
Get Our Free Money Tips Email!
For all the latest deals, guides and loopholes - join the 12m who get it. Don't miss out
You MUST know the risks – peer-to-peer lending isn't for everyone
Here's a list of things you need to consider before giving a peer-to-peer company your money...
Brexit uncertainty could hit peer-to-peer lending

No one knows exactly what Brexit means for our economy – some say good, others say bad. We do know there is huge uncertainty. P2P is a new industry; most firms have never ridden through a substantial downturn, and we don't know how they will. We list further risks below – the last is the 'unknown unknowns', which the current uncertainty only exacerbates. While we're not saying don't do P2P, we do think you need to consider even more carefully if it's right for you.


There's no savings safety guarantee

With normal UK savings, the Financial Services Compensation Scheme offers you a level of protection. It promises to pay the first £85,000 of any money saved per person, per financial institution if that institution went kaput. Any money you've invested with a P2P lender that's being loaned out doesn't have this, even now lenders are regulated.
There's a risk you won't get your money back

While for many P2P has worked well, the primary risk is, of course, not being repaid if people or companies you've lent the money to don't pay it back.

Each P2P site has its own way of attempting to lessen this risk – make sure you know what provisions a site has in place before choosing it.


It may be hard to get your money out early

Many P2P lenders allow you to withdraw money early if you want, by matching your existing loans with new investors. While this can work well, lenders with Funding Circle have had to wait for months recently. There is also a question of how this secondary market would work if interest rates were to rise. If, say, you're lending out at 4% and want to exit, but newcomers can lend out at 9%, how easy will it be in practice to get someone to take over your loans at the less attractive rate?
The rate that lenders quote is NOT guaranteed

The lenders in this guide quote 'expected', 'projected' or 'target' returns for investors, but the actual rate you get could be less, for example, if part of the money you lent isn't repaid (and there's no provision fund that covers it), or if a borrower repays part of your loan early.

Your cash may not be lent straightaway, so could earn no interest for a while

No interest is paid while your cash is waiting to be lent out. Depending on the provider, it could take a few days to find borrowers. Bear this in mind, especially if you're investing a lot, as it may take longer to all be lent out.
If a peer-to-peer site went bust, who'd collect the loans?

Technically the loans are between you and the borrower, so if the P2P site went bust, you'd still be owed. All P2P firms need to have plans in place for an 'orderly wind-down' of the business. This could include having insurance to pay for a third party to collect outstanding loans, though if this did happen, things aren't likely to run anywhere near as smoothly. A recent example of this has been investors in collapsed firm Lendy waiting to see if they'll get back their share of the £150 million invested.
The unknown unknowns

There have been horror stories in the US and with some providers in the UK, including the May 2019 collapse of mid-sized firm Lendy. This is a fast-changing industry and you have to factor in the unknown unknowns. Things will happen that we can't predict, so you need to consider if you're willing to take this risk with your money.
If you've tried P2P lending, please let us know if it worked well for you as well as anything extra you think needs to be added to this guide.
Martin: Don't put money into peer-to-peer if you can't afford to lose
Peer-to-peer lending looks like savings (but with higher interest, eg, 5%), acts like savings, but smells like investing. As we've warned, it ISN'T covered by the UK savings safety net, which protects bank, building society and credit union savings up to £85k per person, per institution if they went bust.
Even in this new industry, we've already seen two small UK P2P platforms, Lendy and Funding Secure, recently collapse.
The Financial Conduct Authority is so concerned about people's attitudes to P2P, and that some marketing makes it seem like savings, it's ruled that from Monday 9 December, firms won't be allowed to let those who haven't had independent financial advice put more than 10% of their investable assets (ie, excluding their home) into P2P.

While the rule is only for new investors, if you already have money in there, it's a good spur to check your exposure to P2P. Those saving regularly may have more in it than they think. Even then 10% is still high for many. As with all investments, the best stance is NEVER HAVE MORE MONEY IN THAN YOU CAN AFFORD TO LOSE.
This isn't a coded message to say don't do P2P. I'm not anti-it; I do it myself. Yet I meet more and more people who see it as akin to savings. It isn't. It's investing. Investing can be great – you do it to get higher returns than savings, but the cost is the risk of losing money.
It's important to understand the risk, and decide if you accept it, not just when putting money in, but then continually reviewing whether you want the exposure. That's especially important in uncertain times, such as right now. For those comfortable with the risk, P2P can be a great option (and has been for me).
Which firms are the main lenders?
The P2P market's developing fast, and while there are new sites popping up all the time, currently there are three firms that make up the majority of the market.
Each works slightly differently, and – as with a lot of things in life – the greater the risk, the higher the return.
Do be aware that their rates change frequently, so those listed below are simply a snapshot of a moment in time.
Newbies who open a Ratesetter* account and invest £1,000+ for a year in its easy-access or ISA products can earn £100 cashback, as long as their money is loaned out within eight weeks of opening.
You must leave at least £1,000 of what you put in for at least a year to qualify for the cashback.
Ratesetter launched new products in Oct 2019, quoting rates of between 3% and 5%. None has a fixed term, but fees vary for getting your money out:
The Access product offers 3% – it charges no fee for accessing your cash.
Plus offers 4% – it charges 30 days' interest for accessing your money.
Max offers 5% – it charges 90 days' interest for cashing in. Ratesetter's ISA also offers 5%.

How is my money protected? Because of the nature of P2P, there's a risk not all of your money will be paid back – or any at all – which could affect the return you get. However, Ratesetter provides protection in the form of its provision fund.
Ratesetter says it has paid out the expected rate in all cases and the provision fund amounts to £39 million. While the firm is FCA-regulated and one of the largest peer-to-peer lenders, there is always the risk that Ratesetter itself could experience difficulties.
When do I get the cashback? Cashback will be credited to your Ratesetter account within 30 working days of qualifying (ie, after keeping in at least £1,000 for a year) and will be immediately reinvested. You can withdraw this straightaway, though it may take up to one working day. You can withdraw your initial investment of £1,000+ after a year.
How quickly can you withdraw money? To date, Ratesetter says it has taken one day on average to release investors' cash, but adds that it can take time as you need to wait for new investors to take on your loans.
Projected rates: 3% (Access product), 4% (Plus), 5% (Max), 5% ISA
Unlent cash kept in: Barclays
Min/max lend amount: £10 (£1,000 for cashback) / unlimited
Money lent so far: £3.5 billion
Number of lenders: 78,700
Funding Circle* involves lending to businesses and has been used by the Government – which has committed £315 million.
Projected returns are higher, but so is the expected level of 'bad debt', so it's the riskiest (also be aware that it announced a revenue warning earlier this year). 'Bad debt' refers to a company that might not be able to pay back what it's borrowed.
You can also open an 'innovative finance ISA' with Funding Circle – these have the same features as its non-ISA products, with the benefit of returns being tax-free.
How is my money protected? Funding Circle used to let you choose which businesses you lend to, but now your money is automatically spread across multiple borrowers, so if one fails to repay, it won't hit you too badly.
You can choose from two products:
Balanced lends your money to businesses across Funding Circle's full range of risk ratings.
Conservative has a lower expected return but lends to the two lowest risk classes of business.
For both products, no more than 0.5% (min £10) of your money will be lent to a single business.
How quickly can you withdraw money? Your money's lent out over periods ranging from six months to five years. As the loans are repaid, you receive a proportion back every month plus interest, which you can choose to withdraw or reinvest.
If you want to access your money early, there is a secondary market for selling on the debt. But this depends on a buyer being available – investors have reported it's often taken three months or more to sell loans, so there are no guarantees how fast you might get your money back.
Projected rates: 4.3% - 4.7% (Conservative product), 4.5% - 6.5% (Balanced), after fees and bad debts
Unlent cash kept in: Barclays
Min/max lend amount: £1,000/unlimited
Money lent so far: £5.8 billion
Number of lenders: 83,000
Funding Circle splits companies into A+ to E risks. This comes after it's checked company directors for fraud through the CIFAS national fraud database, assessed the company's Experian credit report, confirmed it's traded for more than two years and has no county court judgments of £1,000+ against it. Loans of £100,000+ must be backed by assets.
The UK's original peer-to-peer firm, Zopa* was set up in 2005. You choose how much cash you want to put in and how long you want to lock it away for, and you'll get a fixed rate – it'll spread your money across multiple borrowers to try to lower the risk (see below).
You can also open an 'innovative finance ISA' with Zopa – these have the same features as its non-ISA products, with the benefit of returns being tax-free.
Currently Zopa offers two products:
Core has a projected annual return of up to 5% after fees and bad debts (bad debts take into account someone not being able to pay back what they've borrowed). It has a 1% fee to withdraw funds early. This lends to borrowers with a risk rating of A* to C, the lower end of the risk spectrum (so people Zopa expects to default less).
Plus offers a higher projected return of up to 6% a year, with the same 1% fee to withdraw funds early. It lends to borrowers across all of Zopa's risk ratings of A* to E, making it a riskier product than Core.
How is my money protected? Zopa lends your money to individual borrowers, each of whom gets a risk rating, from A* to E – with E being most likely to default. It diversifies your investment, which means it spreads your cash among many different borrowers. The rate offered already has Zopa's assumed bad debts and fee deducted, so it's already worked in an expected number of people who may not repay.
If a borrower misses four months' worth of repayments, Zopa will try to collect the loan through a recovery process, though it'll initially deduct the amount unpaid from your account. If it recovers the money, it'll add it back to your account.
How quickly can you withdraw money? You get monthly repayments, which can be paid back into your holding account or lent out again. If you want to access a lump sum that's still being lent, you can sell on your outstanding loans for a 1% fee. Zopa says it takes two to three days to get the cash.
Expected rates: 3.4% - 5% (Core), 4% - 6%(Plus) after fees and bad debts
Unlent cash kept in: RBS
Min/max lend amount: £1,000/unlimited
Money lent so far: £5 billion
Number of lenders: 76,000
Get Our Free Money Tips Email!
For all the latest deals, guides and loopholes - join the 12m who get it. Don't miss out
Alternative sites
Funding Circle, Ratesetter and Zopa aren't the only peer-to-peer sites, but they're the biggest. Members of trade association the Peer-to-Peer Finance Association (P2PFA) include ThinCats, MarketFinance, Lending Works*, Landbay* and Folk2Folk, along with Funding Circle and Zopa. These all have to obey its rules on protection.

It's worth noting that Ratesetter is no longer a member of the P2PFA, though it is still FCA-regulated. There are also new sites springing up that aren't members of the P2PFA, as well as more established platforms such as Assetz Capital – it has a range of different types of loans you can make.
It's important to be aware that many of these companies are new and/or small, so you need to think carefully if you are comfortable with the level of risk associated before you decide to use any of them.
We would love to hear your feedback on your experiences of using P2P lending sites via the MSE Forum link below.
Join the MSE Forum Discussion