Pension liberation
Beware pension liberation scams
Changes to pension rules introduced in 2015 mean you've greater access to your pension. But you still need to be wary of pension liberation scams, which claim you can get access to your pension early. Pension liberation scammers claim they can get your money from pensions before you're 55, but the huge fees and taxes you'll pay can leave you with nowt for retirement and now scammers are targetting the over-55s as well.
For all the latest guides, deals and loopholes simply sign up today – it's spam-free!
Can I withdraw money out of my pension early?
Changes to pensions that came into effect in April 2015 mean that from age 55 onwards you can get access to as much of your pension money as you like, when you want it – though this is rising to age 57 from 2028.
Despite these changes, the crucial fact still remains that you can only get access to your pension pot when you turn 55 (57 from 2028). This means that 'pension liberators', who claim you can gain access to your pension money sooner, are trying to get you to break the law.
Pension liberation

Pension liberation's a scam that claims to release cash from people's pension pots before they reach age 55. Promises of early cash are false and are likely to result in you paying big bills, in some cases leaving people with no savings for retirement.

Victims are usually contacted by email, phone or text by fraudsters trying to trick them into transferring their pension funds to bogus arrangements for a commission fee.

Scams for over-55s


It's not just the under-55s that are being targeted in the pension freedom world. Over-55s are being contacted by fraudsters looking to take advantage of people's interest in the change in the law. If you are cold called by someone offering to give you a free pension review, it's almost definitely a scam, so put the phone down.

Just like with pension liberation, the fraudsters will transfer your pension fund into an investment with attractive BUT often unrealistic returns, meaning you will lose your hard-earned cash.

If this happens, you won't be charged the whopping 55% tax that you would for accessing your pension money early, but the scams can be just as detrimental to your money. If you're unsure whether something is legit, you could check the Government's ScamSmart website. It quite simply tells you to follow three simple steps to stay safe with your pension money:

1. Reject cold calls – investment scammers will often cold call.

2. Check the FCA warning list for a list of firms to avoid.

3. Get impartial advice.

Fortunately, the Financial Conduct Authority (FCA) has put new rules in place to try and prevent fraudulent pension transfers. So if your pension provider is suspicious of your requested transfer, it can either raise a red flag to stop the transfer going ahead, or an amber flag to pause the transfer until you can prove you've taken scam specific guidance from the Money and Pensions Service (MaPS). A green flag – in other words, a transfer without any scam checks – will now only apply to public service pension schemes, Master Trust schemes and collective money purchase schemes.

Up until now, a pension scheme couldn't refuse a transfer, even if there were concerns, as long as a customer had a statutory right to make the transfer.

The Department for Work and Pensions (DWP) has said it will review the new regulations by May 2023 to ensure the rules are helping to prevent scam transfers.
For all the latest guides, deals and loopholes simply sign up today – it's spam-free!
Pension liberation need-to-knows
Scams claim you can take money from your pension before you reach 55. But you can't, and you'll get penalised for it.
While taking a legal 25% lump sum from your pension when 55 or over (57 or over from 2028) is totally tax-free, accessing your pension earlier isn't what they are intended for, and is viewed as an unauthorised payment. So the tax you'll pay for liberating can be a HUGE 55%, as well as charges of up to 30% to the firm which does it for you.

Pension liberation schemes often work with introducers/advisers who try to entice the public (with spam texts, cold calls, or paying for high Google search results) with the promise of being able to release cash before the age of 55. Beware anyone who suggests there are legal loopholes – they don't exist!

This is the type of text to watch out for:

It's unlikely pension liberation firms will tell you this, but you have the right to change your mind and ask your old pension company to reinstate your pension (it's at its discretion whether it will). Once the money has been released, which typically takes 30 days, you can't reverse it – and the taxman is due his 55% share.

The remainder of your pension fund is likely to be invested in highly dubious and risky, unregulated investment structures, often based overseas. In this case, you may end up losing the rest of your pension altogether if these investments go south.

There are some circumstances where you might be able to legally take your pension before you're 55. Some schemes will allow people who are terminally ill to access their pension before they're 55. Even if your pension company allows it, take financial advice, you may be better leaving the pension where it is.

You may be able to start taking your pension before you're 55 if both of the following apply:

1. You were a member of a pension scheme before 6 April 2006.


2. On 5 April 2006, you had the right to start taking your pension before age 55 from that pension scheme. This means you didn't need agreement from anyone else to take your pension – for example, from your employer or the pension scheme's trustees.


The other conditions you need to meet depend on the type of scheme you belonged to on 5 April 2006. Talk to the administrator of your scheme to see if this applies to you.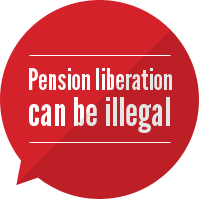 Pension liberation – Beware!
Don't get duped by the language. These scams are targeting people up and down the country, but they could leave you with nowt for retirement.
If you get approached by a company that says it can help you get at your pension, immediately ask yourself:
Is it allowing me to get at my pension before age 55?
If you answer 'yes', it is pension liberation, and it is most definitely not legit. So JUST SAY NO!
What do pension liberation schemes actually do? Liberation schemes often work by transferring some of the pension fund into highly risky or opaque investment structures, frequently based overseas – with no guarantee that you'll get your money back if something goes wrong.
The Pensions Regulator says that it has been made aware of options to purchase property, property abroad, timeshares, oil, trees, crops and carbon credits, and that countries have included Belize, the British Virgin Islands, Cambodia, Cyprus and Germany.
Investing money abroad can make your money harder to trace and retrieve if/when the scam is closed down and allows those running the scheme to spend your money in jurisdictions which normally have less strict regulation than the UK.
The Pensions Regulator is trying to crack down on these scams and the Government wants new laws to ban them, but until then, you'll need your wits about you.
How to spot pension liberation scams
There are certain things you can look out for when you're made an offer, such as:
Advertising aimed at people under 55


The phrase "legal loopholes" – THESE DO NOT EXIST


Pushy advisers or 'introducers', who offer upfront cash incentives


Companies promoting a "loan", "saving advance" or "cash back" from your pension


No mention of the lump sum being tax-free, or if the provider is evasive about tax in general
The Pensions Regulator has five tips to avoid falling victim to the scam:

NEVER give out financial information to a cold caller – even if they know specific details about your pension


Check the credentials of the company and any advisers, who should be registered with the Financial Conduct Authority


Ask for a statement showing how your pension will be paid at retirement and ask who will look after your money until then


Speak to an adviser who isn't associated with the deal you've been offered for unbiased advice


If you think a company is trying to get you to liberate your pension, report the company to Action Fraud or call it on 0300 123 2040. It can prosecute companies found breaking the law
How much could I lose?
Be warned, the answer to this is scary! Many people will lose 50% or more of their pension, and potentially the whole thing. For some, this could be £100,000s.
Let's suppose that you start out with a fund of £100,000. You're 51, you want to get your hands on £25,000 and you've gone with a pension liberation firm...
You take £25,000, so you've £75,000 left.


Your pension liberation firm has fees of 20%, so takes £20,000 from your pension fund – you've now got £55,000 left.


The taxman pops up, and charges 55% of the whole pension pot – so you're left with... NOTHING in your pension.
You've got your £25,000, but you're left with absolutely nothing for retirement. If you'd waited four years, until you were 55, you could have legally got the £25,000 and not lost £10,000s in taxes and fees.
Quick question
This is a complex legal question, and is likely to depend on the type of model and whether or not it's been tested in court. Depending on how it's structured, pension liberation is not necessarily illegal. However, it's often accompanied by illegal practices, and it will trigger tax charges which the member must declare and pay to HMRC.

Where pension liberation starts to become illegal is where there's evidence of people being misled about the possible tax consequences of making such a transfer, as well as the release of pension money to them before they are entitled to receive it.

There may be instances where someone has been, for example, told about the tax charges and has decided to go ahead and make the transfer anyway. They've not been deceived and so there would be no criminality associated, but they would still be 'liberating' their pension.

However, in a situation where someone liberating their pension is told there would not be a tax charge (and the person saying this knows this is not to be the case), then this would be illegal.

In some cases, the pension company is just dodgy, and the fraudster will get his hands on your money and then disappear.
Alternatives to taking money from your pension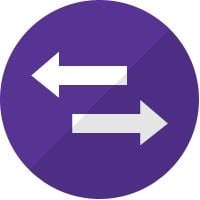 You may have dug yourself into a debt-ridden hole there seems no escape from. But before you take the decision to take money from your pension earlier than you need to or want to, it's crucial to consider all other options.
Other avenues you could explore:
Have your say in our forum!