Cheap Parcel Delivery
Use the web to cut courier costs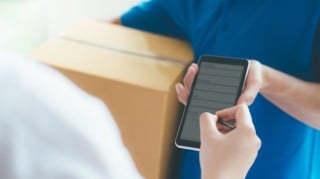 Desperate to send a last-minute package or parcel to friends? If it weighs more than 1kg, it's possible to save an absolute packet (sorry) by using a discount web courier service instead of Royal Mail - and you can even have the goods collected from your home.
Get Our Free Money Tips Email!
For all the latest deals, guides and loopholes - join the 12m who get it. Don't miss out
When should I use a courier service?
Most of us link instinctively the need to send a parcel with a trip to the Post Office. Yet for the price-conscious, the internet is place to go. Over the years, the cost of courier services has dropped, making them accessible to all.
Use these quick tips to help decide when a web courier service works for you:
Are you sending something weighing more than 1kg?

Royal Mail is generally still cheapest for sending cards and letters and is competitive for small parcels under 1kg, which usually cost around £5-£6 with tracking (use its price finder - check dimensions carefully). The price jumps for heavier parcels - anything over 2kg costs about £10-£11 with tracking. You could halve your costs by using one of the services in our best buys below.

Do you need it there fast?

Courier services are speedy, and many offer same-day collection if you book early enough. For urgent deliveries, they may be the most economical option.
What are 'discount courier services'?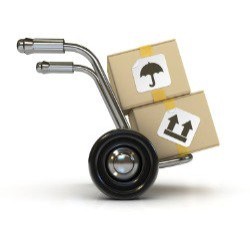 This is a hidden way for you to access big courier firms like DHL or UPS, but only pay the amount large companies do. These discounted courier services work as middlemen, who bulk-buy postage slots from big delivery agencies, then sell them to the public.
They're usually online companies such as MyParcelDelivery* and Worldwide Parcel Services*. Before you use any company, read our key warnings below and see our best buys to find out which offers the best price and service for your package.
You can usually book a pick-up for the next day, depending on how early you email the postage form. But same-day pick-up is often available, provided you meet the daily cut-off time. It's usually before or around midday, but can be later.
The cheapest place to buy these discounted mail services used to be via online auction site eBay*, but now many of the top sellers have their own websites. Remember, you'll be dealing generally with the middleman company, not the courier itself.
Are they always cheaper?
It's always worth checking Royal Mail and courier services, UPS or DHL, against discounted courier services, just in case they are offering a stonking deal that beats their price.
How big can my parcel be?
Couriers calculate costs based on the size and weight of items. However, discount courier companies tend to offer flat-rate prices based around DHL and Parcelforce's standard maximum dimensions. As a rough guide, these are:
DHL: Max length 80cm, max width 80cm, max height 80cm, max weight 25kg.
Parcelforce: Max 5m in length & girth combined, max 2.5 metres in length, max weight 30kg.
Of course, it varies depending on the company, so check first as some may offer larger sizes. If your parcel outguns these measurements, you may have to use a specialist courier. Some services also go by volume. To calculate the volume of your parcel in cubic metres, it's width times length, times height (all in cm), divided by 1,000,000. See best buys for options.
Get your packaging right
Poor packing may void postal insurance and compensation claims, so package your goods properly. You never know how much they'll be thrown around in transit, so take the following precautions:
Be sure to measure and weigh your parcel accurately when getting a quote. If the package is bigger or heavier than stated, you may have to pay a surcharge.


Plus, if it exceeds size restrictions, it may not fit in the courier company's sorting machines and could be damaged, or even returned to you.

If you try sending something over 31.5kg it may not be accepted, as safety guidelines mean goods of this weight should be carried by at least two people. This means you may need a specialist service - these may be offered, but will generally cost more.

Note for international shipments: International delivery costs can sometimes be calculated based on 'volumetric weight'. Volumetric weight is usually calculated as length multiplied by height multiplied by width (all in centimetres), divided by 5,000. This gives you the volumetric weight in kilograms.

Couriers have a list of 'forbidden' items they won't deliver, so your items may be inspected on collection. Because of this, it's sensible to leave the top of your packing box open until it's been inspected.


Easily-breakable items such as china are generally only carried by economy courier services on a 'no compensation' basis. So if they're valuable, look elsewhere.

All good packing requires is a bit of common sense. Wrap delicate items tightly in bubble wrap and use free cardboard boxes from supermarkets.


If you run out of bubble wrap or the item isn't very delicate, pad with screwed up newspaper. Some even recommend using popped popcorn - buy kernels in bulk, cook without oil and let it cool. But if you're sending internationally, watch out as some countries have tight controls on importing food.

If you live near a large post office, ask for packing materials - forumites have reported special delivery plastic post bags being available for free. The Royal Mail website also has useful tips on how to package items safely and securely.

Courier services make you fill in a booking form for each box you send. These can be completed online generally, or downloaded from the web and printed out. If the form isn't filled in properly, compensation claims may be invalidated.


For international shipments only:

To send any items overseas, you'll need to fill in a more detailed form for tax purposes. It's fairly straightforward, but if you don't fill it out accurately you risk delaying your package in customs, so be careful.

This sounds obvious, but make sure you're going to be in for the whole of the day if you can. If you miss it, you'll probably have to repay.


Most couriers will attempt delivery about three times at the destination address before returning items to the sender, but always double check. Also make sure you include a return address, in case problems arise.
Get Our Free Money Tips Email!
For all the latest deals, guides and loopholes - join the 12m who get it. Don't miss out
Do I need insurance?
It very much depends on who you book through and which courier service you choose. For example, all UK parcels sent via Royal Mail are automatically covered for loss and damage of up to at least £20 - and up to £200 in some cases. MyHermes includes £20 parcel cover as standard on all UK deliveries and ParcelsPlease includes £60 cover with all bookings.
Since when you book through a discount courier comparison service you're getting the equivalent of the courier company's full price service, you should get the same protection as if you booked with them directly. The amount you of cover you get varies though, as the examples above show, so always check.
Additional cover is generally available through discount courier comparison services for a small surcharge, and if you have concerns you won't be covered enough, it may be worth adding. Always check any policy exclusions before you buy to ensure your item's covered.
It's not cheap though. For example, we've seen cover up to £400 for an extra £24, and up to £800 for £60. If you pay for extra cover, make sure it's on the order confirmation.
Warning! Check before you send
Make sure you read these key warnings before you buy:
If you have delivery problems and are forced to take extra time off work for redelivery, it's possible to get compensation.
Best buys: UK delivery
Here are the top deals based on price, and also forum feedback. Prices include VAT and are based on a 30cm x 30cm x 30cm parcel - prices fluctuate, so always check.
If you have any issues, or find services no longer available, please email brokenlink@moneysavingexpert.com. And crucially, make sure you've read ALL of the key warnings before using any company.
We've blagged 8% off the cost of your first order (before VAT) with discount courier service Parcel Hero* when you enter the code MSE8 at the checkout. There's no minimum spend but the code is only for those who haven't sent a package via Parcel Hero before.
It has competitive prices for packages of all sizes and with the discount you could make a saving, however it's still worth checking the delivery options below as they may still be able to beat the price Parcel Hero* quotes you, even with the discount.
It's essential that you measure and weigh your package accurately as you'll be charged more automatically if it's larger or heavier than you stated in the inital quote. You'll have an opportunity to appeal the extra charges if you have photographic proof that your package was within the dimesions and weight you stated. It's also key that you read its list of restricted items as well as those not covered by its insurance.
Though we've given best buys below as a guide, always check the delivery company for yourself before buying.
Standard delivery services

Items under 5kg
If it's under 1kg, Royal Mail is generally still cheapest for sending cards, letters and small parcels (use its price finder - do check dimensions carefully though). It's still worth checking out discount courier services like MyParcelDelivery*, especially for items over 500g, as you may be able to do better. Royal Mail offers automatic cover of up to at least £20 as standard though, so bear that in mind
For items 1kg or over, the cheapest way to send is generally to go directly via delivery service MyHermes. Yet go via Parcel2Go* and MyHermes may work out cheaper for the same service.
It's owned by Hermes UK, whose network delivers for online retailers including Asos, Debenhams and John Lewis. Feedback's mixed at best though - let us know how you get on in the forum discussion.

Up to 10kg
In this weight bracket, UPS Access Point via comparison site ParcelsPlease* is cheapest when we did our checks. Your parcel will also be protected up to the value of £60. If your items are more expensive than this, you can upgrade the amount covered for a fee.

Up to 30kg
If you've a bigger parcel, ParcelsPlease*, which sells slots from DHL Express, ParcelForce and UPS Access Point, offers next-day delivery of a 30kg parcel for around £12 at the time of writing - the best price we've seen, plus it includes protection up to the value of £60.
Alternatively, MyParcelDelivery* is a reseller that sells slots from a wider range of delivery firms, and charges similar prices for 30kg parcels, but bear in mind you have to pay extra for protection.
Bidding delivery services

Over 30kg? Let the couriers bid for your custom
Several sites are handy for arranging cheap delivery of larger items. Anyvan*, Shiply and uShip allow couriers and deliverers to bid for your custom, which can mean good deals on moving big parcels.
These services work the same way; they allow couriers and larger-scale hauliers to sell spare capacity in their vans and lorries. This means extra efficiency and cash for them, and a cheaper, greener service for you.

While Anyvan and Shiply don't charge fees to users, uShip does so factor these in before you accept a bid. See uShip's fees.
Anyvan has good feedback generally from forumites but Shiply's feedback is mixed, while we've yet to hear much about uShip. Please share your experiences in the Cheap Parcel Delivery discussion.
Alternative delivery services
Buy and print Royal Mail postage
The main selling point of both Royal Mail and eBay buy and print postage is convenience rather than price (although in the case of the former it is generally cheapest for items under 1kg); if you've a printer at home you can print postage labels straight from the Royal Mail website or your eBay page. For items that'll fit in a post box, it works brilliantly - just print, stick and post.
Drop-off services
Collect+ offers parcel delivery which may occasionally be cheaper than the best buys in this guide by a few pence. Rather than having the parcel collected, you drop it off at a local shop that's registered with the service. Forumites who've used it report being impressed with its prices, which start from about £4.99 for up to 2kg.
It was voted the joint-best parcel delivery firm in our January poll of MoneySavers, but it's worth bearing in mind that it is part-owned by Yodel, which was voted the second-worst firm in the same poll. See the Best and worst parcel delivery firms MSE News story for full info and, if you've used Collect+, please share your feedback.
It's also possible to shave a few pence off the price with MyHermes if you're prepared to drop off your parcel at one of its network of parcel shops - check its site for prices. Other carriers sometimes also offer cheaper prices if you can drop off your parcel at a drop-off point, so do check.
International delivery
The cost to send parcels internationally depends on the destination. With international postage, Royal Mail's generally cheapest for small packages, but gets expensive for items over 2kg. This varies depending on the company and where you're posting to, so do check.
It's worth noting that if you're selling goods and sending them overseas, you may need to charge VAT or get a customs identification number, so always check - full info on the HMRC website.
And if you're receiving parcels from overseas, you may have to pay extra tax or duty charges, depending on what you're being sent. Again, check this out beforehand using the HMRC website.
Join the MSE Forum Discussion