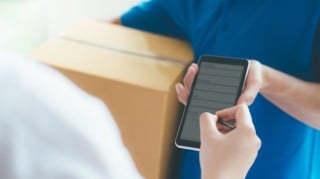 Cheap parcel delivery
Tips for sending via Royal Mail, discount web couriers & online retailers
Sending a festive package or parcel to family or friends this Christmas? The cost can quickly add up, but by using this guide to compare sending via Royal Mail, discount courier sites, and direct via online retailers, it's possible to save a packet (sorry) – and you can even have your items collected directly from your home.
For all the latest deals, guides and loopholes, simply sign up today – it's spam-free!
Buying from an online UK store? It's almost always cheaper to have it sent directly
If you're buying an item from an online store for someone else, it's almost always cheaper to get it sent directly to the recipient, especially as over a certain amount (normally £20-£50 depending on the retailer) it's free. Plus many stores let you write gift notes to the recipient so you can personalise it.

This can really help with heavier gifts as Royal Mail and parcel firms charge by weight, while shops don't tend to – it's normally based on the underlying cost of the item. Even where there's a charge, it's usually only a few quid.
For example, when we looked at sending a 'Baby Yoda' toy worth £57 via standard delivery, Amazon was free (on orders over £20 if you don't have Prime), ShopDisney was free (as our order was £50+, £3.95 otherwise), and Zavvi was £1.99.
Plus you've the benefit of it being quicker and there being only one delivery charge, as you're not having to send the item(s) to yourself first. But it isn't an option for everyone, eg, if you're buying from local businesses that don't deliver, want to look at what you're buying first hand or want to add personal touches such as gift wrap or a card.

Sending an item yourself? The cheapest option likely depends on weight
There are a lot of variables when it comes to parcel delivery, eg, location, weight, size, drop off or collection, delivery speed etc, so we can't give you exact prices as they vary enormously – but during our research we've spotted some trends based on the weight of the item you're sending.

A small item less than 1kg? Royal Mail usually wins – though not always by a lot. For an idea of items under 1kg, a reusable aluminium water bottle, a large page-a-day daily diary or a 1,000-piece jigsaw should all fall within this bracket.

We've checked hundreds of examples over the years, and Royal Mail usually wins, even if it's sometimes by pennies rather than pounds. It's not guaranteed though, so check before you send – and remember to take the size of the parcel, the value of the contents and the service you want into account. When we last tested 10 examples, we found that Royal Mail was cheaper for parcels under 1kg on seven occasions.

For example, in one of our checks, sending a parcel worth £100, weighing 500g, dimensions 40cm x 30cm x 15cm, cost £5.10 via Royal Mail (£100 cover, delivery within 2-3 working days, tracked with signature) vs £5.55 for the cheapest discount courier site (£100 cover, delivery within 2-4 working days, tracked with signature).

But Royal Mail isn't always cheaper, so check. For example, in one of our tests we wanted to send a parcel worth £60, weighing 600g, dimensions 10cm x 25cm x 25cm, and found we could send via courier collection for £5.52 (£60 cover, delivery within 3-4 working days), compared with £7.98 via Royal Mail collection (£100 cover, delivery within 2-3 working days).

Use Royal Mail's price finder to quickly check prices and delivery options based on your parcel's weight, size, value and destination.


A heavier item of 1kg or more? Discount courier sites are usually cheapest. Examples of items weighing 1kg or more include a pair of boots, a couple of hardback books or a blender.

Again, we've tested this hundreds of times over the years, and once again there's a trend – discount courier sites usually win. But again, this isn't a universal rule, so check before you send. And if you want your parcel collected, while discount courier sites would usually win, Royal Mail may be cheaper right now as it's offering collection for 30p (normally 72p) until Sunday 26 September.

When we recently tested 10 examples (not taking the above Royal Mail promotion into account), we found that for parcels over 1kg, a discount courier beat Royal Mail on eight occasions. For example, in one of our tests we sent two cook books weighing a total of 2.1kg via standard delivery, and the cheapest courier was £6 vs £10 sent via Royal Mail.
How to find courier firms and how to compare them
This isn't about going direct to the biggies, such as Hermes, DPD and FedEx (though it can be worth checking them also if you've time). Instead, use special discount courier websites which do two things:
Buy spare delivery slots from the big-name couriers and then flog those slots cheaply.
Allow you to search for and compare those discounted slots to find the cheapest.
Here is a list of discount courier websites and which firms they compare:
My Parcel Delivery* – Hermes, My Parcel Delivery, Parcelforce, UPS
Parcel2Go*

– DHL, DPD, FedEx, Hermes, Parcelforce, TNT, USPS, UPS, Yodel
ParcelHero*

– DHL, DPD, FedEx, Hermes, Parcelforce, TNT, UPS
Worldwide Parcel Services* – AMI, APC, DHL, DPD, Interlink Express, UPS

We've blagged 8% off the cost of your first order (before VAT) with ParcelHero* when you enter the code MSE8 at the checkout. There's no minimum spend, but the code is only for those who haven't sent a package via ParcelHero before.
It has competitive prices and with the discount you could make a saving, yet it's still worth checking the other discount courier websites above, as well as Royal Mail, as they may still be able to beat the price ParcelHero* offers, even with the discount code.
For all the latest deals, guides and loopholes, simply sign up today – it's spam-free!
Parcel delivery need-to-knows
Sending overseas? The principles are the same
You will also find it's usually cheaper to get a UK retailer to send an item overseas, even to places as far away as Australia, eg, MSE Jenny found she could send 3kg of make-up to Australia for £6 via the retailer compared with £28 for the cheapest courier and £65 via Royal Mail. However, it's also important to compare, and you face the same Post Office vs courier question if you want to send something yourself.
For full tips and tricks, see MSE Jenny's blog on slashing the cost of sending parcels abroad.