No results found, please amend your search and try again.

Loading...

Updated 14 Aug 2018
Top 10
e

B

a

y

local tips

Sellers often specify that bulky, heavy items must be picked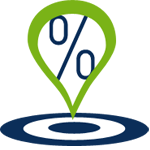 up in person. Many people are loath to travel far, so lack of competition keeps prices low.
Our Local eBay Deals Mapper exploits this - simply tell it your postcode and how far youíre prepared to schlep, and it trawls eBay* for hidden gems nearby. Use our top 10 tips to keep things safe as well as cheap.
---
What the * means above
Links that have a * help MoneySavingExpert.com stay free to use, as they're 'affiliated links' which invisibly take you usually via affiliate linkage or commercial money sites, which then pay this site.
We usually give you duplicate links of the * links above, which donít help MoneySavingExpert.com, for the sake of transparency. However itís not possible with this tool - to find your item, go to www.ebay.co.uk and search for the itemís title.
Please note
The tool relies on eBay's data for distances, which are as the crow flies.
Please note:
To protect sellers' privacy we give a rough location based on their postcode.
Locations are based on data entered by the seller, and can sometimes be incorrect. Please double check.