Thrifty Ways for Modern Days
Live life ethically and thriftily
New to the site? Quick message from Martin:
All the latest deals, guides and loopholes go in MoneySavingExpert's
free weekly email. Don't miss out - join the 10m who get it emailed!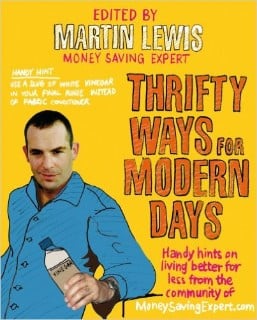 Thrifty Ways for Modern Days (edited by Martin Lewis) is a book jampacked with handy thrift tips from the 'Old-Style' community of MoneySavingExpert.com, showing how to live cheaply, healthily, ethically and thriftily.
It's based on the collective wisdom of the scores of contributors to the Old Style Forum Board, which started when many of the older visitors to the site decided to share their accumulated knowledge with other younger users.
As this book is based on MoneySavers' tips, Martin is donating all his proceeds to the MSE Charitable Fund.
What's in it?
It's a fun 250-page compendium of tips and info on a huge range of household subjects. The book is edited together by Martin in a way that makes it a fun read, good to flick through, and a directory of hints and tips for virtually any task. See what others made of it by reading Amazon's customer reviews*.
While it was first published in 2006, most of the tips it lists are timeless and just as relevant today. Topics covered include:
Clothes and shoes. "If you've got unmatched socks, why not use them as a great way to store onions!"

DIY and home maintenance. "How to get scratches off a fish tank: brass polishing wool will get rid of most scratches or try rubbing in a smokers' toothpaste."

The good life - grow your own. "The innards of an old toilet rolls are perfect for growing peas, beans and sweet peas."

Christmas, weddings and other occasions. "How about homemade chocolates or petit-fours (see recipe section) wrapped in tissue paper within a pretty box. It looks like it should cost £20, but actually costs less than a quid."

The Old-Style Recipe Book. Full of scores of cheap but healthy and tasty recipes and how to cook a full dinner from whatever you have left in the store cupboard.
Also check out Martin's other books: The Money Diet, the bestselling step-by-step detailed guide to saving money; and The Three Most Important Lessons, designed to start you on the path to beating the system and grabbing the best deals.