Student Loans Mythbusting
The truth about uni fees, loans & grants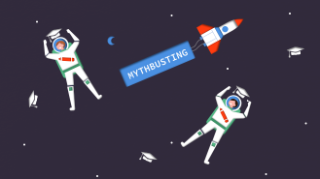 Ignore newspaper headlines about students leaving university with £50,000 of debt. That's a mostly meaningless figure. What counts is how much you'll repay; for some that's far more, for others it's free.
This guide is written to bust common myths about student loans, grants and finance, including the 20+ key facts every potential student, parent and grandparent should know.
20 student loans mythbusting tips, including...
MoneySavingExpert.com and the Russell Group of universities is calling on the Government to scrap the current misleading student loan statement. Read more in the MSE news story.
Recently graduated and worried about the interest?
Get Our Free Money Tips Email!
For all the latest deals, guides and loopholes - join the 12m who get it. Don't miss out
Before we start, I'd just like to say:
For around a quarter of a century, we've educated our youth into debt when they go to university, but never about debt.
It was for this reason, and while no fan of them, when massive changes were announced to student finance for those starting in 2012 or beyond – including the trebling of tuition fees – I agreed to head up a student finance taskforce. The idea was to work with the National Union of Students, universities and colleges to ensure we busted the myths and misunderstandings that resulted from so much political spittle-flying.

For me what really counts is that no student is wrongly put off going to university thinking they can't afford it. Some may rightly be put off, but unless you understand the true cost, how can you decide? I hope this guide helps achieve that.

Thankfully, since then, we've also won a separate campaign to get financial education on the senior school National Curriculum in England. Yet it'll be a long time before that truly pays dividends – so there's still a lot of nonsense spoken about student loans.
Join the MSE Forum Discussion