20 Ryanair tips
Master the airline's mega-strict rules for cheap flights
Get Our Free Money Tips Email!
For all the latest deals, guides and loopholes - join the 12m who get it. Don't miss out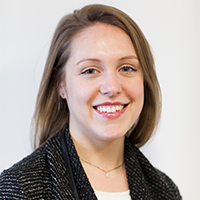 Sally | Edited by Guy
Updated January 2018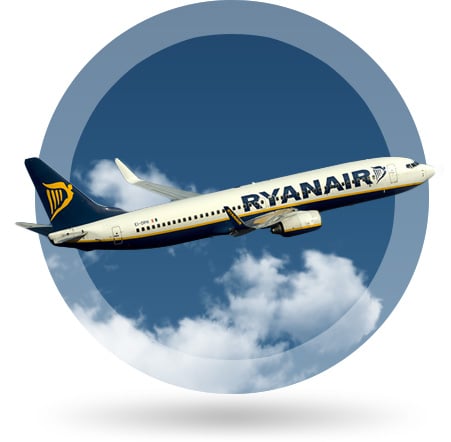 Ryanair calls itself a low-cost carrier, but you can only bag dirt-cheap deals if you know the tricks of the trade to avoid sky-high charges. This guide is packed full of tips to help keep costs firmly on the ground.
Before booking, always compare Ryanair prices using our Cheap Flights guide and also see our Easyjet Tricks guide for more budget-airline cost-cutting tips.
In September 2017, Ryanair announced it was suspending 34 routes, and cancelling thousands of flights, between November 2017 and March 2018 - forcing many of you to rearrange your travel plans. See our Ryanair cancellation chaos - here's the latest on your rights news story for a rundown of your rights and what you can try if you're affected.
21 ways to cut Ryanair costs, including...
Warning: This is the first incarnation of this guide. Please give us feedback, suggest improvements and share your tips in the Ryanair tips forum thread.
Check if booking the return flight in euros is cheaper
Shave a little extra off the cost of flights with this nifty trick. All you need to do is complete your round-trip booking in separate transactions. Now this doesn't always work, but it's worth checking to see if it's cheaper.
How does it work?
First, search for the outbound flight on the UK Ryanair site, ensuring you select a one-way ticket. Then, in a new tab or browser, type in Ryanair's web address, but replace the '.com/en' extension for the UK Ryanair site with that of the country you want to fly to (eg, Italy's is '.com/it' — view a full list here). This'll take you to the Ryanair site for that country. Search for the return leg of your flight here — Ibiza to London Stansted, for example.

It'll be in the currency of the country the flight departs from, so check what the equivalent is in pounds (you can use TravelMoneyMax) and compare with a return just through the UK Ryanair site.
Don't accept Ryanair's 'guaranteed exchange rate'. After you enter your card details, look out for a sneaky message showing the cost of your ticket in pounds (using Ryanair's exchange rate). You have to click on 'more information' to opt out and use your bank's exchange rate instead (likely to mean a much bigger saving).
How much can I save?
When we looked, we managed to shave £19 off a week-long family trip (two adults, two children under 15) from Manchester to Lisbon, travelling at the end of July 2016. Booking a return via the UK Ryanair site was £646 in total, but booking the return leg via the Portuguese Ryanair site brought the total cost down to £627.
Another example was London to Milan Malpensa in mid-April 2016. Booking the return on the UK site was £20 per person, but booking flights separately using the method described above cost £18. Not a huge saving but it may buy you a gelato while you're there.
But when we looked for flights from London to Fuerteventura for a family of four — two adults, two children — for the first week in August 2016, booking the return leg in euros made the total cost of return flights £1,745 — £110 more than booking on the UK Ryanair site in sterling. So do try to see if it's cheaper, but don't assume that'll always be the case.
IMPORTANT — don't quash the gain paying the wrong way
You will only get the full gain of any saving using specialist plastic that doesn't charge the usual 3%-ish foreign transaction charge — see cheapest ways to get travel money for our top tips.
If you don't have a card that doesn't charge these fees at least use the cheapest card to use abroad that you have; see our how much does your card charge? tool.
Flying with kids? Trick to slash the price of checking in bags
If you're travelling with anyone aged 15 and under and you book checked luggage or priority boarding for yourself, you'll get 50% off the same extras for up to two kids per adult (up to 20kg for luggage).

This is a neat trick to cut baggage costs for a family. For example, if you're a family of four (two adults, two children) and between you you're planning to take two items of luggage, put one in an adult's name and the other in a child's name.
You'll pay full price for the first bag and save 50% on a second (as long as it's 20kg or less), with an option to add a third also at half-price. It's automatic as long as you do it all at the point of booking, but the kids must be on the same booking as you to qualify.
MSE Steve saved on family flights from Stansted to Gran Canaria doing this:
It's not easy to travel light with a toddler and baby in tow so, as usual, my wife and I wanted to take three big bags.

The first 20kg bag was in my name and cost £30 each way. The other two bags were 15kg each – if they'd been in my name or my wife's name, they would have cost £23 each way, but putting them in my son and daughter's name cut it to £11.50 each way.

My kids aren't going to be carrying the extra cases – after all, each one weighs roughly the same as they do. But simply putting them in their names slashed the overall checked luggage cost from £152 to £106.
For full details, see Ryanair Family Extra.
Ryanair is stricter than a Royal Marines major general — break its rules and you'll pay (literally)
It sounds simple, not to mention fairly obvious, but it's human nature to want to bend the rules, or think "oh, they won't notice my bag is a little over the limit".
But this is Ryanair, and it enforces its rules with military precision — we've heard whispers of its staff bringing out a tape measure if there's any discrepancy about the size of your bag.
Its chief executive Michael O'Leary even famously labelled passengers who pay because they forgot their boarding passes "idiots", which tells you pretty much all you need to know.
Get Martin's Free Money Tips Email
For the latest MoneySaving tips, join the 12m who get the weekly email.
Check-in free four days before travel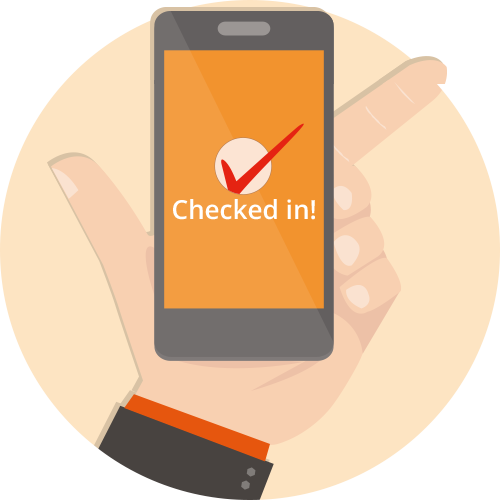 With Ryanair, the golden rule is to ALWAYS check in online and print or download your boarding pass – if you don't, you could have to cough up £50 per person, per flight. A recent change means you can now only check in for free up to four days in advance (it used to be seven days in advance).
This makes it difficult for those that would check-in between four and seven days in advance, particularly those going away for a week who want to sort it all before they go. If that's you, consider using the app (see below for info).
Ryanair passengers can choose between paying for a seat – it's typically between £4 and £15 per person – or not paying and being randomly allocated seating.
If you pay for a seat, you can check in for free up to 60 days before flying.
If you don't pay for a seat, you can check in for free between two hours and four days before departure.
How to avoid being stung – use the app
The new rules mean if you want to check in for free and are going abroad for more than a couple of days, you're now likely to need to check in overseas.
The easy way to do this is via Ryanair's free app (for iOS or Android). In most cases you can also get your boarding pass on the app too, meaning no hassle trying to find a printer. Remember if you're outside the EU, beware costly mobile data charges (see Mobile and Data Roaming) – it's better to use free Wi-Fi.
However, mobile boarding cards aren't accepted at some airports (mainly in Morocco) – see below.
Airports which don't accept mobile boarding passes – full list
You'll have to go old-school and print your boarding card after checking in online at the following airports – otherwise you'll be charged £15 per person to have it printed at the airport:
Agadir (Morocco)
Essaouira (Morocco)
Fez (Morocco)
Nador (Morocco)
Oujda (Morocco)
Marrakesh (Morocco)
Rabat (Morocco)
Tangier (Morocco)
Kefalonia (Greece)
Volos (Greece)
NEVER leave it until you get to the airport
Whatever you do, don't leave checking in until you arrive at the airport. You'll pay £50 per person, per flight if you fail to do it online in advance – that's £200 for a family of four if you get it wrong, more than the cost of some flights.
Plus, if you do check in online but you don't print out your boarding pass or download it onto your smartphone, you'll be stung with a £15 per person fee for it to be reissued to you when you get to the airport.
If you don't pay to choose a seat, you risk your group being sat rows apart
Ryanair insists it randomly allocates seats if you don't pay to choose a seat. But this year there has been a storm of protest from passengers who've accused the airline of routinely allocating groups of travellers seats in different rows in a bid to force them to pay to sit together.
As a result, the only way to guarantee a seat together is to pay.
If you pay £4+ for a seat you can check in 60 days ahead – go quick to find the cheapest
Paid-for seat check-in opens 60 days before, and Ryanair says prices remain the same throughout the 60 days. If you're willing to pay, checking in as soon as possible means you'll have the most chance of bagging the cheapest seats before other travellers snap them up.
Ryanair's confirmed the following costs for most flights by row (some longer-haul flights to the Canary Islands etc may be more):
Rows 1, 2 (seats DEF), 16 and 17 have extra legroom and cost from £15.
Rows 2 (seats ABC) to 5 cost from £13.
Rows 6 to 15 and 18 to 33 are standard seats. They cost from £4.
If you're not willing to pay, check-in opens four days before your flight and you'll be randomly allocated a seat then.
You must pay for a seat if travelling with under-12s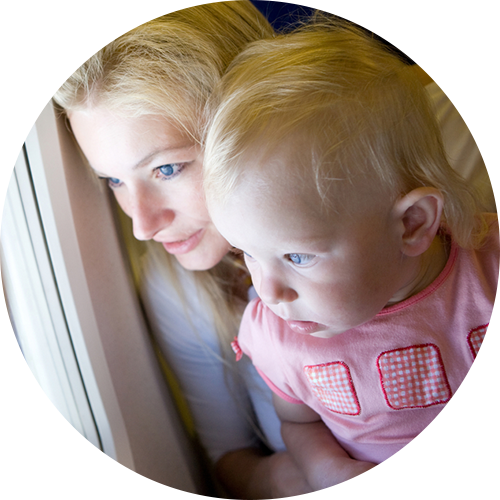 If you're travelling with children under 12, at least one adult in the party must pay extra to reserve a seat – once you've done so, you get free allocated seating for the children (max four children per adult).
You'll pay a reduced £4 fee for the adult's seat, and can opt to sit in rows 18 to 30 with your children. If you choose to sit anywhere else, you'll need to pay full price for you and the children.
For children 12 and over, this isn't mandatory. You can chance it and not pay, in which case you'll be randomly allocated seats at check-in. Alternatively, you can pay to reserve seats for both adults and children – prices vary from £4 to £15 per seat, per flight, though Ryanair does sometimes have offers on allocated seating costs.
If you choose not to pay for seats and end up seated away from your kids, contact Ryanair customer services as they may be able to help.
The cost of paying to sit together is effectively a 'family tax'. We're campaigning for this to change – see MSE calls for airlines to scrap 'family tax'.
Ryanair airports are often miles from the destination cities — factor in transport costs
Planning to dig into the delights of a smörgåsbord in Stockholm, or enjoy a sangria and paella in Barcelona? If you're hoping to land and be in the city centre in no time, think again.
Stockholm's Skavsta airport, where Ryanair flies, is about 65 miles from the city centre — roughly translated, that's around a two-hour bus ride and an extra £25 return from your spending money. Frankfurt Hahn, where Ryanair also flies, is 75 miles from the city, and can cost you around £22 return to the centre and back by bus.
In contrast, BA flies to Frankfurt Main, from where it costs £8 return by train to get to the city centre. The airport is about 7 miles away.
The prices we've quoted are from the airports' websites. With local knowledge, you may find a cheaper price, but the principle still stands that you must factor in potentially high transport costs.
You may still get a bargain with Ryanair, but before you book, weigh up what you're paying for flights and transport to both airports – the Ryanair one(s) and the major airport. Here's a list of some of the airports furthest from the major cities Ryanair flies to, and what transport could cost, though it may be possible to get it cheaper using local bus or tram networks.
Ryanair airport locations and costs — according to airport websites
| Airport | Approx distance from city centre | Return cost to city centre (approx sterling equivalent) |
| --- | --- | --- |
| Dusseldorf Weeze | 50 miles/80km | €30 (£27) by bus |
| Frankfurt Hahn | 75 miles/120km | €28 (£25) by bus bought in advance online (€38 otherwise) |
| London Stansted | 40 miles/65km | From £9 by coach if booked online, £26 by train to Liverpool Street (booked one month in advance) |
| London Luton | 40 miles/65km | £18 by coach if booked online, incl booking fee (or from £11 if booked one month in advance) |
| Oslo Torp Sandefjord | 75 miles/120km | 460 NOK (£42) by bus if booked online (490 NOK onboard) |
| Stockholm Skavsta | 65 miles/105km | 278 SEK (£26) by bus if booked online (285 SEK onboard) |
Happy to go anywhere with Ryanair as long as the price is right? Try its budget-flight finder tool
Ryanair's Fare Finder tool shows you where you can go for a set budget — ie, under £20 — and from your chosen departure airport. You can't choose a date — the results show you the month you can get flights for within your set budget — so it'll only work out if you're flexible.
Always compare the cost with what you can get elsewhere — for instance, Momondo's Trip Finder and Kayak's Explore let you search in a similar way. Also see our Cheap Flights guide for a host of flight cost-cutting tips and tricks, and Cheap Hotels for help finding a MoneySaving hotel bargain.
Get Martin's Free Money Tips Email
For the latest MoneySaving tips, join the 12m who get the weekly email.
Pay in advance for hold baggage or you'll pay up to £40 per bag, per flight at the airport
Hand luggage is obviously best when it comes to budget flights, but if you can't take what you need within the 10kg or liquid limit, ensure you book in any checked luggage early.
If you pay for hold luggage in advance, it costs from £25 per bag, per flight. Yet wait until you get to the airport and the price shoots up to £40 per bag, per flight — see a full list of Ryanair baggage fees.
If you're travelling with a couple of checked bags and don't book in advance, you could end up shelling out almost £200 for a round trip.
Of course, as you'll pay regardless, try to limit the amount of hold baggage you take. For instance, if going as a couple, with friends or with family, why not cram as much into one suitcase as possible to check in, such as liquids that you cannot take on the flight, and put the rest in your hand luggage? Also see former MSE Rose's video below for how to squeeze as much into one bag as possible.
Going with an under-two who has their own seat? Get an extra 5kg of hand luggage
While many people take babies or toddlers on their laps, if you book an under-two their own seat, you get one additional bag on top of the allowance for the other seats anyway (one bag of 55cm x 40cm x 20cm, plus one small bag up to 35cm x 20cm x 20cm per seat).
The extra bag has to be max 5kg and no bigger than 35cm x 20cm x 20cm.
On top of all that you can also bring a pushchair, plus one of the following without charge: a car seat, booster seat or travel cot.
Hand luggage rules are changing - what you need to know
Ryanair's hand-luggage rules are changing from Monday 15 January. Currently it allows you to carry two items of hand luggage on board:
A smaller bag – such as a handbag or laptop bag, with a max size of 35cm x 20cm x 20cm and no weight restriction.
A larger bag – 55cm x 40cm x 20cm with a 10kg weight limit.
From Monday, you'll still be able to take both bags through security, but unless you have priority boarding you'll only be able to bring the smaller bag into the cabin. The larger bag will have to be taken at the boarding gate to be put into the hold, at no extra charge – even if this is the only bag you're travelling with.
If you pay extra for priority boarding you'll be able to take both bags (or just your larger bag if that's all you're travelling with) into the cabin. Priority boarding costs £5 if you get it when you first book, or £6 later.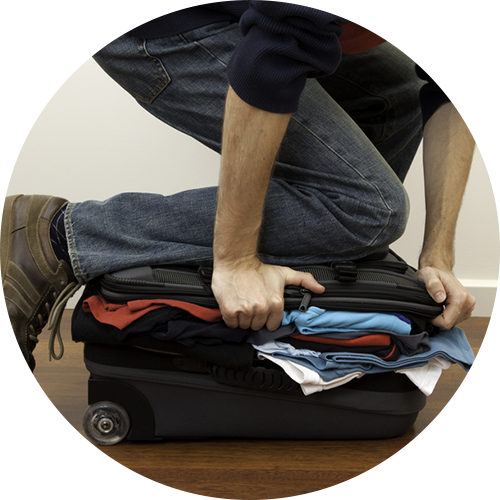 And while you do still have to contend with (what some may consider) a small main bag, you can often squeeze in more than you think and still stick to the 10kg limit. Here are some general packing tips — if you've got more you'd like to share, please let us know in the forum:
Stick to carry-on rules
You must carry liquids and gels in individual, 100ml-maximum containers. All containers must be in one transparent, 20cm x 20cm resealable bag.
As you're allowed to carry more than one 100ml container, you could, say, decant sunscreen into two 100ml bottles. See the Government's full regulations.
Pack small, heavier items in your smaller hand-baggage
Ryanair's weight limit only counts on the bigger of the two hand-luggage bags, so for small items, such as toiletries, pack those in your handbag or laptop bag if you think you'll be edging close to the weight limit on your bigger bag.
Take squishable hand luggage — it can defy size limits
While size matters, the type of bag you take can make a big difference too.
If it's squishable it's more likely to slot into the bins all hand luggage must fit into if asked to prove it's the right size.
They're also more likely to fit into overhead lockers on the plane.
Don't buy posh travel-size toiletries
Travel-size lotions and potions can be pricey. So grab small transparent empty bottles, wash and dry them carefully, and fill 'em up from your everyday toiletries. Complementary mini-toiletry bottles from previous hotel stays are perfect for this.
Buy cheap, lightweight cases
Don't be fancy — you can get cheap cases for around £10 and they'll more than likely fall within Ryanair's size restrictions (some are built to cover budget airlines these days, though it's worth checking dimensions before you buy). They also won't add too much to the weight allowance.
Take travel laundry-wash
This means you'll be able to take a small wardrobe and wash as you go. Plus you won't have to pay for a laundry service.
Include all wheels and handles when measuring your luggage or risk up to a £60 penalty
Measurements include wheels, handles and any additional extras your bag may have, so grab a tape measure and check you're within the limit — Ryanair isn't known for being lenient so if you flout rules and staff catch you, don't be surprised if they make you pay up to £60 to check it in.
Leave space for your return
Many people jet home from a holiday with more than they took. If that's you, make sure you leave space in your luggage for some miniature clogs or an "I love Rome" mug.
How to pack like a pro
To really push luggage packing to the max, watch this top packing-tips video from former MSE team member Rose, who is now studying for a PhD (though we don't think it's in luggage packing). She has tons of experience flying on budget airlines and there's nothing like a visual demonstration to help you master the art.
Top packing tips for flying hand-luggage only
With former MSE Rose — filmed on 23 July 2013
Don't carry your luggage — wear it
If you've experienced the boarding gate of a Ryanair flight, there are usually a few who try to cram as much into their handbag as it will take, to get around the 10kg limit Ryanair puts on the bigger cabin bag it allows you to take as standard.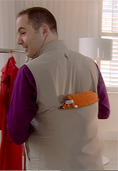 Don't let that be you. Make use of a very valuable asset that you have no choice but to take everywhere with you — your person. The more you carry on you, the less you need to squeeze into your cabin bag.
Think large, deep-pocketed coats and jackets. Examples include the 22-pocket Scottevest, a special US survivalist jacket that Martin tested for an ITV show. It was heavy but somehow managed to fit in a laptop, two books, a towel, passports, a T-shirt, socks, magazines and much more.
Until recently, a less extreme version popular with forumites was the Rufus Roo, but unfortunately it's no longer available. You might want to try looking for a second-hand one, but we couldn't find any when we looked.
Or for a less extreme idea, try wearing heavy coats, big boots and chunky jumpers, if you were taking them anyway. They all use up valuable space in a case. Stow items under the seat in front of you if it gets too stuffy on the plane.
Board earlier to ensure you and your luggage can stick together
If you board late, there is a chance the overhead lockers near you may be full, meaning you may be forced to put your bag at the other end of the plane, or made to check it in (though this won't cost you extra).
So to avoid negotiating the scrum to collect it once you've landed, or annoying other passengers if you need something from it during the flight, get to the gate and queue early.

Made a small error? Correct within 24hrs for free. If later, fees can be huge — so booking a new flight could be cheaper
A word of warning — BEFORE confirming your booking, check, check and check it again. Mistakes can be costly.
There's a 24-hour window where you can correct a misspelt name (not a new name altogether) or the wrong date for free, but only if you booked direct with Ryanair.
After 24 hours, there's an up to £60 (£90 if you do it at the airport) admin fee per leg to change date or route. To make any type of name change after that, or to change the ticket to a new name altogether, it's £110 per leg (£160 at the airport).
If you end up changing flight to a new date, the cost of the new flight may be higher regardless of whether there's an admin fee or not.
It could be cheaper to book a new flight
If you notice errors after 24 hours, it may be cheaper to make a completely new booking, rather than amend an existing one. It won't always be cheaper, but it is worth checking the cost of a new flight to see if it costs less than the change fee.
Forumite billers did exactly that and saved:
"I booked a return from Liverpool to Barcelona, out on Friday and returning on Monday (total cost £47). I needed to change my return flight to Sunday, but it cost more than £40 to change. Instead, I booked a new one-way flight for £28."
Get Martin's Free Money Tips Email
For the latest MoneySaving tips, join the 12m who get the weekly email.
You can sign up for alerts to find out when Ryanair releases seats
Ryanair's prices are — as with most budget airlines — fluid and move based on demand for any particular flight. When they're released, they're usually priced cheaply, though they can always be undercut by a sale or if Ryanair cuts costs because demand is low for that flight.
Nevertheless, the odds are in your favour if you book early, especially useful if you're likely to be travelling in expensive peak times, eg, school holidays, where prices are less likely to fall.
Unfortunately, you can't get a refund if you book a ticket and the price for that same flight then falls.
When does it launch tickets?
Ryanair releases seats in batches, around nine months in advance but it doesn't have clear, published dates (Easyjet is far clearer). To find out first, 'like' Ryanair's Facebook page and sign up to its myRyanair email service for alerts and for when it has a sale on.
Pay the right way for extra protection
The safest way to pay for flights over £100 is on a credit card (fully repaid so there's no interest) — then you get Section 75 protection. This means the card company's jointly liable if anything goes wrong, such as the airline goes bust. But with flights, it's not quite as straightforward as this.
Under Section 75 each flight counts as a transaction. So if you book a return where each leg is £50, even though the total is £100, you're not covered. Each single flight would need to be £100 or more to get the extra protection.
Debit card payments get some protection too
If you're paying by debit card, there's also some protection that means you may be able to get your money back if something goes wrong — though it's not as powerful as Section 75.
It's called 'chargeback', and applies to most debit and charge cards, as well as Visa, Mastercard and Amex credit cards — though it isn't a legal requirement. See the Chargeback guide for more info.
Avoid expensive Ryanair extras such as car hire and hotels — always check prices independently
Once you've chosen your flight, Ryanair will try to entice you to add extras such as hotels, car hire and travel insurance. While all can be useful and it may be worth checking prices, don't jump straight in without looking around first. Always check prices elsewhere beforehand.
Travel insurance for one is usually more costly via airlines or holiday agents/brokers than doing a comparison and finding your own policy (see Cheap Travel Insurance for full help finding one).
For example, at the time of writing, single trip insurance on a week's trip to Tenerife was £13 per person via Ryanair — for single trip bought separately, prices start at around £5 for an individual Europe policy.
For our top tips on cutting costs, check our Cheap Travel Insurance, Cheap Hotels and Cheap Car Hire guides.
Don't hold an EU/EEA passport? Get documents checked or you could be denied boarding
If you don't hold an EU or EEA passport or identity card, BEFORE you go through security you need to show your documents to someone at the Ryanair visa/document check desk. They'll then stamp them and allow you to proceed if everything is in order.
If you fail to do this, and just head straight for security, Ryanair reserve the right to refuse travel. Don't forget!
Got noise-cancelling headphones? Take them for flights between 7am and 10pm to avoid SCREAMING announcements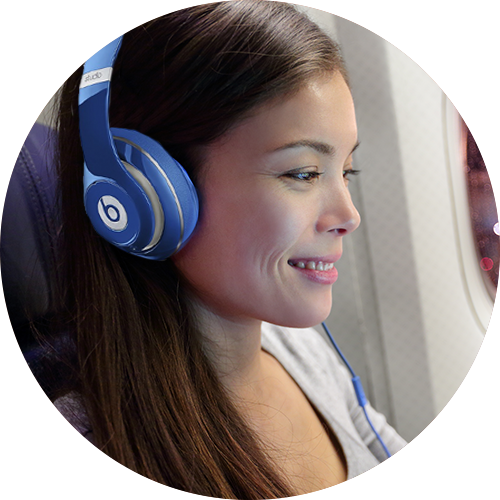 Many Ryanair fliers have reported loud noises. Not from plane engines, but from the frequency of non-safety-related flight announcements.
Ryanair took on board passengers' feedback and has introduced a 'Quiet Flights' service. So if you're on a flight between 10pm and 7am, you can now expect a peaceful snooze. At other times, beware.
No swanky headphones? Nab some earplugs (less than £4 from Amazon at the time of writing).
Get Martin's Free Money Tips Email
For the latest MoneySaving tips, join the 12m who get the weekly email.
Avoid sky-high food prices — pack a mile-high picnic instead
It's a little known fact than mid-air picnics are perfectly within the rules — it's only liquids over 100ml that are banned for security reasons.
Protect your pennies and plan ahead — stocking up on snacks could save a fortune compared with flight prices, and even prices in the shops, after security. For instance, when we checked, a Ryanair Mediterranean panini cost €5.50 (roughly £5). Even at inflated airport prices, a Boots meal deal is about £4, and it comes with a drink and a snack as well.
But pre-packaged sandwiches are never going to win taste awards, so bringing your own food may mean you win on taste and price.
And the food doesn't have to be boring, either. Why not make it part of the holiday and theme it around where you're going — cold tagines and couscous for Morocco, tomato and mozzarella salad for Italy, schnitzel and apple strudel for Austria?
Check out the forum for a feast of ideas — plus if you've a good one, join the discussion and add your own. Remember, due to the 100ml limit on liquids you'll find it difficult bringing drinks bought before you go through security onto the plane.
Don't assume Ryanair is cheapest — always compare costs
Ryanair has a reputation for being cheap, but it isn't always cheapest.
So after using these tricks always compare the final price you're quoted with the best alternative, using our Cheap Flights guide. Plus see our Easyjet tricks and Beat Budget-Airline Fees guides for loads more hints and tips.