Martin Lewis calls on Ryanair boss to refund passengers hit with name-change charges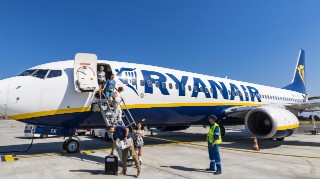 MoneySavingExpert founder Martin Lewis has called on the chief executives of Ryanair and the Civil Aviation Authority (CAA) to investigate an apparent name-change booking 'glitch' which has cost many passengers at least £115 to fix – and presented them with a dossier detailing more than 160 reports of the problem.
MoneySavingExpert.com first reported the issue in December and since then we've been inundated with complaints from furious Ryanair customers, who say they have been penalised for incorrect surnames on their bookings despite them having correctly entered their details. Those who haven't spotted the error within Ryanair's 24-hour grace period for free name changes have been charged £115, or £160 if at the airport.
Ryanair has insisted there is no glitch within its booking system and said passengers who don't correct names within 24 hours of booking will need to pay the standard fee. It hasn't given any further comment, despite us contacting it several times since the middle of December to point out there is a consistent pattern.
Since early December, we've had more than 250 complaints in total from Ryanair passengers about name-change booking problems. The dossier we've submitted to Ryanair and the CAA includes stories from 162 passengers who've reported a surname on their booking was incorrect, plus 30 more cases involving some kind of other name-change issue.
If you've been affected, let us know at news@moneysavingexpert.com. See our 20 Ryanair Tips for help mastering the airline's mega-strict rules and charges.

Martin: 'We hope you'll ensure no one is out of pocket'
Martin has written to both Ryanair and the CAA asking for action to be taken. You can read his full letter to Ryanair chief executive Michael O'Leary below (and read his letter to the CAA here):
Dear Mr O'Leary,
I am writing to alert you personally about what seems to be an important and serious consumer rights abuse by your airline. I know you have over the last few years stated you want to make Ryanair "a nicer airline". I hope you are able to deliver on that promise in this case.
Sadly my personal letter to you is our last resort. We have been raising this issue with your press team since December. Yet the engagement and response we've had has been flaccid. There is a seemingly blasé attitude to customers who feel hard done by. Therefore we have also today submitted a dossier of compelling evidence of over 160 complaints to the Civil Aviation Authority.
These customers tell us they have been penalised for incorrect surnames on their bookings, despite them having correctly entered these details at the time of booking. This error repeatedly seems to not be the fault of the customer, yet Ryanair has been charging those affected £115 to rectify what seems to be its own mistake.
The behaviour of your firm, in refusing to refund customers who have been affected or saying they can't travel, does not seem to be the behaviour of a "nice airline". I am sure you will be shocked to hear this has happened – and will want to rectify it – rather than waiting for regulatory engagement.
From the evidence MSE has collected, a clear pattern has emerged, likely indicating a systemic error:
Passengers were booking flights for a second person (or more) with different surnames, for example their partner, or for a group of friends.


These customers consistently claim Ryanair's booking system automatically changed their companions' surnames to be the same as the lead passenger's or account holder's surname.


Those who didn't spot the error within Ryanair's 24-hour grace period for free name changes have been left facing a £115 charge to change it to the correct name – many have already paid it.


Some customers have had to rebook their flights entirely as this was cheaper than paying the charge.
We hope you will find out what led to the problem, prevent it reoccurring, and ensure those impacted are not left out of pocket. If you feel our evidence is wrong, and there is no technical problem, then we would welcome a detailed explanation of why this has happened on such a huge scale.
I look forward to your response.
Kind regards,
Martin Lewis
Founder & Chair, MoneySavingExpert.com
'I was left wondering if we'd make it to our honeymoon'
Generally, the complaints we've seen relate to bookings made between September and November last year, on either the Ryanair website or app. Many – although not all – had booked by selecting one of their saved companions from their Ryanair account. We've also had reports of some December bookings being affected, and it's not clear if the issue is continuing to affect new bookings.

Here are just a couple of examples of complaints we've seen:
Newlyweds Bethany Allen, 23, and her husband Mark, 26, from Bangor in Northern Ireland (pictured below), booked a Ryanair flight to Belfast in November to catch a connecting flight to Cyprus for their honeymoon. It was only when they'd gone through security at the airport that the couple realised Mark's ticket had been booked under Bethany's maiden name of Lawrence.

Mark was escorted out of the departure lounge and asked to pay a £160 fee to change his surname back (more than the usual £115 as he was already at the airport). He asked for the fee to be waived, explaining it was his honeymoon, but was only allowed to book a new ticket in the correct name for £122.

Bethany told us: "I was left by myself in departures wondering whether we'd be able to make it to our honeymoon... There's no way I would have booked Mark's ticket in my maiden name. I had checked the flight details several times so I was mystified when I saw what had happened. I hope that Ryanair will now do the right thing and reimburse us."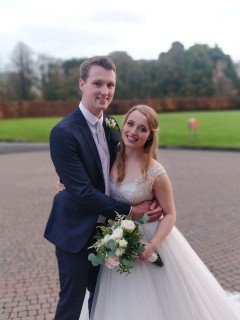 Jessica Penberthy, 30, and her partner Jamie Pike, 33, who live in London, were forced to abandon a pre-Christmas trip to Edinburgh after facing an eye-watering £275 in name-change fees.

The couple had booked flights in November and say they selected details from Ryanair's saved companions feature, double-checking all the information against their passports before confirming.

Jessica noticed her surname had been changed to Jamie's after checking in online and printing their boarding passes. Ryanair insisted that her only option was to pay a £160 inflated airport charge for the outbound journey, as well as the standard £115 to change the name on the return flight.

She told us: "I looked at alternative flights and train tickets, but as it was so close to Christmas everything was sold out or too expensive... I spoke to my partner and we agreed to cancel the trip, which was very depressing. Not only did we miss out on our trip to Edinburgh, we're also over £100 out of pocket for the missed flights and hotels."
Booked with Ryanair already? Check your booking now
If you've booked a Ryanair flight and haven't yet checked, look at the booking confirmation now to ensure the passengers' names have been recorded correctly.
If there's a problem, again, you can change names for free within 24 hours of booking. If it's too late to do that, see below for your options.
I've been told I must pay the fee – can I fight back?
Frustratingly, Ryanair's official position is that there is no glitch – meaning if you've got an incorrect name on your booking, you'll be charged the full £115 name-change fee if the 24-hour grace period has passed.
But if you think a name on your booking's been automatically changed and it wasn't your fault, you can try to fight it, though the full steps could require quite a bit of work:
Gather any evidence. This should include details of your saved Ryanair companions, and any confirmation emails or itineraries. If you're booking a flight now, it's also worth taking screenshots as you go to show you didn't enter any names incorrectly.


Complain to Ryanair. Some passengers have told us they haven't had much luck with Ryanair, but it's still worth a try – and you'll need to contact Ryanair directly before you can escalate any complaints.

You can contact Ryanair via their live chat service or by calling 0330 1007 838 (you'll be charged at local rates), or through the Resolver service. It's also worth complaining publicly via Ryanair's social media channels.


If this doesn't work, escalate your complaint to the Civil Aviation Authority (CAA). If you're not happy with Ryanair's response – or you don't hear back from them within eight weeks – you can escalate your complaint.

You should usually escalate any complaint about an airline to an approved alternative dispute resolution service (ADR) – but Ryanair cut ties with its ADR last month. So if your complaint isn't resolved directly through Ryanair, you can go straight to aviation regulator the CAA.

The CAA has confirmed that affected passengers can complain to its Passenger Advice and Complaints Team (PACT) using the online form or by calling 0330 022 1916.


You can try the small claims court as a last resort – but it may cost you. If you're not satisfied with the CAA's response, the last resort would be to take legal action.

There's full info on claiming through the courts in our Small Claims Court guide – but weigh up carefully whether you want to proceed, as you'll have to pay an upfront court fee of at least £25, and could end up liable for other expenses if you lose your case.
I'm about to book with Ryanair – what should I do?
If a Ryanair flight is the best deal for you, don't let this issue put you off – but be careful.
As long as you spot any name errors within the first 24 hours after booking, you'll be able to change them for free. So make sure you double-check your booking confirmation and itinerary as soon as its available.
What does Ryanair say?
We've been asking Ryanair about the reports of the name change issues since early December.
When we originally reported the claims on 7 December, Ryanair told us there was no "glitch" and that passengers with incorrect names on their bookings would need to pay the standard £115 to correct them.
We haven't heard from the airline since, despite contacting it repeatedly and asking it to comment on a 1,000-strong petition calling for the airline to refund affected passengers.
For all the latest deals, guides and loopholes simply sign up today – it's spam-free!
Join the MSE Forum discussion