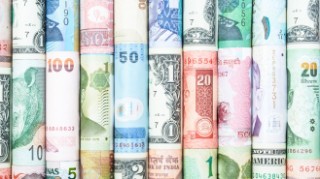 Withdrawing cash on a credit card when abroad is bad for your credit score. But if you've got one of the top overseas credit cards, it's a cheap way to get cash abroad. So should you do it?
Can I withdraw cash on my credit card? You can, but that usually doesn't mean you should. The first thing to say is that if you withdraw cash on your credit card, that's recorded on your credit record. If another lender saw that, it would likely see it as a danger sign.
It would probably assume that you're having to make the cash withdrawal because you have no money left in your bank account and are relying on your credit card to pay for essentials.
If a lender's searching your record because you've applied for a loan and it sees cash withdrawals, it could be a flag that you can't manage your money – and it may question whether you'd be able to pay it back.
It's also expensive to withdraw cash on a credit card. And while that fact doesn't affect your credit score, it does affect your finances. That's why our usual mantra is: NEVER, EVER withdraw cash on a credit card.
That's what I read in your credit scoring guide. But in your cheap overseas guide, you say I should withdraw cash on my credit card. Yes. This is the exception that proves the rule – withdrawing cash on a specialist overseas credit card when you're on holiday overseas can actually be a good MoneySaving thing to do, as it's often a cheap way to get cash.
But you shouldn't just withdraw cash overseas on any credit card – most will charge you a fortune for it.
So you need to know which one to pick – with some of the Cheap Travel Credit Cards, the charges to withdraw cash are so low that doing so usually beats bureaux de change.
Aargh! You're confusing me. Should I do it or not? We've spoken to lenders and credit reference agencies. In isolation, withdrawing cash on your credit card a couple of times a year on holiday shouldn't kibosh any credit applications you make (though other lenders won't know that's why you're withdrawing cash).
This is because lenders don't make decisions about whether to grant you credit solely based on your credit record. When you apply for credit, your lender will credit check you. But it'll also use anything you've told it on your application form, and information on any other accounts you have with it when deciding.
Provided these present you as the epitome of good financial management, and the rest of your credit record's polished (so no missed payments or payday loans, both signs you're in trouble), there's little chance of the cash withdrawals meaning the difference between a pass and a fail.
How do I check if my credit score's affected by this? There's an easy way to do this - just join our Credit Club. It gives you your free Experian Credit Report and Score, plus assesses your affordability and eligibility for cards and loans.
It's also worth checking your other credit reports.
I'm about to apply for a mortgage, though. Surely it pays to be cautious? Caution's always good, and while we know of many people who've been granted mortgages with these cash withdrawals on their credit report, you may want to avoid withdrawing cash on a credit card for at least three months before applying, as the mortgage is just so much more important.
So use your overseas credit card for spending on when abroad, but get your cash another way:
To reassure you – one person who wrote to us with this problem was marked as 'fair' by a credit reference agency. But because all his other accounts were up-to-date, and his bank statements showed sensible spending habits, he was granted a five-year fixed mortgage at a (then) low 3.29%.