Small Biz MoneySaving
Banking, gas & elec, phones & web
Keeping small business bills down is easier than you think, using the same techniques you use for slashing household costs.
This small business MoneySaving guide gives you the best utilities, phones, broadband, insurance and more.
If you're looking for a bank account for your business, we have a separate, fully up-to-date Business Bank Accounts guide.
MSE's focus is helping consumers, yet many small business owners also want help. This guide includes some top picks, but primarily utilises the best of other sites' tools. Please use the feedback links in each section to help us finesse the info.
For all the latest deals, guides and loopholes simply sign up today - it's spam free!
What do I need to do when I set up a business?
It's a common question - who do you need to tell/register with to set up a business? This Gov.UK page has the basics of setting up the things you need, but, it won't surprise you to hear that one of the first people you should tell is the taxman.
HMRC has set up an online 'e-learning course' to help you with questions you might have about tax and national insurance, or how to start and keep the correct business records. It's useful if you're just setting up and helps you start with good business habits. Or see its list of business tax webinars, videos and other resources to help once you're up and running.
For all the latest deals, guides and loopholes simply sign up today - it's spam free!
Top business credit cards
Cashback cards
Cashback credit cards pay you money every time you spend on them. Normally the top cards aren't for business use, but the one below is.
Make sure you repay in full every month so you don't get charged interest, otherwise it'll wipe out the gains. Read the full guide for more details on Cashback Credit Cards.
Cashback: Up to 3%
Paid out: Yearly on the account anniversary
Max cashback/year: £400
Annual fee: £32
Min spend: N/A
Rate: 26.4% representative APR (see Official APR Example)
Card issuer: Visa
Min income: £10,000
The Barclaycard Cashback business credit card is available to small business owners and those who are self-employed, though there is a £32 annual fee.
It gives 3% cashback on office supplies and stationery, legal and accounting services, IT equipment and support, 1% on fuel and 0.5% everywhere else. You'll also get three months 0% on purchases and a year's extended warranty cover.
To be eligible, the person applying (not the business) needs to have an expected annual income of £10,000, have a record free from missed payments and not had any county court judgments in the last six years.
Good if... you want a few perks in one
Cashback is capped at £400 a year. If you earn less than £10 in any year, the amount won't be credited to your account and won't be carried forward so make sure you'll be spending more to max the gains and also effectively wipe the annual fee.
You must repay in full every month, or you'll be charged 19.9% on purchases. If you include the fee, it equates to a 26.4% representative APR
| | | | | |
| --- | --- | --- | --- | --- |
| ANNUAL SPEND... | £3000 | £5000 | £50,000 | £20,000 |
| Year one cashback (assuming 40% office related, 40% petrol, 20% elsewhere) | £19 | £53 | £138 | £308 |
Add additional cardholders. You can add additional cardholders onto this account, though they must all be employees. Although only do this if you trust them, as the main cardholder has full responsibilty for all spending and payments.

Is more cashback possible? Users of cashback sites (which are free to join) may be able to get even more cashback when they sign up. If you're new to cashback sites, read the Top Cashback Sites guide for an explanation and key warnings.
Other offers
If you don't want cashback, or don't spend enough on credit to make it worthwhile, then other good business cards are available.
Annual fee: £125 (£0 in year one)
Min spend: £3,000 to get bonus
Rate: N/A - the card is a charge card
Card issuer: American Express
Min income: £20,000
Small business owners and those who are self-employed can apply for the American Express Gold Business card. It's a charge card, which means that you don't pay interest, but also means that you MUST pay off the card each month.
The card has a £125 annual fee, which must be paid before any purchases are paid off, though this is waived for the first year that you hold the card.
You earn membership rewards points at the rate of one point for each £1 you spend. When you've spend £3,000, 20,000 bonus points will be added to your account, enough for a return business class flight to Europe (though you still need to pay taxes etc).
Good if... you want to collect reward points
You must repay in full every month, or you'll be charged £12 and a default marked on your credit file. Purchases will attract up to 54 days interest free.
If you want a fee-free card, you can choose the Business Basic Card from American Express. It's a charge card, but has no annual fee. You also don't earn rewards points.
Rewards. You earn one reward points for almost every £1 you spend. Spending such as cash withdrawals, Travellers Cheques, and paying your card fee does not earn any points.
Spending rewards. You can spend your rewards points with one of several travel partners including BA, Virgin, Eurostar and Hilton. You can also use them for shopping at partners such as BOSE, Canon, House of Fraser and M&S.
Top business savings
If you have spare cash that isn't needed day-to-day, it makes sense to stash it away. Yet where to put it depends on what type of company you have.
Sole traders - Use the top personal instant access accounts
Being a sole trader means money from the business is in your name and so can be moved into accounts opened by you. This allows you to get the top personal savings account rates, which beat specific business accounts hands down.
For daily-updated best buys, read the Top Savings guide.
Limited companies - Find the best-paying business savings
If you have a limited company, then legally the company is an entity and the money belongs to it, not you. If you tried to move money into your own name, it will trigger a tax liability.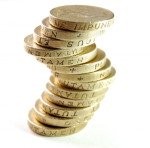 So if you just want somewhere to stash the company's cash and earn interest, then you need a business savings account. They're sometimes called "deposit", "reserve" or even "investment" accounts. But with all, the aim is to put your money somewhere safe and maximise the interest on it.
The highest rate depends on how much access you want to your cash, and the amount of money you've got to save.
Top instant-access savings: Aldremore 0.85% AER

The Aldermore Easy Access Account pays 0.85% AER on £1,000 up to £1 million. You'll get just 0.05% interest if your balance slips below £1,000.

You can make any number of deposits or withdrawals, and can open and operate the account online.
How safe are business savings?
Smaller businesses get £85,000 guaranteed savings protection per financial institution, but big companies don't. To understand how this protection works, see the Savings Safety guide. If your business meets criteria below, it'll be protected like an individual.
The definition of what counts as a small business does leave a bit of latitude, though.
Sole traders.

Because the business is in your own name, regardless of how big the company is, you get the normal £85,000 per person, per institution savings safety.

Limited companies.

Provided they meet two out of the following three conditions, the FSCS say they are "likely to be covered".

EU banks' savings safety rules are similar. They protect deposits for sole traders and small businesses fitting the above criteria up to a value of €100,000.
Cut business gas & electricity bills
Just like domestic energy bills, it's possible to compare and switch to cheaper providers. The right comparisons to use depend, again, on the type of business you're running.
Limited companies (or anyone with commercial premises)

Here, you're limited to using special business tariffs, but luckily some of the top energy price comparisons have cottoned on to the small business market.

However while there are websites, their business comparison services tend to operate through callback systems (where you ask for a phone call to go through the savings with you), rather than online.
The possible savings are huge, though. For a sample postcode we tried in the north west of England with an annual electricity bill of £3,500 using the regional electricity company, it was possible to cut the bill to £2,300 - a saving of £1,200!
Sole trader (working from a house)

If you are working on a small scale, eg, in your own home, and are a sole trader, you can usually deduct a proportion of your household bills as a business expense.

Switch the house to the cheapest gas and electricity providers using the top standard price comparisons (plus get cashback), using the normal Gas & Electricity switching technique.
Use less energy!
The bigger the bills, the more you can save by being energy efficient. Spend a little money on decent draft insulation, then turn off lights, turn computers off standby, and more. See the Energy Saving Trust for advice.
Office phone and broadband
Costs here can vary enormously, depending on whether your business is consumer-facing and how professional your telecoms need to appear.
Are you based at home?
If you run a small business from home, most will find it cheaper using a domestic supplier for their phone and broadband. It's possible to get a landline installed for free, and broadband with line rental line and calls from £10/month. See the Cheap Broadband guide for full info.
Ask yourself whether you need additional features though, such as the ability to forward calls to your mobile or call diversion, or a faster internet connection with a large download limit. Also consider whether you'll want extras like your own dedicated webspace, or an intranet.
If you think you'll need these sort of features, consider plumping for the options below. They're more expensive, but are aimed at business or office premises.
Business services
Don't think you need to take all your communications services from one provider. Review all the options for the cheapest line, broadband and calls providers and then see whether you can cut costs further. Do remember to check usage limits for broadband packages.
Because you'll probably need both a phone service and the internet, it may be worth buying a bundled package. But don't assume that these are necessarily cheapest.
BT's Featureline Compact* is one of our best buys. If you sign a five-year contract it's £22.40/month + VAT. You get 100 mins/mth to UK landlines and features including call waiting, transfer and conference calling.
For cheap broadband, TalkTalk Business often has decent deals on both ADSL and fibre, but you must have its £16.95/month line rental to get them. Even so, overall it's one of the cheapest.
Remember that with the comparison services, they won't mention or factor in the override providers below, which can substantially save you cash.
VoIP (Voice over Internet Protocol)
Another option's to use VoIP, which is now reliable and popular. Skype* is the most popular service. It provides free voice and video calls to anyone else who is also on Skype, as well as a subscription service for calling landlines and mobiles.
If you need to be able to make all your calls to regular phone numbers, it's worth noting that many providers now offer specialised business services. See Free Web Calls for details.
Insurance
It's possible to slash insurance costs right across the board. But before you get to that stage, it's worth checking exactly which policies you should have.
If you have staff, there are some compulsory policies. Similarly, even if you work from home & have clients visiting, you need insurance then too. The tools below should establish exactly what you need.
Here's a quick run though of some of the key ones. We've also linked to some comparison services, though you may be able to negotiate a better deal by using local brokers and putting all the policies through them.
Car and van insurance

If you're using a van or car for your business, make sure you tick the 'business use' box. Depending on your occupation and the level of business use could have an impact on the premium. Use the Cheap Car Insurance or Van Insurance guides for full info.

Or, if you only occasionally need to use a car or van for your business, a car club is an option. See if Zipcar for Business*, City Car Club or Co-wheels have cars or vans in your area. Assess your vehicle usage to see if you could save money.

Do you have employees?

If so, you'll need employers' liability (EL) insurance - cover of at least £5 million is required by law for limited companies and you can be fined up to £2,500 for EACH day you aren't covered. There's an exemption if the limited company has only one employee, and that employee owns 50%+ of the company.

These policies protect you and your business for any claims made by employees who have been injured at work, or experienced illness as a result of work, where the fault lies with you. It also covers you for expenses in legal cases against your business taken by employees.

Plus, if your business goes into liquidation or receivership, EL insurance means your employees can still claim and be paid damages.

While that's the only compulsory service, others to consider include public liability insurance. This covers damages and legal fees if your business has caused injury or death to a member of the public, or damage to their property.

There are also business premises insurance, contents insurance (for stock, machinery and contents) and product liability insurance & professional indemnity insurance.
Grab grants to aid your business
Any leg up in business is worth taking - especially if it's from the Government. There's a lot more money out there than you think, many businesses thrive on grant cash.
These often come with strings attached, for example it may provide the cash for you to invest in equipment but you need to match it with your own cash. However, watch for companies charging upfront to access grant lists - some have subscription charges, but make sure you know what you're paying for.
Grants are typically pretty specific, and can only be spent on certain costs, or are targeted at small locations or industry sectors. Funders will also probably want to see a business plan, so prepare this in advance to make the application process quicker.
Struggling financially?
If your business needs external help and advice to manage debts, then there are organisations that can help. Business law depends on where your business is set up and operates:
England & Wales:

Business Debtline can give advice on managing cashflow and debts. Visit Business Debtline or call on 0800 197 6026.

Scotland:

Business Debtline Scotland can advise on managing cashflow, and dealing with debt. Visit the BDL Scotland website or 0800 197 6026.

Northern Ireland:

The NI Business Info website provides signposting to debt advice for businesses in Northern Ireland.
Have your say in our forum!