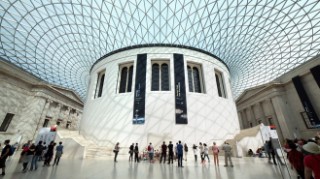 Free museums & galleries
Listing of free museums and art galleries in the UK
If it's something different to do at the weekend or something to keep the kids entertained during the school holidays, we have it all here.
Pick your region
If you're planning on visiting a museum on a Bank Holiday, it may be best to check ahead with the museum if the opening days and hours are different. Similarly, if you're heading to a museum late in the day, you may be best to check if there is a time for last entry.
Have we missed any? If you know of any great free museums in your area that we've not included, we'd love to hear about them. Add any suggestions to our free museums thread.
Other ways to cut the cost
As well as the free museums and galleries listed above, there are tons of permanent ways to cut the cost of family fun.
Save 1/3 with Tesco Clubcard
One of the cheapest ways to entertain kids is to spend your Tesco Clubcard vouchers on days out, as you'll get three-times the value, for example £5 in Clubcard vouchers becomes £15 to spend. This way, you effectively get days out and attraction tickets for a third of the normal price.
Days out on offer include Alton Towers, Thorpe Park and Sea Life Centres. For a full list of ways to maximise Clubcard points, check our Tesco Clubcard boosting guide.
2for1 days out
There's a trick to get 2for1 activities to 80+ attractions throughout England, Scotland and Wales with National Rail's Days Out Guide scheme. To take advantage, you need a train ticket valid on the day you want to visit. See more info in 2for1 theme parks and attractions with National Rail.
Attractions include everything from Madame Tussauds to Shakespeare's houses.
Have your say in our forum!