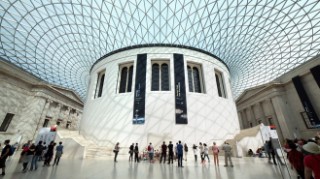 Free museums & galleries
Listing of all the UK's free museums and art galleries
If it's something different to do at the weekend or something to keep the kids entertained during the school holidays, we have it all here.

In which regions are you looking for?
Have we missed any? If you know of any great free museums in your area that we've not included, we'd love to hear about them. Add any suggestions to our free museums thread.
Other ways to cut the cost
As well as the free museums and galleries listed above, there are tons of permanent ways to cut the cost of family fun.
Save 1/3 with Tesco Clubcard
One of the cheapest ways to entertain kids is to spend your Tesco Clubcard vouchers on days out. This way, you effectively get them for a third of the normal price. This is because 100 Clubcard points are only worth £1 if you use them in-store.
There are nearly 200 days out on offer, including Alton Towers, Thorpe Park and National Trust Scotland properties. For a full list of ways to maximise Clubcard points, check out the Loyalty Schemes guide.
2for1 days out in London and the south of England
There's a trick to get 2for1 activities to hundreds of theatres, museums and theme parks throughout southern England, with National Rail's Days Out Guide scheme. To take advantage, you need a train ticket valid on the day you want to visit. With savings of up to £25, buy the cheapest £2ish ticket and you'll still be quids in.
You can print as many vouchers as you like and the cheapest person gets in free. Attractions include everything from Madame Tussauds to Shakespeare's houses.
2for1 London days out
Another useful way to get 2for1 vouchers for theme parks, attractions, shows and restaurants in London is through National Express's London 2for1 Offers scheme. This has printable 2for1 vouchers for a range of days out, including Madame Tussauds, the London Dungeon and the London Aquarium.
You'll need two valid National Express coach tickets to London to use them, so this is good if you're planning to get the coach to the capital anyway.
Even if you're not travelling by coach, it may be worth getting two cheap National Express tickets to London from a nearby destination, though make sure they don't cost more than you'd save with the voucher.
You'll need to register after you've selected your offer in order to print the vouchers, which are personalised. Expiry dates vary, so make sure you check these on the voucher before you go.