Santa freebies
Track Santa on Christmas Eve, personalised Santa videos etc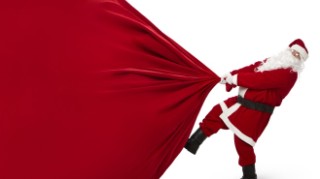 Just like that, Christmas is over. This year we found plenty of Santa-centric freebies designed to up the fun factor in the final run-up to the big day, and we predict most of them will be back next Christmas too. Until then, we wish you a wonderful 2020.
For Christmas 2019, kids could track Santa's magic-infused, moonlit journey as he visits the homes of good children across the world on Christmas Eve. We also showed you how to bag a free reindeer story book or how to create personalised Christmas videos to send to your nearest and dearest.

NOW ENDED. Track Santa on Christmas Eve
Each year, free website Norad Santa opens its doors at the start of December to let families track Santa's progress as he visits the homes of good boys and girls on Christmas Eve.

While the location tracking element is only on Christmas Eve itself (Santa's exact location is top secret until then), there's a virtual Santa's Village for kids to explore now - full of games, videos and music to keep them entertained in the lead up to Christmas.
There's even a mobile app (iOS/Android) so you can check on Santa's whereabouts while on the move yourself.
NOW ENDED. Free children's story book
In 2019, McDonald's offered 500,000 FREE mini story books, delivered straight to your door. The Christmas Adventures of Archie is the illustrated tale of a reindeer and his friends delivering their wishes to Father Christmas.
This offer ended on Wed 1 Jan 2020.We don't know if McDonald's will be running a similar campaign next Christmas.
If you miss out on the physical books, there are unlimited Kindle e-book downloads too, so you can get yourself a digital copy of the same story.
There are also unlimited audio book downloads available, voiced by Peter Crouch. We've more details here.
Personalised Santa videos
Each year, a website called Portable North Pole lets you send friends or family a free personalised video message from Santa - incredibly cute for kids to receive and potentially hilarious for grown-ups to exchange. It'll ask you to upload photos of yourself and the recipient, plus a picture of the gift they'd most like to receive for Christmas.
This year's free videos are now available, so click the link above to tailor yours. Just watch out for the 'premium' paid versions.
It only takes a few minutes to set up. Here's a still from one we made for Martin last year:
IMPORTANT: There's also a range of 'premium' videos that cost money. Make sure you're looking at the free options if you don't want to pay - if at any point you're asked to enter payment info, go back and try again.


NOW ENDED: Free letter from Santa
Each year, Santa's elves at the Royal Mail can help you get a free letter from Santa, if kids write to him by early December.
This year's deadline was Fri 6 Dec, but we'll leave this info here for reference as it'll most likely be back next year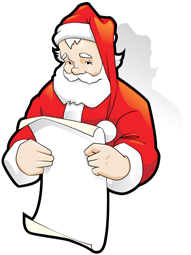 Technically, it isn't 100% free as you'll need to post your letter to Santa with a stamp (70p first class, 61p second). Just remember to include kids' full name and address, so Santa knows where to send his reply.

It's also worth remembering things can go wrong, as we reported a few years ago in our Royal Mail fails to deliver news story. Royal Mail says it can't guarantee a reply, even if you've sent your letter nice and early.
So while a nice festive freebie, it's a good idea to prep kids for disappointment (just in case) by reminding them Santa's very busy - so may not write back to everyone.
Where to send kids' letters

Pop it in the post with a stamp (remember the deadline for this year was Fri 6 Dec), and address it to: Santa/Father Christmas, Santa's Grotto, Reindeerland, XM4 5HQ.
NOW ENDED: Free Braille letter
Unfortunately, the deadline for this in 2019 has now passed, but each year Santa has some elves at the Royal National Institute of Blind People (RNIB) - find their address below - who help him respond to children who are blind or partially-sighted.
This year's deadline for Braille letters was Mon 2 Dec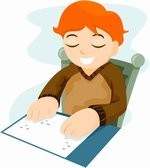 If you miss the postal deadline, you've an extra couple of weeks to send your letter by email and receive an email reply. Santa's RNIB email address is santa@rnib.org.uk.

The closing date for emails was Fri 20 Dec.
Read more at the RNIB. Some of previous years' letters gave Martin leaky eyes. See them on his blog: Read letters from blind children to Santa.
Join the MSE Forum Discussion