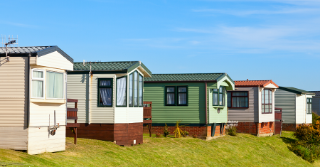 The Sun '£9.50' holidays
Stay in UK holiday parks from £44 per family
The Sun calls these '£9.50 holidays', but in reality they're never quite this cheap. That doesn't mean it's not a decent deal though – you can bag a four-day park break for £44 simply by collecting tokens from The Sun newspapers.

You'll need to collect 10 tokens or codewords, printed in papers every day from Saturday 8 January to Tuesday 1 February, for holidays between February and November 2022. They start from £9.50 per person and you have to pay for a minimum of four people. You also need to watch out for extra charges – this guide explains how to sidestep those to save £100s on a family getaway.
Your refund rights
Usually, you're unable to make amendments or cancellations to your Sun holiday and that's still largely the case, but due to coronavirus uncertainty, there are some cases where you can get a refund or rebook. We've outlined your rights below:
You can't request a refund or rebook for a later date if you decide you don't want to go.
You can request a refund or rebook if...
Someone in the holiday party has coronavirus, providing you can prove medically certified self-isolation (such as having a doctor's note).
You can't travel due to Government restrictions or local lockdown.
Your park is closed due to coronavirus. The park should get in contact with you directly.
If rebooking, you'll have to pay extra if you choose a more expensive holiday/date. See The Sun holiday's full coronavirus info & FAQs.
Even if you're not able to get a refund, the amount you've shelled out is likely to be small compared to the normal cost of a holiday anyway, so you may choose to take the risk.
For all the latest deals, guides and loopholes simply sign up today - it's spam free!
Are they really £9.50?
The Sun's headline of '£9.50 holidays' looks stunning, and with park holidays costing in the £100s, the savings can be huge. While undeniably good value, truthfully, they're never actually £9.50 all-in. The sections below explain why you'll end up paying more:

How to do it (step-by-step)
Buy the paper, collect your tokens & form

To book your holiday, you need to collect 10 unique tokens or codewords, from 10 different days' papers, printed every day from Saturday 8 January to Tuesday 1 February in The Sun (65p on weekdays, 95p on Saturdays) and The Sun on Sunday (£1.30).

Therefore, the last day you can start collecting is Sunday 23 January.

You can book online from Monday 17 January using the codewords on your tokens, or by printing a booking form and filling in the information described below. These holidays are always popular, so have everything ready to roll as soon as you get the 10th token.

Neither booking option guarantees you'll get your choice of holiday – see the next point below for how it works.

Choose your preferred dates & parks – though you may not get to decide exactly when & where you go

When booking, you'll be asked to specify FOUR dates and FOUR parks/areas you'd like to visit.

If booking online, you'll know instantly if your park/date choices are available and if none of your choices are, you're able to just search again. You can check all options and book a specific location and date.

With postal applications, one of your choices will be allocated to you, if available. The Sun says it will try to get you a holiday of your choice, but if they aren't available you won't have the option to select other choices. If your postal application is unsuccessful, you'll be notified by Saturday 19 February and have your payment returned. If you meet the conditions, fill the application in correctly and book as early as you can, you have a greater chance of getting your chosen break.

Choosing a park

The accommodation includes caravans, chalets, apartments, tents, lodges, bungalows or cottages at over 180 parks in the UK and Europe (search the full park listings on The Sun's website). You'll need to pick a shortlist of FOUR preferred parks, but ultimately you won't be able to choose the exact park (unless you book online), and quality does vary, so do check reviews on sites such as TripAdvisor first.

Pets are not included in the basic price, so if you want to take a dog, it'll cost you extra and you'll have to check dogs are welcome at your chosen location. You can add dogs and pay the extra when booking online, but not via postal applications. Though some parks do allow you to add dogs after you've made a booking, so it's a good idea to check directly with the park.

It's also worth noting the parks will not accept bookings from parties where everyone's under 21, and it's always down to each park's discretion whether to accept all-adult parties at all.

Choosing your dates

The hols can be taken on selected dates between February and November 2022. Weekend breaks are three nights and weekday holidays are four nights. See below for the full list of dates you can choose from:

HOLIDAYS FROM £9.50

February
25
November
4, 11, 18, 25

HOLIDAYS FROM £9.50

February
21, 28
March
7, 14, 21, 28
April
25
May
9, 16, 23
September
5, 12, 19, 26
October
3, 10, 17, 31
November
7, 14, 21, 28

Note: Not all parks will be available on these dates.

Book online or send off the form

As soon as you've all 10 tokens or codewords, book online at The Sun, by entering your 10 codes and paying via credit/debit card. There's a £3 charge per booking, but if you can't travel for any reason and are struggling to get a refund, you could claim a chargeback if you pay on a card.

The other advantage to booking online is that you're told within minutes whether you've been successful, and you can play around with your booking until you get what you want, whereas by post, you get what you're given and you can't change it.

Or... post the form and tokens to: UK Holidays in The Sun, PO Box 1811, Colchester, CO2 8LF.

If you book by post you must pay by cheque or postal order and remember to include the basic charge of £9.50 per person. So, the total would be £38.

The application closing date for both booking methods is Friday 11 February.

For postal applications, parks will send holiday confirmation directly by post or email by Saturday 19 February. If you're unsuccessful, your payment will be returned. If you have not heard anything by then, call 0344 543 9743 (calls cost the same as a landline). Make sure you keep a record of your selected parks and dates.

WARNING. You're unable to make amendments or cancellations after you've sent off the form (unless eligible due to coronavirus restrictions – see refund rights above). Only book if you're sure about the four dates and parks, and make sure you read the terms and conditions that IPSO (Independent Press Standards Organisation) enforces.
For all the latest deals, guides and loopholes simply sign up today - it's spam free!